Wondering where to begin when it comes to paths and pavers? If you're choosing materials or designing a path or walkway, start with our Paths and Pavers Design Guide.
We've explored the pros and cons of using materials such as bluestone, limestone, brick, decomposed granite, concrete, and gravel. Maybe curb appeal is your greatest concern. Or how a path feels underfoot. Or matching the style of your house.
For prices and facts—and design tips to maximize curb appeal—here are 17 of our most popular posts about paths and pavers.
Design Guidelines
A front path is the first impression your house makes to a visitor. Make sure it's a welcoming width (from four to six feet wide) and that it points the way clearly to your front door. Should it be a solid path or stepping stones? Straight or curvy? What paver material will best suit the style of your house? For everything you need to know about designing a front path, see Hardscaping 101: Front Paths.
Side paths are another story. Depending on how you use a side walkway, you can make it ramble or pave it in a whimsical material. To see some of our favorites, see 5 Favorites: Rambling Paths and Uneven Pavers.
Materials: Decomposed Granite
Decomposed granite–or DG, as it is referred to commonly–is like gravel, but finer and less likely to wash away. An inexpensive material for pathways, it feels soft underfoot and its permeability makes it an environmentally friendly choice.
Is pea gravel the right material for your path? See Hardscaping 101: Pea Gravel.
Boxwood is a handsome edging plant for a path. For more ways to use boxwood, see Shrub Facts: For the Love of Boxwood.
Materials: Bricks
Bricks are made of clay soil, combined with lime and sand. Depending on the proportions, colors will vary. For brick types, prices, and patterns, see Hardscaping 101: Bricks.
Materials: Bluestone
Materials: Limestone Pavers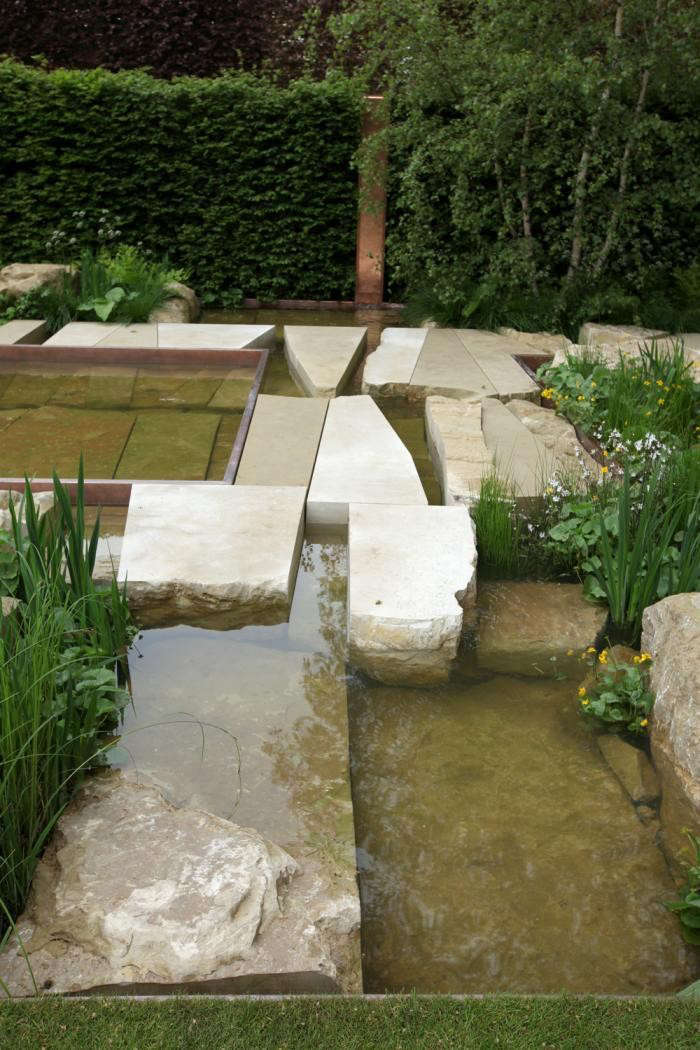 When the poet W. H. Auden tried to imagine paradise, he wrote, "What I see is a limestone landscape." So do we. Or at least a limestone path. Among the most luxurious of hardscaping materials, limestone is three times as expensive as bluestone. But it will last forever. Dense, durable, and available in a wide range of colors, it's a serious investment. Is it right for your path? Explore the pros and cons at Hardscaping 101: Limestone Pavers.
Materials: Concrete Pavers
Concrete pavers are affordable, durable, and easy to install (and replace). Is concrete the right material for your path? For the pros and cons, see Hardscaping 101: Concrete Pavers.
Pathway Lighting Design
Canopy garden lights that direct light downward are typically 18 to 24 inches tall. Avoid a runway effect by staggering their placement alongside a path or walkway. For more tips on how to choose pathway lighting, see Hardscaping 101: Garden and Pathway Lighting.
For more of our favorite paths and walkways, see our curated guide to Hardscape 101, including Pavers 101 . Also:
(Visited 3,339 times, 4 visits today)