We think crushed seashells should be on the short list for surfacing paths and driveways. After all, they're natural, beautiful, functional, and remind us of the sea. Read on to find out if crushed seashell is the best hardscaping material for you.
Shells are used as a paving material all over the world. In the US, seashell paths originated in Colonial times as a result of early-American recycling efforts. Oysters and other shellfish were a primary source of food, and thrifty settlers put their discarded shells to use as a paving material. Later this practice became common in New England as a way to recycle waste from the seafood industry.
Why surface paths with seashells?
A great alternative to gravel, crushed shells can be used on paths, patios, courtyards, driveways, and even bocce ball courts (the shells don't hold water or imprints from shoes and balls). As the shells are walked on or driven over, they break into smaller pieces that disperse evenly, creating a stable surface that's not prone to the ruts and holes you get with crushed stone toppings.
Another benefit is that, as long as they come from a sustainable harvesting operation, shells are environmentally friendly. They provide excellent drainage since rainwater runs through them to percolate into the ground. And shells are a natural material that benefits the ground below as they decompose.
How do you install a seashell path or driveway?
Coverage is key. The experts at Emerald Landscape Supply in Massachusetts recommend a three-inch-deep application. Some installers suggest starting with a gravel base, but it must be compacted and leveled (preferably by a professional) so the surface doesn't become soft. You want to ensure that tires drive over—not through—it. The shells will compact and become more stable over time.
The general rule of thumb is that one cubic yard of seashell will provide a three-inch-deep cover for a 100-square-foot space. Another tip: Shell hardscaping is best for level surfaces. A steep drive is not a good application, as the shells are likely to collect at the bottom.
What are the best shells to use?
The most common shells used for hardscaping are oyster, clam, and scallop. Their differences are subtle: mostly in color and how they break down. Oyster shells, primarily off-white and gray, break down in a way that makes them more compact and, subsequently, more stable over time. Clamshells, mostly off-white or yellow-white, are slightly more fragile and will break down faster than oyster shells. They also compact nicely for vehicle traffic. Scallop shells add brown coloration to the mix. Despite initial variations in color, all the shells bleach under the sun and become lighter over time. Your choice will most likely depend on what's readily available in your area.
Do seashells smell?
Shells that are sold in bulk for hardscaping purposes are left over from seafood harvesting, so the shellfish have been removed. Typically, the shells have been thoroughly washed, so there should be little left to generate stink. That said, they may arrive with some natural aroma, but that should dissipate within a day or two. (To one homeowner, they smelled like the beach, not dead seafood.)
How much do seashell paths cost?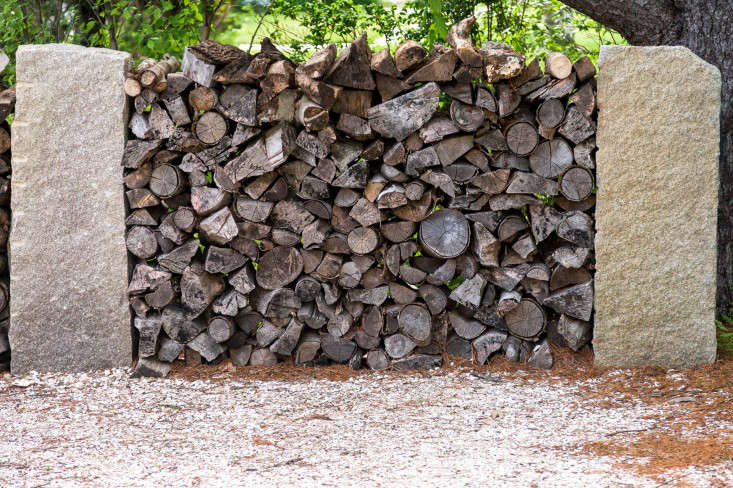 When bought in bulk, seashells are on the more affordable end of the spectrum: comparable to crushed gravel; less than asphalt, concrete, or stone. Clamshells seem to be the least expensive, offered at about $40 per cubic yard, or $50 per ton. We priced crushed oyster shell at $385 per ton. The Atlantic coast is the primary source of shells; if you live elsewhere, shipping may be the most expensive part of the project. Contact your local landscape supplier for availability. Alternatively, suppliers like Myco ship crushed shell all over North America.
Buyers' tip: Buy in bulk for the lowest price. Unless you're covering a very small area, avoid purchasing small bags at a feed store or the like.
What about maintenance?
The good news: Shell paths and driveways can't crack, so repairs aren't part of the package. Cold and heat won't damage the shells, and they don't develop ruts and holes. Assuming a generous layer was applied at the outset, the material will last a long time. Because of compacting it will eventually need replenishing, but not every year (or even every other year). And unlike gravel, crushed shell hardscaping rarely encounters issues with weeds or pests: The shells' sharp edges act as a natural deterrent (but they're not so sharp as to be an issue for tires or shoes).
Seashell Path and Driveway Recap:
Pros:
Natural product
Durable
Affordable
Low maintenance
Light colors mean cooler surface in hot climates
Provides excellent drainage and prevents runoff
Visually appealing
Won't crack or break, requiring repairs
Cons:
Rough surface that is not barefoot friendly or conducive to bikes, trikes, and other smooth-surface toys and activities
Not a good covering for steep drives or paths
Snow removal difficult
Not readily available in all areas, and shipping may be expensive
See our curated guide to Driveways 101 for more design ideas. For more ways to use shells in a landscape, see:
(Visited 7,668 times, 13 visits today)