When the poet W. H. Auden tried to imagine paradise, he wrote, "What I see is a limestone landscape." So do we. Or at least a limestone terrace.
Is limestone the right material for your hardscaping project? Read on to learn about colors, types, maintenance issues, and price: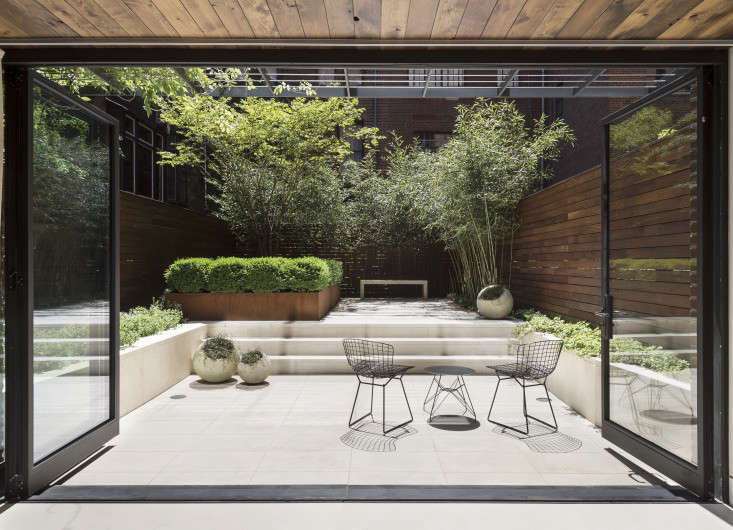 Above: Garden designer Julie Farris used Valders Limestone (the same material as is on the kitchen floor)  to connect indoors and out. For more of this garden, see Before & After: From "Fishbowl" Backyard to Private Oasis in Manhattan. Photograph by Matthew Williams.
As a building material, limestone is both universal and timeless. Its use in architecture dates back thousands of years; many of the world's greatest buildings (the pyramids of Egypt, the White House, the Houses of Parliament, the Empire State Building) are made of limestone. Why such fascination with a stone? I believe there is something unique about its natural feel and sense of permanence.

Above: The cracked surface of Mandalay blue riven limestone is naturally slip-resistant. For information and pricing, see Mandarin Stone. See it put to use in Steal This Look: A House With Slate Shingle Siding.
What is limestone?
Limestone is a sedimentary rock formed of mostly calcium carbonate (the remains of marine fossils) and varying amounts of clay, silt, or sand. These other minerals are the source of limestone's wide range of colors–it can be blue or gray, red or tan, beige or green.
As limestone makes up about 10 percent of all sedimentary rock, there are deposits all over the world. Quarries exist in the UK, Ireland, France, Italy, Portugal, Turkey, Egypt, Tunisia, India, areas of the United States (especially Texas and the area around the Great Lakes), as well as in many other countries.
As dense as marble, limestone is known as a heavy, hard-wearing stone with a lightly textured surface which makes it an excellent material for patios. It's also known for its insulating properties; it's unlikely to get too cold in the winter or too hot for bare feet in the summer.

Above: Desert gray limestone pavers with chiseled edges and a natural surface. Quarried in India, they are available at American Soil and Stone. Photograph by Ellen Jenkins.
Above: For a front path, landscape architect Scott Lewis chose wide 2-by-4-foot limestone pavers because the material stays cool underfoot even in the intense summer heat of the Napa Valley. For more, see Vineyard Haven: A Napa Valley Garden That Belongs to the Land.
What are the different types of limestone?
There are hundreds of types of limestone available in different colors, textures, and surface treatments, with different amounts and sizes of fossils, and varying degrees of permeability. Some types are better suited for flat exterior surfaces than others. Many types of limestone can be used for a patio or terrace, and then repeated for other exterior features, such as walls, borders and trim. Local limestone sellers should be able to guide you to which types are best for a patio.

Above: Randomly shaped limestone pavers from India at American Soil and Stone.  Photograph by Ellen Jenkins.
There is a broad spectrum of limestone colors: from dark to light gray, green, blue, gold, buff, cream, and white. Some limestones are more variegated than others. Generally, the lighter the limestone color the more marine fossils are present. If you choose a darker-colored limestone, keep in mind that it will fade a bit over time (personally I like the fading).
Generally limestone pavers have a honed surface, but some types can be naturally split. Like bluestone, limestone can also be thermalled (or flamed at a high temperature) to give the surface a more uniform texture. Edges can be chiseled, tumbled, split, or cut.


Above: Antique Yellow Limestone from American Soil and Stone with natural surface and tumbled edges. Photograph by Ellen Jenkins.
How do you clean and maintain limestone?
One of the good things about a limestone patio is that it does not need to be sealed. It can be cleaned with water or water mixed with an alkaline cleaner such as bleach or ammonia (but remember not to mix the two). An acid such as lemon juice or vinegar should not be used–acid will etch the stone. The powdery white substance known as efflorescence, a mineral deposit that can appear on most masonry products, does occur with limestone, but can be cleaned off with a scrub brush.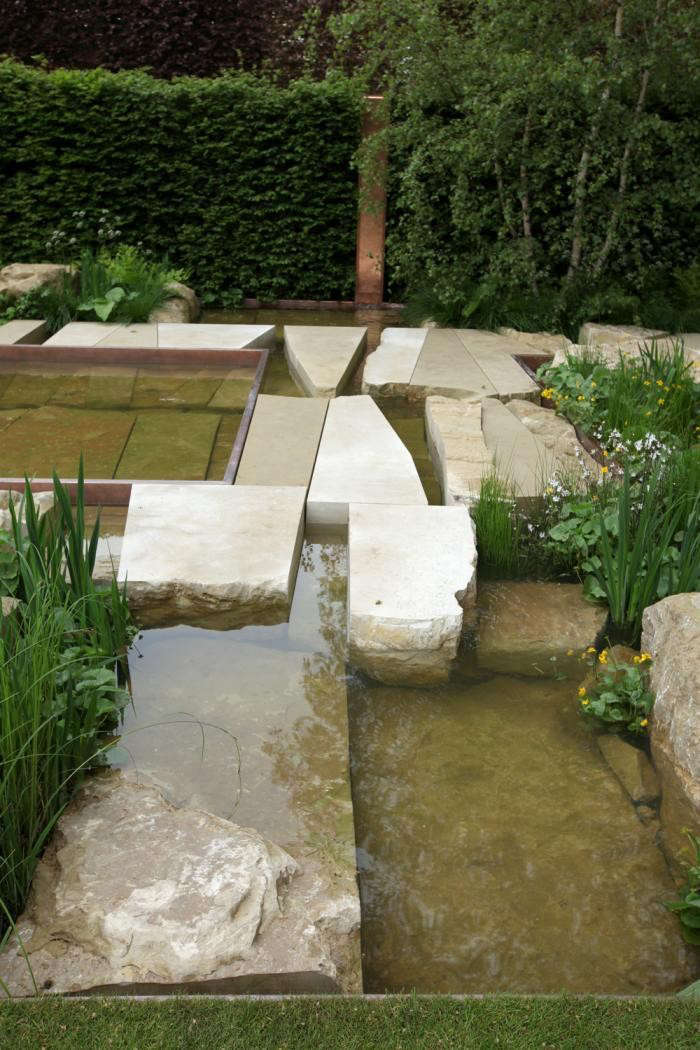 Above: At the 2012 Chelsea Flower Show, garden designer Sarah Price took a surprise gold medal for her wildflower garden, which incorporated limestone pavers and slabs. Photograph by Jim Powell.
How much does a limestone patio cost?
A lot. Whereas a bluestone patio may cost approximately $16 per square foot installed, the cheapest limestone starts there and prices can climb to as much as $40 per square foot; surface or edge treatments will add to the final tab.
But limestone is worth it. It's a very dense and durable stone, and will essentially add permanent outdoor living space to your home. (The density, by the way, makes limestone heavy, adding to shipping costs.)
Comparison shopping? Here's a tip: limestone from India is much less costly (prices are about one third as much as for limestone from France). While I was sleuthing at stone yards last week, I saw a couple of batches of Indian limestone priced at $5.50 per square foot.
Wondering whether to set the stone in mortar or stone? Keep in mind that mortar-set patios require a 3/4-inch-thick stone with prices ranging from $6 to $15 per square foot. For sand-set patios, a 2-inch-thick stone is recommended, which is more expensive at $10 to $25 per square foot.
Above: Photograph by Matthew Williams. Garden designer Julie Farris discovered the round concrete planters at The Bayberry in Amagansett. See more in Before & After: From "Fishbowl" Backyard to Private Oasis in Manhattan.
Limestone Patios and Terraces Recap
Pros:
Time tested
Aesthetically versatile: many colors available
Can be repeated in other architectural elements
Good insulating properties
Cons:
Expensive, as compared to bluestone, concrete or sandstone
Vulnerable to acid
Heavy (which increases transportation costs)
Are you trying to decide between limestone and bluestone? See Hardscaping 101: Pennsylvania Bluestone.
Need help with another Hardscaping 101 quandary? Ellen also demystified Picket Fences, Artificial Grass, and Asphalt Shingles.
Finally, learn how to successfully use pavers in a landscape or garden project with our Hardscaping 101: Pavers guide.
(Visited 2,887 times, 1 visits today)