"There isn't another site like this available anywhere near Portland, Maine," said Russell Tyson of Whitten Architects, "and it's the site that makes this house so unique."
He's describing a jaw-dropping 36 acres perched along the oceanfront in Scarborough, Maine, the site of many native habitats—rocky coastline, woods, wetlands, and meadows included. Most of the land is in a conservation trust to preserve its natural character, but that didn't deter the owners, a young couple with two children who wanted a weekend retreat that was "the antithesis of their high-rise life in New York City." Two acres could be developed, so they removed an existing 1980s house that had "no sort of relationship to the landscape," said Tyson, the project architect. In its stead, they designed a four-bedroom, mostly single-story house and detached car barn with guest quarters above.
Whitten partnered with landscape architect Todd Richardson to create a strong connection between the house and landscape. They knew each other well and had collaborated before, so they designed the project's indoor and outdoor elements in tandem. "Here, the exterior spaces were just as important as the interior ones," said Tyson. Let's take a look.
Photography by Trent Bell except where noted, courtesy of Whitten Architects.
The site was once part of a farm, full of rolling meadows that drop down to the shore.
The previous house had an asphalt parking lot prominently featured in front; in contrast, said the architect, "we wanted you to park your car and forget about it for the rest of the time you are here."
The landscape architect chose native plants that thrive in this part of Maine.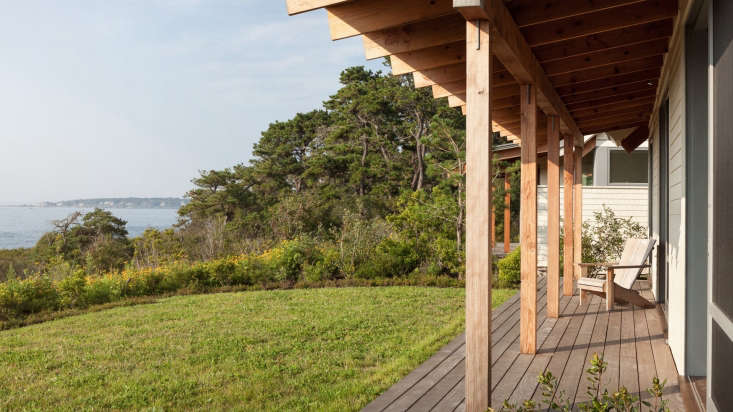 The house is framed in Douglas fir and stained in Cabot Nantucket White. The decking is water-resistant ipe wood, and the roof is standing seam metal in slate gray.
Honed dark granite used as flooring in the main living space "spills" outside into the landscape, said Richardson. The design is "hard to differentiate in a way you typically might between indoors and out," he said.
Pitch pine, the predominant tree on the property, is prevalent along the coast of Maine.
"The house is the pivot point between the woodland and agrarian landscapes," said Richardson. "It touches a different environment on each side."
"The most important thing to the clients was that the house not be an impediment to getting outside," said the architect. "So you can get outdoors from as many locations in the house as possible."
In Process
For more of our favorite landscapes in Maine, see:
(Visited 743 times, 1 visits today)