With a remodel and a garden design project under way, I've been researching how to simplify garden maintenance and cut back on water usage. And I keep hearing more and more about the advantages of decomposed granite. Why? It turns out that in many ways decomposed granite (or DG, as it's commonly called) is the ideal hardscape material: natural, permeable, aesthetically versatile, and wonderfully inexpensive.
After I started looking into DG, I began to notice it everywhere: The pretty little path through the local recreation field that never gets muddy? Decomposed granite. The soft, natural-looking driveway, where the surface stays put? Also decomposed granite. The mulch at the base of trees that keeps the ground weed-free?  DG again.
Is DG the right material to choose for your hardscaping project? Read on:
What is decomposed granite?
See more of this garden at Before & After: A 1940s-Suburban House Grows Up Gracefully in Mill Valley, CA.
Decomposed granite is like gravel, but finer and generally more stable. It's formed from the natural weathering and erosion of solid granite, a tough, hard, igneous rock. The DG sold as landscaping material is typically composed of fine three-eighths-inch (or smaller) particles; some may be no bigger than a grain of sand. Colors vary, from buff to brown, and include various shades of gray, black, red, and green.
For more garden design ideas, see Low-Cost Luxury: 9 Ways to Use Decomposed Granite in a Landscape.
What are the types of decomposed granite?
Although there are at least 30 colors and varying degrees of particle sizes, decomposed granite basically comes in three forms: natural, stabilized, and resin-coated.
Natural DG is used as a mulch material and can be spread around trees and garden beds much like wood mulch. It will continue to weather after it is put in place and provides nutrients to surrounding soil and plants.  It lasts longer than most other mulch materials and will not attract pests.
For a path or patio, DG with stabilizers (which serve as a binder) is the best solution. Stabilized DG is often added on top of another gravel material, tamped down, then left with a thin loose layer on top.
DG with resin for driveways has a similar surface to asphalt, but has a more natural look and is permeable.
What are the best ways to use decomposed granite?
While DG is most commonly used for paths, driveways, garden trails, and as a xeriscape ground cover, it can also be used to create smooth visual transitions between formal garden and wilderness. One of its advantages is that it breaks down, so any DG that migrates into lawn or planting beds does not cause problems the way gravel does. Lining a path or patio with a black metal strip (which will disappear if buried low enough) will help keep it in place.
One caveat: Make sure not to install the material too close to the entry of a house or building. It does stick to shoes, and will scratch floors. This can be avoided by separating the DG from the home with a few feet of other surface materials, plus a door mat.
How much does decomposed granite cost?
The raw material costs $40 to $50 per cubic yard and is available from landscape suppliers (and at stores such as Lowe's and Home Depot). The cost to have a contractor install a path or patio is approximately $4 to $6 per square foot, depending on conditions and whether stabilizers are added. If you do it yourself, the cost will be about half that amount.
For a resin-coated DG driveway, which has a surface much like asphalt (but is permeable), the cost is higher. A local driveway installer is the best source for cost information.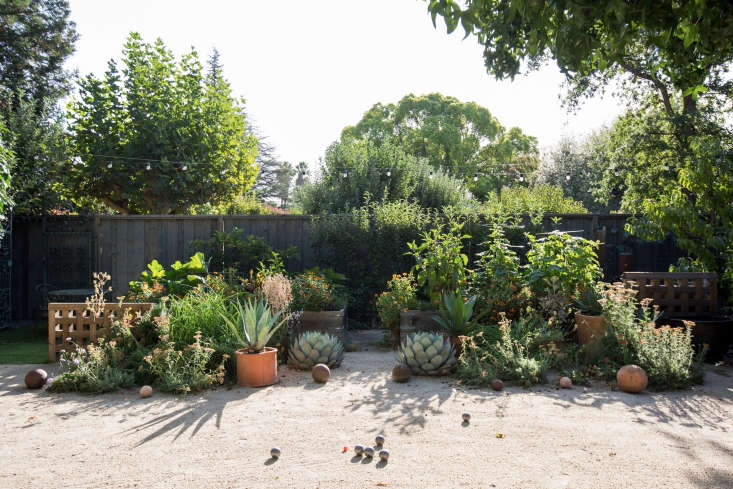 See more of this garden in Before & After: An Artful Gravel Garden in Sonoma, California.
Considering a path that mixes DG with bluestone? Learn more about the options in Hardscaping 101: Pennsylvania Bluestone.
Decomposed Granite Recap
Has some of the advantages of gravel–the crunchy sound, the softened look, the permeability–without some of the disadvantages: It remains firm underfoot.
As it starts to weather and erode, it's simple to add more.
Soft, natural appearance.
Can be used to smooth transitions between garden and wilderness.
Provides good drainage.
Excellent mulch material.
Inexpensive.
Sticks to shoes–different surface materials are needed near a house, plus a doormat, to keep material out of house (will scratch floors)
Good solution under large trees where grass won't grow.
Keeps dust down.
Planning a hardscaping project? See our Hardscape 101 guides to materials, including Pavers 101 and Gravel 101. And don't miss our guides to everything you need to know about other materials, from Limestone Pavers to Picket Fences, in our Hardscaping 101 archives.
You need to login or register to view and manage your bookmarks.