Whether they're the standard-issue variety from a home improvement store or an architect's custom creation, concrete pavers offer instant gratification. A patio? A path? An outdoor entertaining space? Pavers make it (almost) instantly possible.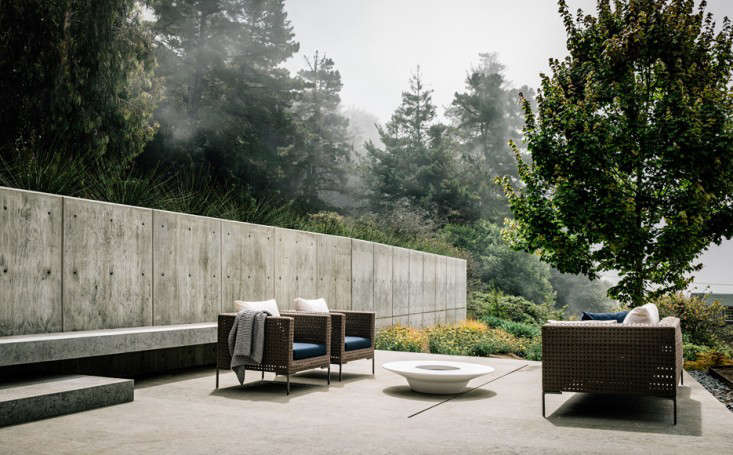 Above: Photograph by Joe Fletcher courtesy of Fougeron Architecture. For more of this garden, see Architect Visit: The Medieval Mist and Mystery of Big Sur.
What is a concrete paver?
Pavers are created from molded concrete formed into tiles to either resemble stone or brick, or proudly look like what they are: concrete. The pavers generally fall into two types. The first is the thick durable interlocking paver. Resembling bricks in density, interlocking pavers are often used for driveways as they can handle the weight of a vehicle.
Above: Pavers by Stockholm-based designer Caroline Brahme have embedded plant pots to add greenery to a gray path. Photograph by Caroline Brahme courtesy of Greenworks. For more, see From Gray to Green: Pavers with Plants from Stockholm.
Another variety of paver is the thinner, and more visually pleasing, architectural paver.  Architectural pavers are commonly used for paths or patios where aesthetics are more important.
Above: Photograph by Niya Bascom Photography.
In a Brooklyn backyard, concrete pavers are set in sand and bordered by a wide strip of white stones. For more of this garden, see Before & After: A Modern Backyard on a Budget by Ishka Designs.
Why use pavers instead of poured concrete?
Pavers trump poured concrete in a number of ways. Specifically they:
Are less susceptible to cracking. Tree roots, shifting soil, freezing, and thawing can cause cracks to form in large slabs of poured concrete. Because pavers are smaller, and move independently, the same conditions won't cause cracking (but may cause the pavers to shift position).
Help eliminate runoff. The spacing between pavers enables water to permeate the area rather than run off a larger field of concrete. And, no puddles will form.
Offer better traction. The joints between pavers provide a built-in device for better footing.
Can be more visually pleasing. Pavers can offer a geometry that poured concrete can't. And, that's not even taking into account the myriad options for the plants or other organic materials that fill the spaces between pavers.
Above: A path designed by Remodelista Architect/Designer Directory member Bruce Bolander; for more, see Architect Visit: At Home with Bruce Bolander in a Malibu Canyon.
What are the best uses for concrete pavers?
They can be used anywhere that demands outdoor flooring. Patios, garden paths, driveways, stepping stones, and even rooftop flooring. Heat absorbing dark pavers are not recommended in hot climates where they may come into contact with bare feet.
Above: Photograph by Marla Aufmuth for Gardenista.
Hand cast concrete pavers of varied sizes are set in gravel to create a loose naturalistic look. For more, see Subdividing a Small City Backyard to Make it Bigger.
Above: Photograph by Jennifer Roper.
LA-based landscape designer Naomi Sanders replaced flagstone pavers with concrete to match an existing concrete stoop. For more, see Before & After: A Grande Dame in LA's Hancock Park.
Above: Concrete pavers lead to the island deck of this urban garden set in the heart of San Francisco's Mission District. Created by Remodelista Architect/Designer Directory member Arterra Landscape Architects, this project includes underground rainwater collecting cisterns that supply the water for the fountain. Photograph by Thomas J. Story via Sunset Publishing.
What colors and textures of concrete pavers are available?
The blessing and curse is the range of options. While color variations stick to natural earth tones, the shapes and textures are virtually unlimited. Pre-cast pavers available through home improvement stores range from simple modern square tiles to stones that look like they have been plucked from a Roman street to travertine look-alikes. Custom made tiles can be colored to complement your home siding or another garden feature. The options are practically limitless, if not overwhelming.
Above, L: The Cobblestone Tumbled Concrete Paver in charcoal measures 7 by 9 inches; $1.31. Above, R: A modern Pewter Concrete Step Stone measures 16 inches square and has a beveled edge; $4.62. Both at Home Depot.
Above: Wet cast concrete Barn Plank Pavers by Silver Creek Stoneworks are molded to look like, you guessed it, barn planks.
How do you install concrete pavers?
Installation is somewhat dependent on the use. A driveway differs from a simple garden path. Accordingly, we recommend consulting with a professional, especially for installations with structural imperatives, such as holding a vehicle upright or flanking a swimming pool. In general, installations of pavers require a sub-base which can range from concrete to crushed stone. There are requirements that most installations have in common. The ground beneath pavers needs to be compacted as much as possible. Then a base layer, usually of crushed rock, is covered with a top layer of sand onto which the pavers are placed. Gaps are left between pavers, the size of which depends on aesthetics, structure, and what is being placed in the joints. Is it grass? Plantings? Gravel?
Above: Large, cast-in-place pavers set in the lawn make a graphic composition and lead to a built-in bench that faces a favorite view in a project by Elysian Landscapes.
How much do concrete pavers cost?
The pavers vary in price depending on whether they are off-the-shelf or custom-made architects' designs. A good rule of thumb is from $5 to $10 per square foot. One thing is certain: concrete pavers are a much more affordable option than stone.
Above: Photograph by Mimi Giboin for Gardenista
Recap
Pros:
Affordable
More durable than poured concrete
Easy to install (and replace)
Can be custom made to fit size, style, and color requirements
Pre-cast pavers available in a wide variety of textures and colors
Cons:
Porous and will stain
Despite best attempts, doesn't quite match the look of natural stone
Can crack in extreme temperature fluctuations (freezing and thawing)
Above: Pavers lead to the entry of a Hollywood bungalow by Los Angeles-based design firm and Remodelista Architect/Designer Directory member Walker Workshop. Photograph by Nicholas Alan Cope.
We could be accused of being concrete obsessed. Michelle rounded up Indestructible Concrete Furniture;  Dalilah made $30 Mini Concrete Planters; and, I fantasize about a polished Concrete Garage Floor.
See all of our Hardscaping 101 Features.
Finally, learn how to successfully use pavers in a landscape or garden project with our Hardscaping 101: Pavers guide.
(Visited 1,567 times, 1 visits today)