In the summer of 2017, I planted a gravel garden along a scrappy stretch of land that edged a recently renovated studio. I wanted to create a small garden that was a space for guests to look out to or sit in. I knew that this was a sunbaked area—it faces south and has no protection from either the summer sun or the wind that whips through the fields it faces out onto. And with extremely free-draining sandy soil, whatever was planted here had to be resilient and, as I had no plans to irrigate, it had to be drought-tolerant.
Photography by Clare Coulson.
I signed up for the excellent gravel garden study day at Beth Chatto's garden in Essex, which was a step by step with David Ward (he worked with Beth when she created her famed gravel garden in the 1980s). His key tips were to choose your plants carefully (Beth's mantra, after all, was 'Right plant, right place') and start those plants off well. That means digging in some compost at the outset to ensure that you've got good soil and then soaking plants really well before you plant them, ideally leaving each plant soaking in a bucket of water for an hour before planting. Water everything well, but beyond this do not get out the hose.
We used a sub-base to stabilize the areas where we would walk around the beds and this was topped with gravel. I was left with two organic shaped large beds and once everything was planted I added some gravel around the plants, too, which helps minimize weeds but also retains some moisture.
To save money I grew almost every plant from seed. Some of those plants were incredibly easy to grow: Stipa tenuissima, Dianthus carthusianorum and Verbascum chaixii 'Album'. Others, including Verbena bonariensis and Eryngium giganteum, I found much more tricky from seed but they were brilliant self seeders; from a couple of verbena plants, there is now a self-seeded verbena forest in high summer of hundreds of plants that have just placed themselves in any available crack.
And the garden has really evolved to be a garden of self-seeders. Poppies have introduced themselves, flowering earlier than everything else in the summer and providing some color. These are followed by hundreds of white verbasums in June and July before the verbena peaks in late summer. I've also added some bulbs too—Narcissus 'Thalia' for spring and then Allium spaerocephalon for a later color pop around late June.
Light and movement are key to the garden's success and I can't say I thought that much about either when I was starting out as a gardener. The sun rises directly behind the garden providing some jaw-dropping moments in the morning. When the grasses here, which include Stipa gigantea and Calamagrostis x acutiflora 'Karl Foester' and especially the Stipa tenuissima, move gently on the breeze, it becomes a mesmerizing highly, tactile space. But this is also a garden for insects, and through the summer the garden hums all day and evening with a succession of bees, hoverflies, and butterflies.
Self seeders can, of course, be a pain to garden with. Each summer something edges more into focus and threatens to take over. There's a constant battle with bronze fennel; its hazy clouds of foliage provide beautiful texture in spring and I love the towering umbels and incredible aromatic element they provide, but leave them to seed at your peril.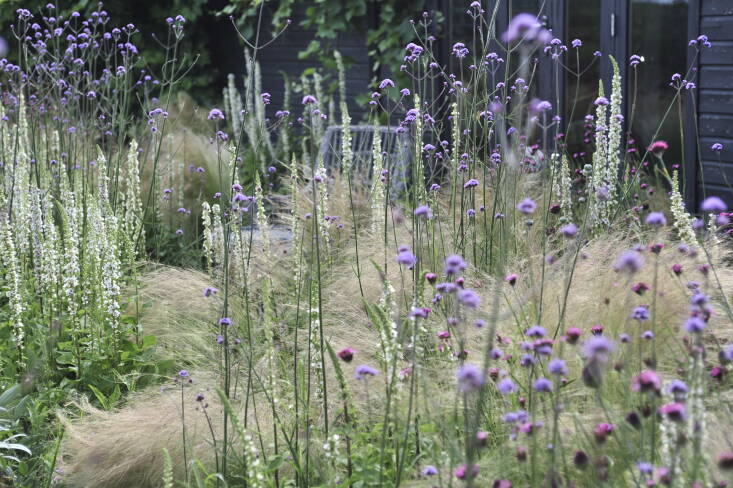 Initially I would simply leave the whole garden through the winter (when it's almost as beautiful with a hard frost) and then cut everything to the ground around March. But lately as the self seeders threaten to overwhelm the space, I've started doing a selective cut back in autumn, too, removing all the verbasum heads so that there is some balance the following summer. It's still very little maintenance for a garden that gives so much for six months of the year.
For more on drought-tolerant gardens, see:
(Visited 2,068 times, 2 visits today)