You'd never know LA's Melrose Avenue shopping district is a block away. A sound-muffling high hedge encloses a velvety green courtyard garden created by LA-based landscape designer Naomi Sanders. Step through the gate and into a different world.
Photographs courtesy of Naomi Sanders Landscape Design.
Working within the client's budget, Sanders softened the look of the front walkway with a path of pre-cast concrete step stones set in crushed stone gravel. "It's a totally budget friendly choice," says Sanders.
The pavers are 18-by-18 inches square, set in 3/8-inch gravel. "The size of the gravel is a really nice scale that works well between the pavers," says Sanders.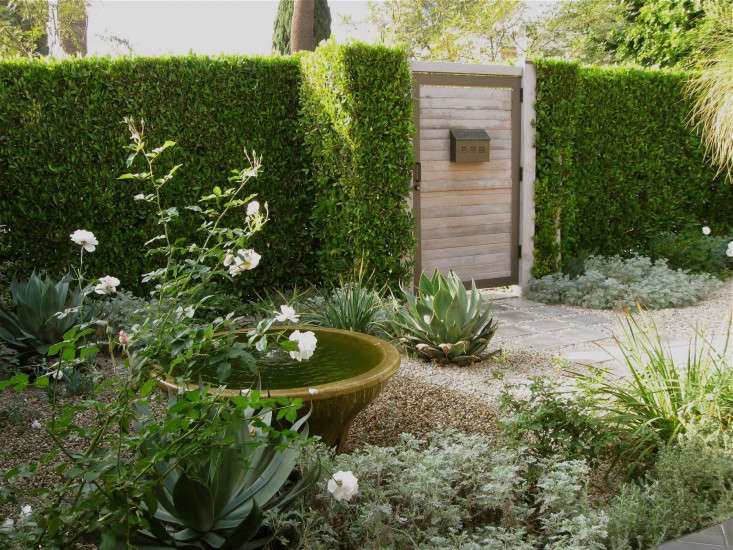 The fountain is a ready-made piece from Inner Gardens that Sanders helped the client select. The infrastructure and pump are hidden below. "It appears in the space as if the bowl is floating within the gravel," says Sanders. "There's a slight bubble to it, on the surface, but it's more for the sound,"
"These photos were taken about three months after we installed the garden, with the expectation that a lot of these plants would grow in and fold into each other and that the succulents would be focal point within a very loose design of plant material that was layered," says Sanders.
Are you inspired by the look of Southern California gardens? See:
(Visited 1,108 times, 5 visits today)