Sometimes a distant but well-loved place is even better than you remember. Weston, Connecticut has reached mythical status with the younger members of my family since we were uprooted to live in London, England, signaling the end of long summers, muggy evenings, and the sounds of crickets (and mosquitos).
Going back to Connecticut from Grand Central Station this summer was hardly an ordinary commute; fortunately our destination included Dirt Road Farm, the 5.5-acre home of farmers Phoebe Cole-Smith and her husband, Mike Smith. With lunch in the barn overlooking the garden and circa-1830 saltbox house, the dream of a perfect Connecticut setting was very much alive.
Photography by Kerry Michaels. See more of her work on Instagram: @kerrymi.
Like many residents of Weston (and Westport, where commuters got off the train), Phoebe found Connecticut by way of New York, needing more space for her family. With a background in food and a training at the International Culinary Center, Phoebe's days in publishing in the city were left behind as she made country life work for her. The small farm that she runs with husband Mike Smith offers something for local people, or those chasing a dream of New England, in the form of brilliantly conceived barn suppers.
Weston in the 1960s and early '70s was a small town of farms and an "artist's colony" that included New Yorker cartoonists, authors, and actors. The ratio has changed but this is one farm that has been added, not subtracted, having achieved farm status in 2011.
Well situated on a slope, a purpose-built barn is furnished mainly with a large table for eating around. In fine weather, it is open on both sides, forming an enfilade that echoes the one in the house (read on). The structure was put in motion by Phoebe and Mike's friend the late Matt Franjola, a renowned photojournalist whose life after Vietnam involved building barns in Connecticut.
Part of the business of the farm is producing maple syrup, while another key element is Phoebe's culinary business, Picnic. In the barn on the hill, Phoebe's creativity is able to shine. She calls herself a locavore: a barn supper might include oysters from Copps Island, cheese from Old Chatham Sheepherding, kicked off with a vodka cocktail aided by Litchfield Distillery. Always there are flowers, whether in the ice, salsa, or johnny-jump-up shortbread cookies, made with wild violet sugar.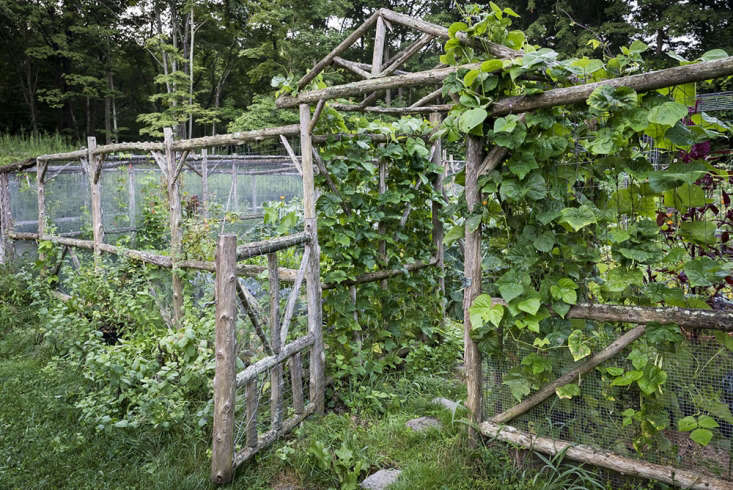 A wooden tunnel structure at the entrance to the vegetable garden supports butternut squash, flanked by scarlet runner beans and snap beans. Phoebe uses transplants on some things like tomatoes and celery, bought in from Ambler Farm in Wilton, a local community farm.
A no-dig approach means that they rely on Sweet Peet mulch as well as their own slow-cooking compost system, which makes use of vast quantities of chicken manure.
Phoebe also relies on the expertise of Dina Brewster of The Hickories CSA (Community Assisted Agriculture). "Not only do I admire what Dina has done with her farm, I also revere how she thinks outside the box when it comes to our local food hub and food community," says Phoebe. "She is my hero. Other than what I'm able to produce myself, I source from The Hickories first and foremost, whether it's meat or produce."
Naturally, Dirt Road Farm is no stranger to honey, preserves, and syrups. Maple syrup is sold directly or through Peter's Market in Weston, while the preserves make an appearance at Phoebe's food events as well as her annual holiday pop-up, co-hosted in the barn with Dina Brewster. As well as preserves, there are sheepskins, wool blankets, and meat from The Hickories, plus bee products and floral decorations.
N.B.: More of our favorite New England gardens:
(Visited 480 times, 1 visits today)