Remember Martha Stewart's calendar? Every month (until she discontinued it in the magazine in 2003), she kept us in tune with her circadian rhythms of domesticity, reminding us when it was time to "clean clothes dryer vents," "sow lettuce seeds," or "deadhead roses and perennials."
I miss being nudged by Martha, particularly in the garden where she was forever digging up and transplanting and dividing and clipping and shaping her topiaries. She's still at it, though. In fact, she recently confided in an interview with beauty blog Into the Gloss that she's more focused on her spring garden than on skincare: "Gardening season is just about to start, so I've been getting ready to plant three gardens."
How exactly does Martha kick off the garden season? We consulted her Martha Blog for guidance and found 10 spring gardening ideas to steal:
Order Seeds
For unusual varieties of herbs and vegetables, each year Stewart orders seeds from catalogs. "Ryan, my gardener, and I await with pleasure the arrival of new seasonal catalogs, and we collect them all in one place and then start reading and choosing, marking with post-its and red circles, our choices for the upcoming growing season," she says.
Some of Stewart's favorite catalog sources are Kitazawa Seed Co. (for more than 250 heirloom varieties from Japan), Baker Creek Heirloom Seeds, and Old House Gardens (for rare bulbs and dahlias).
Keep Kitchen Herbs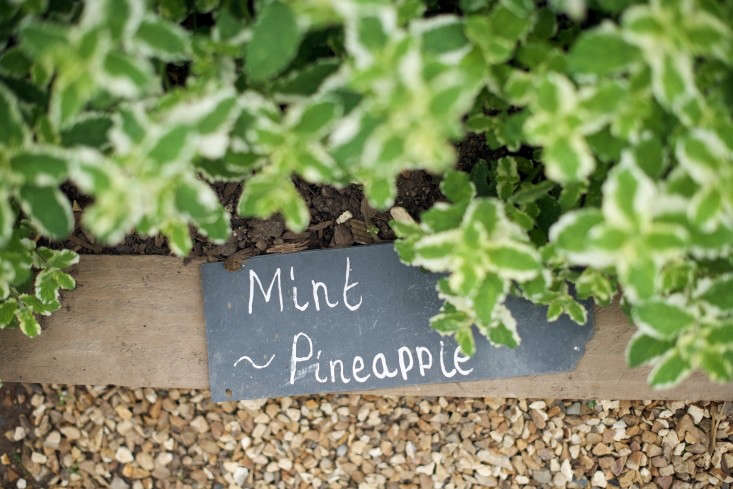 Plant herbs and other edible plants that you cook with as close to the kitchen as possible "for easy picking," Stewart advises. If you have a little plot of dirt next to a kitchen stoop, amend the soil and grow perennial herbs such as thyme or oregano. If you don't have a nearby plot, plant a windowsill herb garden with a few pots in a sunny spot. For more ideas, see 5 Quick Fixes: Grow Herbs on a Windowsill.
Save Space, with Espalier
Train trees or large shrubs to grow flat against a fence or wall to save space and add an extra layer of depth to your plantings. If you have an espaliered tree, early spring is a good time to remove suckers (branches that sprout unbidden from the base of the tree or trunk).
Espalier is an ancient growing technique that remains useful today, particularly in a small garden. "During the Middle Ages, entire villages lived behind protective walls, and to save on precious space, orchards were planted and trained right up against the inner face of the ramparts," says Stewart.
Defend Against Deer
Deer hate the oniony smell of the bulbs and leaves. There are more than 150 different varieties of alliums; many have flowers that are shades of blue or purple and heights vary. For a white, dandelion puff of an allium, consider Graceful Allium (10 bulbs for $9.74 and ships for fall planting) from Breck's.
Other deer-resistant plants that Stewart recommends include lavender, cleomes, verbena, zinnias, and asparagus ferns, which are "just plain awkward to chew," she notes.
Expand Your Empire
Above: If left to their own devices, many plants will multiply and spread year after year. Says Stewart, "My clump of lovely purple and white bearded iris gets larger each year."
Other spring bloomers that will naturalize include daffodils, crocuses, Spanish bluebells (be careful–they can be invasive). Other plants, including irises and peonies, will grow in ever-larger clumps that you can dig up and divide to encourage even more growth.
Divide and Conquer
Divide plants that have become too crowded or are choking themselves out. With hosta (Shown), the best way to divide an overgrown clump is to dig it up–be sure to dig deep enough to get the root ball–and then slice through the clump cleanly with a knife or very sharp spade.
"Hosta, with their palette of so many different colors, textures, and sizes have tremendous landscape value and offer great interest to the garden," says Stewart. Her favorite varieties include Hosta 'Fire Island' ("eye-catching chartreuse foliage"), Hosta 'Fragrant Blue' ("remains attractive from spring to frost"), and Hosta 'Sum of All' ("a giant variety with sun tolerant leaves that are slug resistant").
Take Advantage of Bad Weather
If a surprise snow storm or heavy rains prevent you for working in the garden in early spring, spend the day cleaning equipment and tools. "Yesterday was a cold, windy, and rainy day and I asked my farm crew to focus their attention on indoor chores," Stewart says. "Keeping seasonal supplies well maintained and properly stored will always save time in the long run."
When cleaning tools, wash dirt off shovels, spades, and forks. Sharpen blades on pruners, shears, and trimmers. Oil blades and joints on cutting tools. For step-by-step instructions, see How to Sharpen Pruners and Loppers and How to Keep a Shovel Sharp.
Make Friends with Ferns
Above: If your garden has a shady spot–and whose doesn't–underplant trees with clumps of ferns. They'll come up early in the spring and spread every year to fill in problem spots.
For more of our favorite plants for a shade garden, see Design Sleuth: The Ultimate Shade Garden and Steal This Look: Shady Secrets of an Expert Gardener.
You Can't Have Too Many Lilacs
"Who doesn't love the fragrance of lilacs?" Stewart says. "There are many varieties of lilacs and by planting an assortment, bloom time will be staggered and can last for up to two months."
Lilacs like a cold winter, full sun, and well-drained soil. For more growing tips, see Lilac Love: A Guide to Spring's Best-Loved Flower.
If you love the scent of lilacs but live in a warmer climate, there is hope. The oldest low-chill Syringa vulgaris is 'Lavender Lady,' developed in California 30 years ago by hybridizer Walter Lammerts. A Lavender Lady Lilac is $18.95 from Wayside Gardens. For more about 'Lavender Lady' see Hike of the Week: California's Native Plants.
Use Evergreen Shrubs for Structure
Stewart lines her driveway with a hedge of close-pruned boxwood.
"In winter months when everything else is barren and brown, the evergreen boxwoods add color and structure to the landscape," Stewart says.
For other evergreen hedges, see Renew with Yew.
Use Trees as Punctuation
Says Stewart, "I planted several red American horse chestnut trees at the farm and they are in glorious bloom."
Two horse chestnut trees that flank Stewart's driveway have as much visual presence as a gate.
For more spring gardening tips, see: