When he was still a boy, my grandfather built a car from parts, and it ran. This was in 1928, and the start of his lifelong love of tools.  He could make pretty much anything you needed–a wooden bookshelf, electric wiring, a curved staircase–and his tools were so much a part of him that when he held one in his hands it seemed a physical extension of an idea in his head. 
To love tools like that is a kind of religion. I adhere to it too, every time my hand closes around my favorite pruners. So do the folks at Garrett Wade, sellers of fine tools since 1975. To celebrate the holiday season, they're giving away a $224 selection of the company's best diggers, along with supplies for sharpening and cleaning them.
Garrett Wade, which sells 1,700 high-quality products–including garden tools, outdoor equipment, and shop tools–was founded by Gary Chinn, who felt nostalgic for the well-made woodworking tools he remembered from childhood. "The last 38 years we've spent combing the world for really well made, interesting tools that will last a lifetime," says Craig Winer, Garrett Wade vice president.
Garrett Wade will be giving away the $224 digging collection (accompanied here by tips from Garrett Wade product development expert Anthony Francis for sharpening and caring for them) to a randomly selected reader. Here's how to enter:
Subscribe to our Gardenista Newsletter and leave a comment below describing the biggest digging challenge you've faced (perhaps you've tried to dig up an old stump? If so, please accept our condolences). If you are already a Gardenista Newsletter subscriber, mention that in your comment below.
The deadline is noon Pacific time Monday, December 16 and the winner will be announced on December 18. Be sure to check back to see if you've won. (UPDATE: This giveaway is now closed. Congratulations to the winner!)
 Photographs by John Merkl.
Above: The $224 giveaway collection of digging tools and supplies includea two sharp-edged digging tools–a shovel with an detachable non-slip foot rest and a hand trowel-weeder with a serrated edge–plus everything you need to keep them sharp and clean: aerosol spray lubricant, hand blocks for cleaning off rust, and a mill file.
Here's how to keep digging tools sharp, year after year:
Above: Made in the US, an all-steel Super Penetration Shovel that comes with an optional, adjustable rubber foot rest is sharp enough to break up clay and heavily compacted soil; $117.60.
To keep it sharp during the season, you can re-sharpen your bevel-edged shovel after every four or five times you use it to dig or chop roots in the garden. "If you spend most of the season using it to move dirt and compost instead, you may only need to re-sharpen it once at the beginning of the season," says Garrett Wade's Anthony Francis.
Step 1: Put on a pair of heavy gloves; when you work with sharp-edged tools, you should protect your hands.
Step 2: Clamp the shovel to a work surface. Francis recommends using two clamps: one to hold the blade and a second on the handle.
Step 3: On the front of the shovel, File in one direction along the leading edge to remove accumulated rust and nicks in the metal. If the edge has curled over into a small tip from use, file this away too.
Above: Manufactured in Germany, a versatile Pferd 10-Inch Flat Mill File has a relatively coarse grit and is $16.50.
Step 4: After the edge is smooth and sharp, flip over the shovel to file away nicks on the back side. "You'll probably spend 90 percent of your time on the front bevel and 10 percent working on the back," says Francis.
Above: A 6-ounce can of aerosol spray Ballistol Garden Tool Oil is $11.50.
Step 5: Spray on the lubricant and then wipe it away with a clean cloth. "It's important to do this step, because when you file a shovel, you expose the metal, which needs to be protected from rust," says Anthony.
Above: A Professional Gardener's Digging Tool made in the US has a 7-inch curved and serrated blade and is $59.80. A set of three Wonderbar Rust Eraser hand blocks (with rough, medium, and fine grits) work on metal the way an eraser works on paper: $18.50.
The hand digger has a serrated edge that's good for weeding, breaking up roots in a compacted root ball, and sawing through tangled roots.
The process of sharpening it is the same as with the shovel. In addition, you can remove sap and rust by using flexible hand blocks. The blocks, made of a special rubber compound with an imbedded grit of silicone carbide, feel like springy sandpaper in your hands. 
Rub the blocks in a circular motion over the blade, as if you were cleaning pots and pans, to clean away rust or buildup of sap or pitch from cut roots.
Above: The sanding blocks come in three grades; start with the roughest grit and finish with the fine grit after nicks and curls have been removed from both sides of the blade.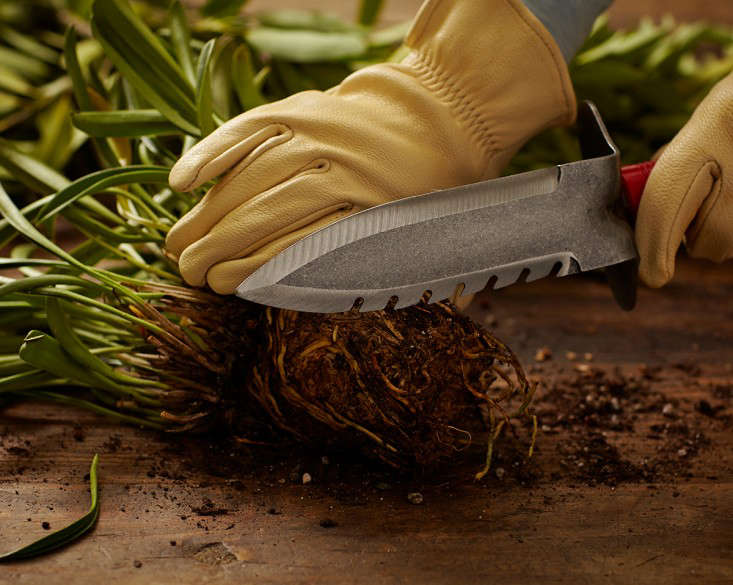 Above: The aggressive serrated edge of the blade excels at breaking up compacted roots when you are transplanting.
Looking for more advice for cleaning and maintaining tools? See Expert Advice: How to Make Your Pruners and Loppers Last a Lifetime.
(Visited 65 times, 1 visits today)