I have a vintage 1920s garage, with an original triple door that folds open like an accordion to welcome a Model T. There's only one problem. After a recent remodel, the house is so big that no Ford–or Fiat, for that matter–can squeeze past the master bedroom to reach the garage.
Some people might have flagged this as a design flaw before construction got underway. Not me. ("Can I have marble countertops in the kitchen?" I remember asking the architect on the day he unfurled the plans on the kitchen table. "Absolutely," he said. And that was the last question I asked.)
An empty garage. I immediately grasped the possibilities. For starters, I claimed a tiny, 18-inch-deep sliver for a mini potting shed. It has everything on my storage wish list: a work surface, shelves, hooks to hang all my tools–and a padlock to keep everyone else in the family away from my special garden twine (nothing personal).
Do you have 18 inches of extra space in your garage? Get your measuring tape and check, because I am telling you this garden shed has changed my life. Here's how to make your own: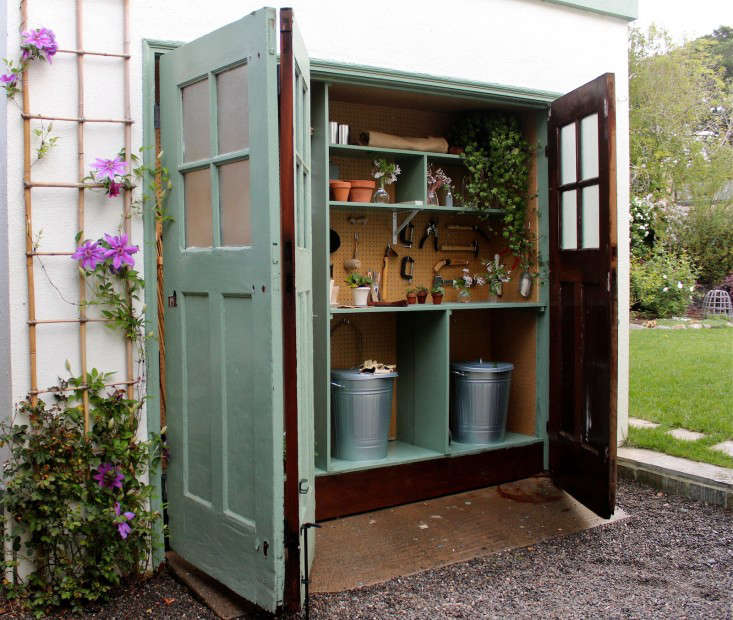 Above: My single-car garage has doors that open wide. I hired a handyman to mount sheets of pegboard and hang shelves. The tabletop is 36 inches off the floor–the standard height of kitchen counters and a comfortable height for me. (You can customize the tabletop's height to yours if you are taller or shorter than me.)
Above: Last year I bought a Clematis 'Starry Nights' and planted it in full sun, against the garage. In my Northern California garden, this year it started blooming in early March. A similar large, staked Starry Nights Clematis in a 3.6-gallon container is $74 from Monrovia.
Above: Sheets of pegboard are mounted inside the shed on the back and side walls. I bought hooks in a variety of shapes and sizes to hold tools and accessories.
Above: Sheets of heavy duty Commercial Grade Tempered Wood Pegboard measure 24 by 48 inches and are a sturdy choice if you are storing heavy tools. Unlike conventional pegboard (which is made of layers of glued cardboard), wood pegboard will not fray or dry out; $42.98 from Amazon.
A variety of sizes and shapes of hooks are available, depending on what sorts of tools and accessories you want to hang. For instance (from Top), a 50-Pack Of Pegboard Hooks is $35.07, a 4-Pack Of Metal Double Prong Peg Hooks is $2.26, and a 50-Pack of Angled Peg Hooks is $35.06 from Lowe's.
Above: Made of hand-forged steel, a pair of Japanese Garden Pruners is $109 from Kaufmann Mercantile.
Above: A heavy duty 10 Meter Field Tape in a coated steel case is on sale for $19 (marked down from $35) at Guideboat.
Above: A pair of steel-handled Scissors from a Chinese scissors and knife company that has been in business since the 1600s is 8 inches long; $12 from Brook Farm General Store.
Above: My White Clay Ben Wolff Pots come from Connecticut potter Wolff's One Of A Kind inventory (an ever-changing selection of discounted and discontinued pots). For similar pots, a collection of Three Flower Pots In White Clay with saucers is $85.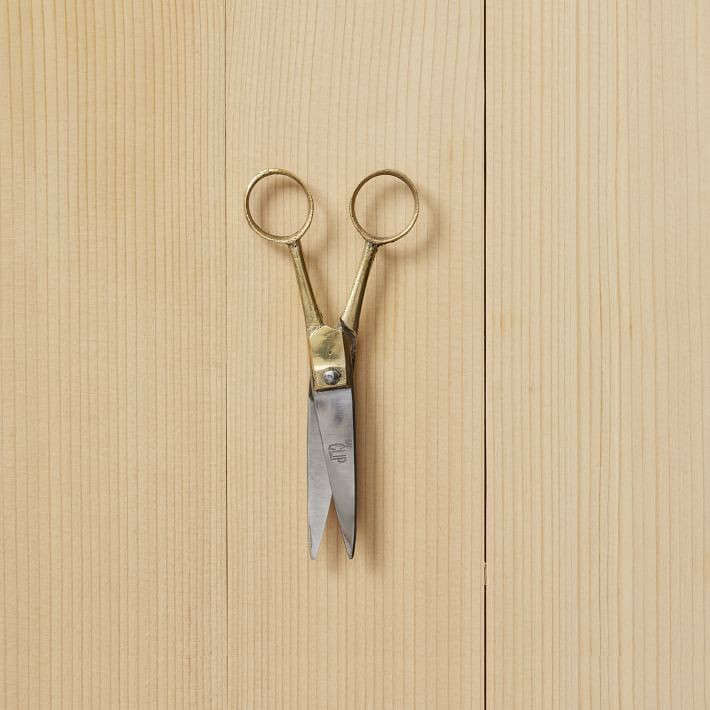 Above: A small pair of brass and iron Heirloom Scissors is $14 from West Elm.
Above: This is one of my special twines. I have thick twine, thin twine, and twine that's in between. (I use twine a lot–to lash together a bamboo trellis, to tie pea shoots to support hoops, and to train the jasmine vines on the back fence. I cannot spare any. If you think you "need" to borrow my twine to, say, wrap a birthday present, rethink that plan.)
I am a big fan of Nutscene's Ball O Twine ($8 from Ancient Industries) and of big soft balls of Unbranded Jute Twine (Shown) for $2.33 from Home Depot, and of Waxed Hemp Twine ($6.97 from Consumer Crafts).
Above: I store bags of potting soil and fertilizer (for my roses, plus phosphate for my citrus trees) in lidded metal bins that fit conveniently beneath the work surface.
Above: An 11-gallon galvanized Knodd Bin With Lid has a slim profile with a diameter of 16.25 inches; $24 from Ikea.
Above: On the shelves I store my nickel Haws Plant Mister ($19.95 from Amazon) and little terra cotta pots for seedlings.
Above: Half of my shed is reserved for hanging long-handled tools and saws with teeth like Red Riding Hood's wolf (I segregate them so I won't absentmindedly brush up against something sharp when I am potting or transplanting).
Above: Padlocked against twine thieves, my garage keeps a low profile.
For more garden shed tools and accessories, see:
(Visited 2,195 times, 4 visits today)