We think every gardener should experience the joy of owning–and taking care of–good tools. And by "good," we mean last-a-lifetime tools. The folks at Garrett Wade, sellers of fine tools since 1975, agree. They're giving away a $234 collection of the company's high-quality pruners and loppers, along with supplies (and tips) for sharpening and cleaning them, to one of our readers.
Founded by a former investment banker with fond memories of the high-quality woodworking tools of his childhood, Garrett Wade has over the past few decades expanded its selection to offer 1,700 of the sorts of products–including gardening tools, outdoor equipment, and shop tools–good enough to inspire nostalgia in a new generation. "The last 15 years we've spent combing the world for really well made, interesting tools that will last a lifetime," says Craig Winer, Garrett Wade vice president.
Garrett Wade will be giving away the $234 pruning collection (accompanied here by tips from Garrett Wade product development expert Anthony Francis for cleaning and caring for them) to a randomly selected reader. Here's how to enter: 
Subscribe to our Gardenista Newsletter and leave a comment sharing one of your own techniques for taking care of your favorite garden tool. (If you are already a Gardenista Newsletter subscriber, mention that when you leave a comment below.)
The winner will be randomly selected on Monday, December 2, 2013–be sure to check back to see if you've won. (UPDATE: This giveaway is now closed. Congratulations to the winner!)
Photographs by John Merkl.
Above: The Garrett Wade giveaway collection includes (clockwise from ten o'clock) a set of three diamond paddle hones; a pair of anvil loppers; a pair of French leather handled garden pruners with a leather grip; a box of garden tool oil wipes; a pair of heavy duty bypass loppers with adjustable length handles, and a carbide sharpener in a leather sheath. 
Above: An 8-inch-long pair of Leather Grip Bypass Pruners is made from forged steel by a family company in France; they come in a leather pouch with a belt loop and are $59.80. 
Here's how to sharpen them and keep them oiled, year after year: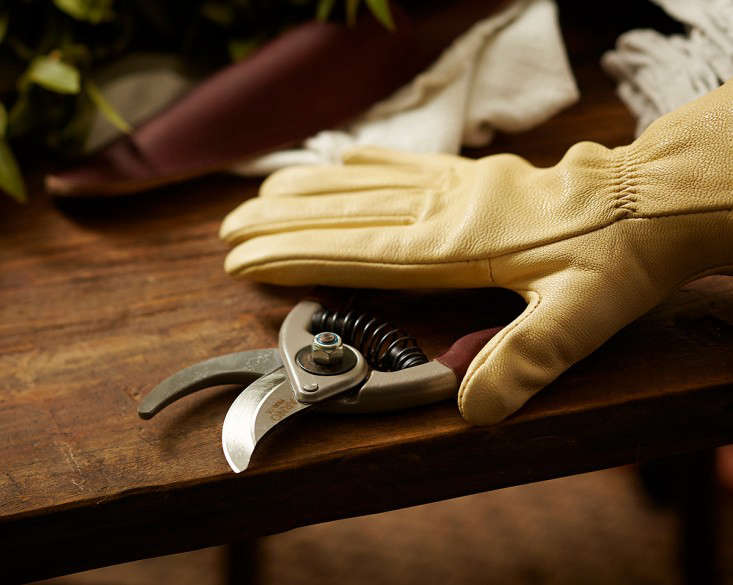 Above: Think about how you use your tool. "With pruning, I think of it as having a dialog with a plant," says Anthony Francis of Garrett Wade. "You want to control growth by shaping it, and you need clean, sharp tools that cut efficiently and don't leave dirt and debris from previous pruning."
Step 1: Put on gardening gloves for safety. Remember: you are actively sharpening a blade and keeping it close to your hand.
Step 2: Trap the tool against a work table with one free hand
Step 3: Identify the beveled cutting edge. Starting about 1/3 of the edge's length from the joint, press a carbide Universal Sharpener ($32.45) on the beveled edge and stroke evenly toward the tip of the blade, using moderate pressure. Repeat until the blade is sharp (to test, run a fingernail over the blade; a sharp blade will leave a faint white streak on the nail).
Step 4: Oil the blade and the articulating joint. A box of 24 Ballistol Garden Tool Oil Wipes is $9.95 from Garrett Wade.
"There's a lot of material on each wipe, so at the end of a day I line up all my tools and touch them up all at once," says Francis.
Step 5: Work the oil into the joint. Wipe it off the blade with a clean, dry cloth unless you are putting away pruners for the season, in which case you can leave excess oil on the blade for rust protection.
Above: Specially designed for cutting green wood, a pair of heavy duty Bypass Loppers is $49.95.
The process of sharpening both bypass and anvil loppers is the same–and easier, in many cases, because there is more space to work with. Bypass loppers have blades that overlap to cut; in anvil loppers, the blades meet to cut.
"The common practice among gardeners is that bypass loppers are used for cutting live wood and anvil loppers, with their big flat cutting area, for dry wood," says Francis. "The reason is the anvil loppers' slightly more aggressive face could potentially cause harm to living tissue." 
Above: Made in Canada, a pair of heavy duty Heavy Duty Anvil Loppers with a specially designed rapid ratcheting mechanism and telescoping handles is $69.95.
Above: You can mark the beveled cutting edge with a Sharpie to give you a line of sight when sharpening the larger blade.
Above: Made in France, a carbide Universal Sharpener is $32.45; it comes in a soft leather sleeve.
Above: A set of three Diamond Paddle Hones with three grits is $17.50.
After sharpening, flip over the tool and use a Diamond Paddle Hone to remove rust or, in a well-used tool, to burnish off little bright spots where the metal has folded over on the blade.
Above: Enter to win the Garrett Wade collection by subscribing to our Gardenista Newsletter and leaving a comment sharing one of your own techniques for taking care of your favorite garden tool. (If you are already a Gardenista Newsletter subscriber, mention that when you leave a comment below.)
See more of our Gardening 101 posts.
(Visited 89 times, 1 visits today)