Almost as American as apple pie, lilacs were first cultivated in this country by the founding fathers–both Thomas Jefferson and George Washington made entries in their journals about their preferred methods of lilac care. Perhaps this is why these fragrant spring blooms have a quality of old-fashioned elegance and country romance.
Around the same time that Jefferson was busy perfecting his own lilacs, Boston merchant Benjamin Bussey planted lilac hedgerows on land that would later be donated to the Harvard University and form the foundation of what has become one of the oldest and largest collections of lilacs in North America. Today, the lilac collection at the Arnold Arboretum of Harvard University boasts more than 400 plants representing nearly 200 distinct species, making it one of the most comprehensive and famous in the world.
The height of the season is marked by Lilac Sunday at the arboretum (this year: May 12). There's not better place to spend a delightfully fragrant morning among the impressive display, documenting the breadth and depth of the lovely lilac.
Photography by Justine Hand for Gardenista.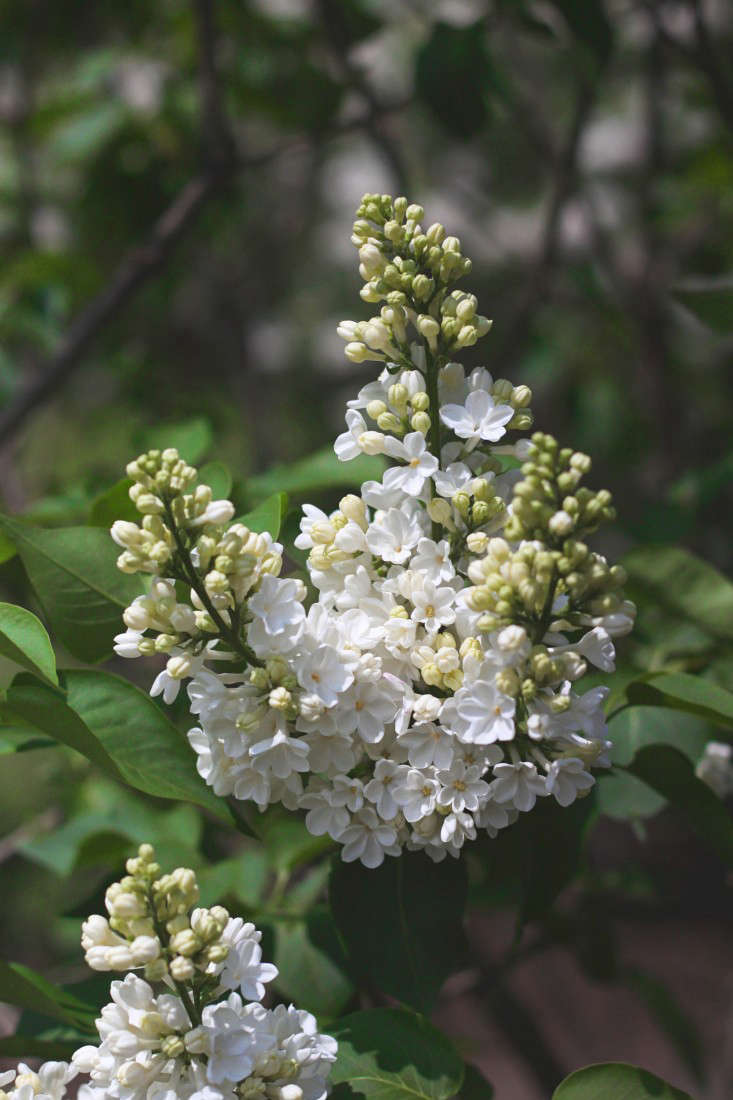 Lilac Care
Location, location, location. Much like people, lilacs thrive in the right spot: full sun with well-drained soil. If you give them this, they are a relatively low-maintenance shrub.
Irrigation: Water lilacs with at least 1 inch per week, but don't drown them. They don't like it if their roots stay wet.
Pruning: According to the Arnold Arboretum, you should prune your lilac right after it blooms. Since flowers form in the summer, fall/winter pruning will affect the next season's bloom. Remove all dead blossoms and cut back flowering stem to the next set of leaves. To encourage new growth in older plants, cut 1/3 of the oldest stems back to the ground for three years. Remove excess suckers.
Fertilizer: Lilac don't require much and, in fact, too much nitrogen can affect the bloom. A general fertilizer in the spring and again after blooming should do the trick.
Pests: Your lilacs don't mind the cold; keep lilacs clear of mulch in the winter, as mice and moles can find harbor under the cozy wood chips and eat the roots.
Disease: The most common problems for lilacs are powdery mildew fungus and scale. To combat powdery mildew, The Helpful Gardener suggests a green solution of 1/2 cup milk in a gallon of water sprayed over the leaves. The resulting sour milk culture leaves no room for the mildew. (Anyone ever tried this?) For scale, prune back the most invested branches, but don't compost. Project a hard spray on the plants to remove the "crawlers."
Propagation: To share the lilac love, simply dig down on any suck to expose a bit of the root and separate from the mother plant. Place in the same soil you dug it from, mixed with a little organic matter and water thoroughly.
Above: To see the lilac collection for yourself, visit the Arnold Aboretum at 125 Arborway, Boston, MA 02130.
Want to see more lilacs? Erin conjured Gatsby glamor in Glamorous Lilacs Inspired by Daisy Buchanan. Can you spot the lilacs in A Room with a View in Upstate NY on Remodelista?
Finally, get more ideas on how to successfully plant, grow, and care for lilac with our Lilac: A Field Guide to Planting, Care & Design.
Formore ideas on how to plant, grow, and care for shrubs and hedges, see our curated design guides to with our Shrubs 101.
(Visited 227 times, 1 visits today)