Organic gardening by definition makes everything happier. Instead of growing plants with the help of harsh chemical fertilizers and pesticides, organic gardeners nourish and replenish the soil with natural methods which are gentle on the environment and create welcoming habitats for insects, birds, and wildlife.
Whether you're growing edible or ornamental plants, your garden can benefit from these 10 ideas to steal from organic gardeners around the world.
Fruit Cages
Fruit cages are a humane way to keep birds away from your berries. "If you've ever tried to grow soft fruits out in the open then you'll know that birds of all shapes and sizes love delicious ripe berries just as much as we do. And they can strip plants bare with mechanical precision—usually on the very morning that you've decided to harvest your crop. So a fruit cage is a must if you want to grow soft fruits on any kind of scale," writes our contributor Clare Coulson.
For a range of options, see Hardscaping 101: Fruit Cages.
Mown Grass Paths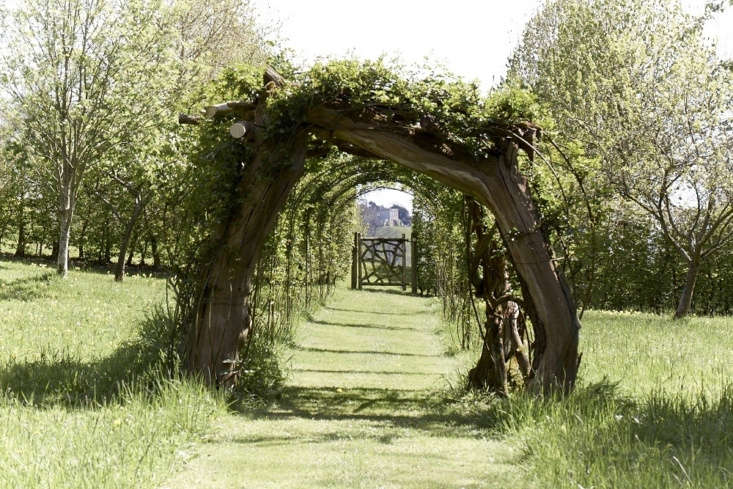 Easy on the pocketbook as well as the environment, mown grass paths encourage rainwater to percolate back into the soil. See more at Landscape on a Budget: 10 Ideas for Mown Grass Paths.
Biodynamic Methods
A growing number of organic farmers are embracing Austrian philosopher and edible gardener Rudolf Steiner's principles of biodynamic gardening, writes our contributor Clare Coulson. "Biodynamics is a twofold approach to growing, whether on farms or on a smaller domestic scale. First, organic preparations are used at different times in the growing cycle. And secondly there is the biodynamic calendar—which encourages growers to look to the cosmos for the optimum planting time—the aspect, perhaps understandably, that prompts criticism of the movement. Of any growing practice or philosophy, it is perhaps the most controversial, disputed by some scientists yet revered by the growers who follow it."
See more in Landscaping 101: Biodynamics for the Edible Garden.
The Ideal Dimensions
If you're designing a garden with raised bed, "It is vital to be able to reach the center of the beds from either side to avoid stepping on the beds, which compresses the soil," writes our contributor Clare Coulson. "For most people, this means limiting the width to about four feet. If your bed is only accessible from one side, limit the width to a maximum of three feet."
See more on the ideal dimensions, at Hardscaping 101: Raised Garden Beds.
Edible Hedges
"Green living fences can border gardens large and small. Is it time to choose a hedge instead of a fence?" asks our contributor Jeanne Rostaing. It's an added bonus when the shrubs in a hedge produce edible fruits. See more in Hardscaping 101: Hedges.
French Intensive Gardening
In the organic garden at Slide Ranch in west Marin County in northern California, ornamental and edible varieties are planted together, a feature of the French intensive gardening method to maximize productivity while minimizing irrigation. See more ways to get the most out of a small space in The Postage Stamp Vegetable Garden.
Warm Walls
Warm brick walls are a perfect spot to train espaliered fruit trees, writes contributor Clare Coulson. They'll absorb heat from the sun and hold it (as well as provide a windbreak for tender plants).
Wild Farming
At Scribe Winery in northern California, organic farming techniques invite birds and insects into the garden and rows of grapevines. The winery's owners dub the practice "wild farming," because it encourages horticultural worlds to collide.
Grid System
"A great kitchen garden depends on a delicate balance, hovering between 'organized' and 'chaos'," writes our contributor Kendra Wilson. "No matter how decadent the top half is, a grid of sharp lines keeps an edible garden organized at the base."
The solution? Use permanent landscape edging. For more inspiration, see Hardscaping 101: Metal Landscape Edging.
Simple Materials
Are you designing a new garden, or rehabbing last year's? Start with our curated Garden Design 101 guides, for growing tips and inspiration for Edible Gardens Design and Hardscape 101 projects including Gravel Gardens, Fences & Gates, and Pavers. See more ideas for designing a sustainable garden: