Those of us with tiny urban gardens don't have many opportunities to ponder how to mark the boundaries of our properties…in most cases a trip to the local home improvement super store for a basic stockade fence is all that is required. But travel to the south shore of eastern Long Island or through the horse country of New Jersey and you may get inspired by estates graciously enclosed by verdant towering hedges. These green living fences can border gardens large and small. Is it time choose a hedge instead?
What is the history of hedges?
It is believed that hedges first appeared when hunter-gatherers changed their job description to farmers sometime around the Bronze Age (3000-4000 B.C.) to prevent livestock from wandering off. At first hedges were rather accidental, just strips of woodland left after the early farmers cleared their fields. In Roman times, hedges became purposely planted rows of shrubs to mark property lines as well as control stock. In the 18th and 19th centuries hedge planting flourished as communal land used for grazing and farming was transferred to private ownership.
How do I choose between a hedge and a fence?
There are a number of factors to consider when deciding between fence and hedge, including:
Geography. The condition of the land may dictate whether you use a fence or a hedge. In New England and northern Britain, for instance, the soil is rocky. There it makes sense to build stone walls rather than plant rows of shrubs.
Aesthetics. A fence can be attractive but really can't rival a row of robust shrubs which increase the amount of landscaping on the property and serve as part of a well designed garden. Depending on the plants you choose, you can have seasonal variations such as spring flowers or fall color. Hedges can be softer, more welcoming and aesthetically pleasing than fences.
Property Lines. Hedges are a flexible solution where the borders of your garden are irregular: curved or crooked.
Your environs. Urban? A tall, dense hedge can serve as a barrier against street noise and exhaust fumes. Rural? A hedge planted up on a ridge or near the ocean can lessen the effects of high winds.
Environment. A hedge is a natural barrier, unlike many modern fences which are frequently made of plastic or chemically treated wood.
Time. If you need to enclose your property quickly a fence is the way to go. Even if you start with large plants, a hedge takes time to grow to fill in the gaps between shrubs and get tall enough to provide privacy.
Maintenance. Fences can be made of materials that will last for years with virtually no care. Hedges, on the other hand, must be maintained like anything else alive and growing in your landscape. Pruning, weeding, fertilizing and irrigating will most probably be required on a regular basis.
Safety. If you need to keep small children or pets securely inside your yard, a solid fence is a more reliable barrier. This is also true for enclosures around swimming pools.
Security: A hedge made of plants with thorns such as Hawthorn and Pyracantha can form a dense barrier and discourage intruders.
Pest Deterrent. Deer and rodents are best excluded from your yard by a fence. On the other hand, some other creatures such as birds like the natural habitat that a hedge can provide.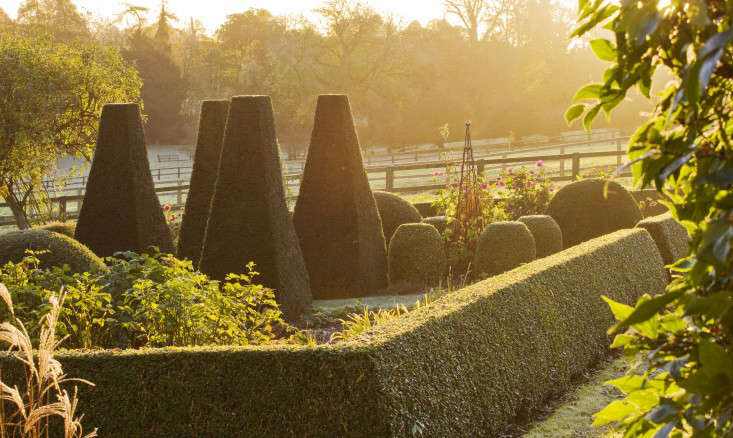 What are the best plants to use for hedges?
The variety of plants that can be used for hedges is virtually limitless. You will need to take into consideration light, soil and weather conditions in order to select plants that will thrive in your location. Also think about how tall you would like your hedge to be, whether you want an evergreen or deciduous hedge, and whether you would like fall color or flowers and fruit to attract wildlife. Of course, you don't actually have to choose just one plant. It is perfectly fine to mix types of plants in your hedge. Some classic plant choices for hedges are:
Boxwood
This evergreen can be pruned into virtually any shape for a formal look or left to grow naturally. It tolerates shade and is available in many varieties. This is a great choice to get a grand hedge look for smaller gardens  For more ideas on designing with boxwood check out our post Gardenista Roundup: For the Love of Boxwood. However, there is a blight that is affecting these plants so you will want to carefully consider alternatives and, if you do decide on boxwood, make sure to deal with a reputable nursery. For more information read our post: How to Eliminate Boxwood Blight: Plant a Different Shrub.
Privet
An evergreen that lends itself to pruning, privet can tolerate shade and provide a tall, dense privacy screen as well as shelter for nesting birds.
Holly
This evergreen grows slowly so it doesn't need a lot of pruning. It's spiky leaves make for an effective barrier and if you use both male and female plants you will get shiny red berries that enliven the winter landscape and are excellent food for wildlife.
Hornbeam
Very similar to beech, hornbeam sports leaves of vibrant green during the spring and summer. Later these turn to golden yellow, before finally donning a winter coat of deep russet.Hornbeams are hardy and do well in wet, clay soil where beech trees will falter. But the best thing about hornbeams? They retain their foliage throughout much of the winter, providing a welcome bit of warmth when everything else is barren (which also means they will cover up an ugly fence all year round).
Many other plants including Abelia, Juniper, and Oleander, which thrives in warm climates, can be used. The British site, Hedges Direct has extensive information on the vast variety of hedge plants.
Are there different styles of hedges?
Modern hedges here in the U.S. commonly consist of shrubs or trees planted in rows and allowed to grow together. But over the years landowners in the UK and Ireland developed very intricate styles of planting hedges that make them virtually impermeable barriers. The process is known as hedge laying and refers to creating or maintaining a hedge by weaving partly cut branches through the upright stems of a row of shrubs. For instance the Devon style hedge is planted on top of a soil embankment and is used when it is important to create a barricade that livestock cannot breach. Other styles are used when one side of the hedge faces a field or a road. Read more about hedge laying at The National Hedgelaying Society Website.
Any tips for hedge placement?
Remember the neighbors. A fence can be located precisely on the property line between houses. A hedge, on the other hand, may grow wider than expected and encroach on your neighbor's yard. See how one Long Island town is dealing with disputes about property lines and hedges: Secret Gardens: The Importance of Privet.
Research regulations. Before you begin planting your hedge you should make sure to research your town's regulations regarding hedges. A permit may be required for installation and there may be ordinances to assure that hedges do not interfere with pedestrian access or obstruct drivers' visibility
Pay attention to price. Installing either a fence or a hedge can be a pricey proposition. You can calculate the price (cost of fencing material plus installation) fencing in advance. Because a hedge is made of living plants there are many unknowable factors that can affect the final price including what you will end up paying for ongoing maintenance.
Hedges Recap
Pros:
Beauty.
Wildlife haven. Shrubs serve as shelter and nesting areas for birds.  Hedges made from plants that produce flowers and fruit (i.e. quince, abelia, juniper, holly) provide nourishment for bees, butterflies and birds.
Reduce impact of noise and pollution.
Act as a wind and weather buffer.
Environmentally Friendly.
Crime Deterrant.
Cons:
Can be slow growing.
Can grow wider and encroach on a neighbor's property.
Must be maintained.
For more about hedges see: