The biggest trend in gardening is … more gardening. Six million people nationwide took up the pastime in recent months, with U.S. millennials (ages 18 to 34) accounting for 80 percent of the newbies, according to a National Gardening Survey. The survey also reports that "the number of households purchasing landscape design, installation, and maintenance services has doubled in the past six years."
Here are 10 garden design ideas that we predict experienced and new gardeners alike will embrace in 2018:
Dexterous Decks
Say goodbye to decks that look like floating squares of wood in a backyard. These days, the best wooden deck is one you don't notice: it creates outdoor living space without distracting you from the outdoors. See more in Landscape Ideas: 10 Wooden Decks That Disappear.
Freestyle Ikebana
Deconstructed floral arrangements are breaking the rules of traditional Japanese-style ikebana floral arrangements. Dubbed "freakebana" by New York Magazine editor Stella Bugbee,  freestyle ikebana is "the art of arranging whatever you want," she says.
Ikebana: a restrained, minimal composition that pays homage to the beauty of nature.
Freakebana: Strawflowers and a paperclip sticking out from a watermelon. See more at @flores_la_fe
Open Air Living Rooms
No walls necessary: a covered outdoor space is extra living or entertaining room.  "As I often say to people, if you have the great fortune of living in a house often the backyard is the biggest room of your home," says Los Angeles-based landscape designer Judy Kameon.
Painting with Grasses
Cape Cod-based garden designer Tim Callis "prefers airy plants with a lot of movement," writes Justine. Grasses such as Calamagrostis acutiflora 'Karl Foerster' or (feather reed grass) as shown above add a smudge of color and a visual focus to a landscape.
Instant Outdoor Kitchens
The latest trend in open-air cooking is the disappearing outdoor kitchen. A freestanding, compact outdoor kitchen like the Tilt model shown above has a cooktop, sink, utensil shelves, and a workspace—and a fold-down cover that transforms it into an unobtrusive box at the edge of a deck or patio.
Mossariums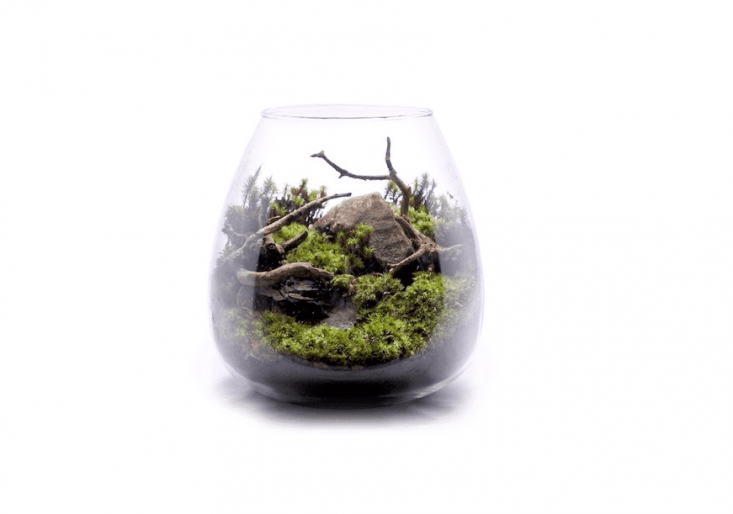 "With its tolerance of low light levels and love of high humidity, moss is ideally suited to terrarium life, yet it often gets overshadowed by showier plants such as ferns and bromeliads," writes Jane Perrone. "Thankfully there's a movement that puts moss center stage." See more in The New Terrarium: 6 Top Trends for 2018.
 Mosaic Paths
San Francisco-based garden designer Monica Viarengo's projects (including the one above) feature walkways of patterned risseu, an increasingly popular pebble-mosaic technique common in Viarengo's hometown in Italy.
Lady's Slipper Orchids
The delicacy of Paphiopedilum's flowers and the striking color combinations of its dozens of species and hybrids are making Lady's Slipper orchids a popular potted plant. (Water once a week or when the top inch of growing medium feels dry to the touch and allow the roots to drain fully.)
Woodpile as Art
In addition to offering "a primal reassurance—no matter what, there will be the warmth of a blazing fire," as Jane Perrone writes, a well-stacked woodpile is aesthetically pleasing and can do double duty as a temporary fence, boundary wall, or sculptural element in a backyard. See more examples in The Well-Stacked Woodpile: 10 Tips to Stack and Care for Firewood.
Statement Gates
Curb appeal alert. Your fence is the first thing a visitor sees; its design signals your garden's intent. From rustic to modern styles, gates are showing more personality than ever. See more ideas in our Garden Design 101 Guide to Gates and Get the Look: The English Garden Gate, 10 Ways.
N.B.: See more inspiration for your 2018 landscape or hardscape project:
(Visited 2,074 times, 3 visits today)