"I'd always had this dream of having my own walled garden, so when this came up I couldn't resist," says Colum Pawson, who in the past 18 months has transformed a magical space at the Welsh Old-Lands estate into a thriving vegetable garden, with a veg box scheme, an on-site shop and now gardening courses on offer too. We took a tour of this abundant and picturesque plot:
Photography by Britt Willoughby Dyer for Gardenista.
Previously it had been a traditional vegetable and fruit garden and, as such, had amazing soil that had been improved with manure and compost over generations.
See more of the gardens at Old-Lands: A Modern Welsh Garden from a Bygone Age.
Colum's first job was to remove the plants that had been so carefully tended by Sam's mother. "It was a wrench to clear it all out—it was a beautiful garden," says Colum, who relocated the plants into a new courtyard garden by the main house.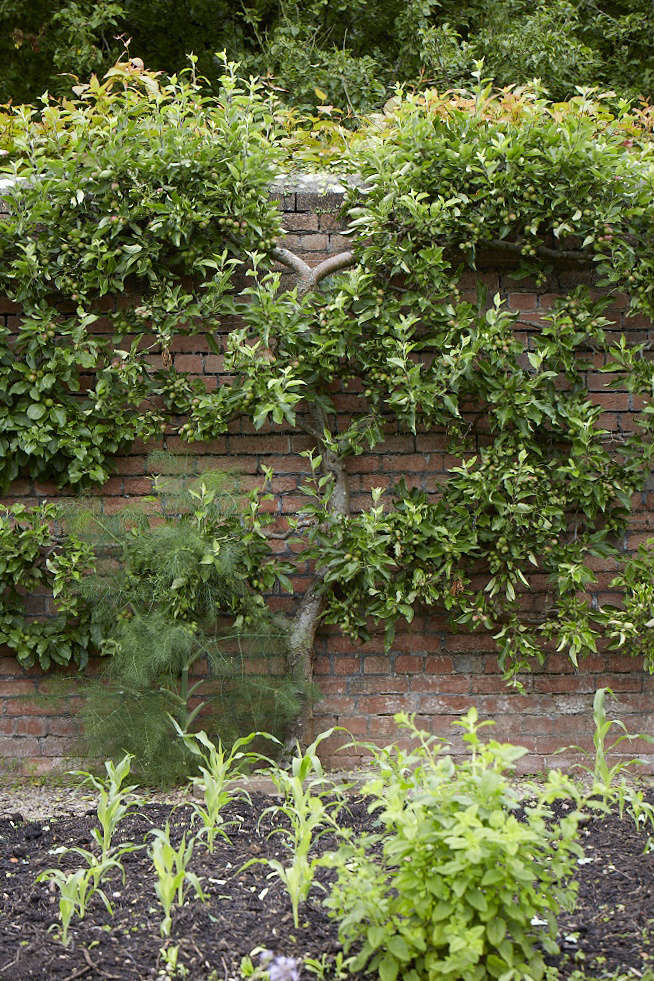 The whole garden is no dig (Old-Lands has just started hosting gardening workshops with the No Dig guru Charles Dowding) which is a principle that Colum has followed for many years and which reduces the workload of the garden. But maintaining this vast space is still a huge task with just a couple of volunteers for a half day each week.
Everything is grown from seed in the Victorian greenhouses. The brick wall at the back of the greenhouse keeps it warm year round.
This year the growing area has been extended. The orchard—which grows apples used for making the estate's apple juice—now also houses a couple of polytunnels and another growing space and Colum has also taken on another half acre in a nearby field.
To maintain the year-round veg box (part of the Community Assisted Agriculture scheme), Colum has had to increase the amount of winter vegetables too: with brassicas, leeks, and squash.
Their two young daughters have room to roam, a lake to swim in, and acres to explore: "It's a lovely place to grow up and that was one of the main considerations for us. There's something that kids get growing up in the country that you cannot replicate, an awareness of nature that is quite special."
N.B.: For more insider tips for maximizing the yield from your edible garden, see:
(Visited 117 times, 1 visits today)