Gravel doesn't sound like a glamorous hardscaping material. It's cheap, ubiquitous, and really, well, gravelly.
But take a closer look, and you'll realize that the seemingly mundane material is a superhero. It's a maintenance-free ground cover. It allows water to drain back into the soil. And it acts as a natural French drain (because properly laid gravel doesn't puddle water). Not to mention, it has an elegant formalism when landscaped along the perimeter of a house.
Here are 10 gardens with gravel to envy (with ideas you can steal for your own garden).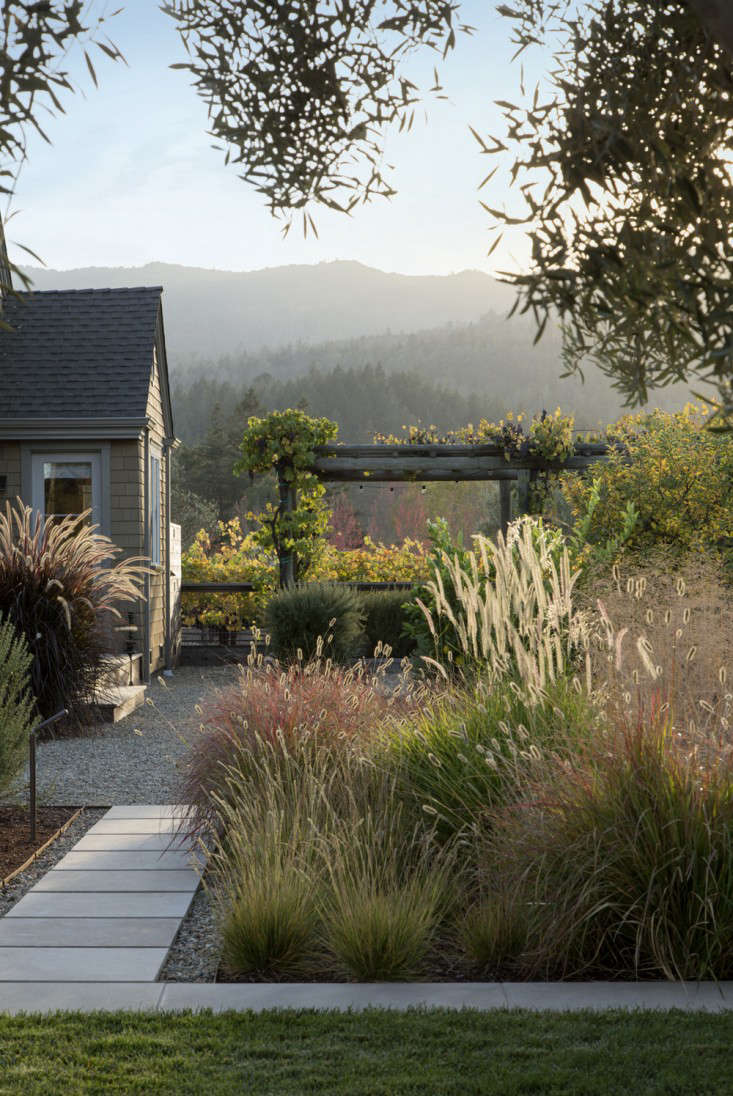 At a guesthouse in California's Napa Valley, a gravel courtyard leads to a bluestone walkway. Our goal was to make this garden evocative of the surrounding landscape, which is just stunning," said SF-based landscape architect Scott Lewis, who came up with a garden design for the one-acre property that takes advantage of the agrarian nature of the Napa Valley. For more, see Vineyard Haven: A Napa Valley Garden that Belongs to the Land.
One detail: alongside the driveway, gravel and a concrete retaining wall with a sharp edge contrast with the untamed floppiness of the grasses planted at varying elevations.  For more, see Dune Story: A Postmodern Masterpiece Saved from the Sea.
See more in Steal This Look: Water Troughs as Raised Garden Beds.
In a Brooklyn backyard, garden designer Brook Klausing edged limestone pavers with crushed limestone dust mixed with gravel. "It's a very modern look, but I tried to soften it with the gravel and plantings, like the ferns in the gravel," says Klausing. For more of this garden, see Designer Visit: Brook Klausing Elevates a Brooklyn Backyard.
Turin-based landscape architect Cristiana Ruspa planted low-water, hardy perennials at the edge of a gravel courtyard in the Piedmontese hills of northern Italy. For more of this garden, see Rehab Diaries: The Resurrection of a Medieval Nobleman's Garden.
"I wanted to create a simple vegetable garden with raised vegetable boxes that would act as sculpture and look just as good in the winter months as during the summer months with everything in full bloom," says Michelini. See more of the garden in Gardenista Considered Design Awards 2014: Finalists for Best Edible Garden.
In LA's Hancock Park neighborhood, garden designer Naomi Sanders edged caste concrete pavers with gravel, matching the color to the front stoop of the house. "It makes the hardscape feel more connected to the house," she says. For more of this garden, see Before & After: A Grande Dame in LA's Hancock Park.
The structure was designed with environmental sensitivity in mind, and surrounding gravel allows water to drain back into the soil.
Our curated Gravel 101 design guide also covers Low-Cost Luxe: 9 Pea Gravel Patio Ideas to Steal and Expert Advice: 11 Tips for Gravel Garden Design. Read more:
(Visited 5,477 times, 13 visits today)