The Italian lakes were a popular tourist destination as far back as Roman times when the area gained a reputation as a peaceful, rejuvenating spot with a temperate climate, stunning landscape, and calming lakes. An entire millennium later we still go there for the same things —except now there are staggeringly beautiful villas too, many of which owe their classical lines to those Roman forebears.
Villa Balbiano is one of them: an incredibly handsome house that perches by the water on the shores of Lake Como in Ossuccio. This elegant and stately home has its origins in the 15th century but more recently has had a total overhaul inside (by Jacques Garcia) and outside (by the British firm Colson Stone) and now there's a book, Villa Balbiano: Italian Opulence on Lake Como (Flammarion), in which Ruben Modigliani chronicles this fabulous return to splendor.
Photography courtesy of Bruno Ehrs.
Much of the original building work on the house was carried out throughout the 17th century and in 1787 the house was acquired by Cardinal Angelo Maria Durini, an art patron who would commission frescoes, and added a church and pavilion in the grounds as well as buying up surrounding properties.
When landscape designers Colson Stone began their 21st-century garden restoration, they looked at how the gardens would have once been laid out. They undertook a full six months of historical research using maps, paintings, photos, and satellite images to get to grips with the original plans.
Grand Italian gardens are all about classical clipped foliage—evergreen oak (Quercus ilex) and bay laurel hedges lead visitors right up to the house.
Statuary and urns are a crucial feature in any formal garden, and at Villa Balbiano they edge paths and draw the eye into the plants. Statues nestle in the arched openings of tall, glossy hedges and stand sentry down paths. Many of the urns and busts have been added to the garden since the 18th century.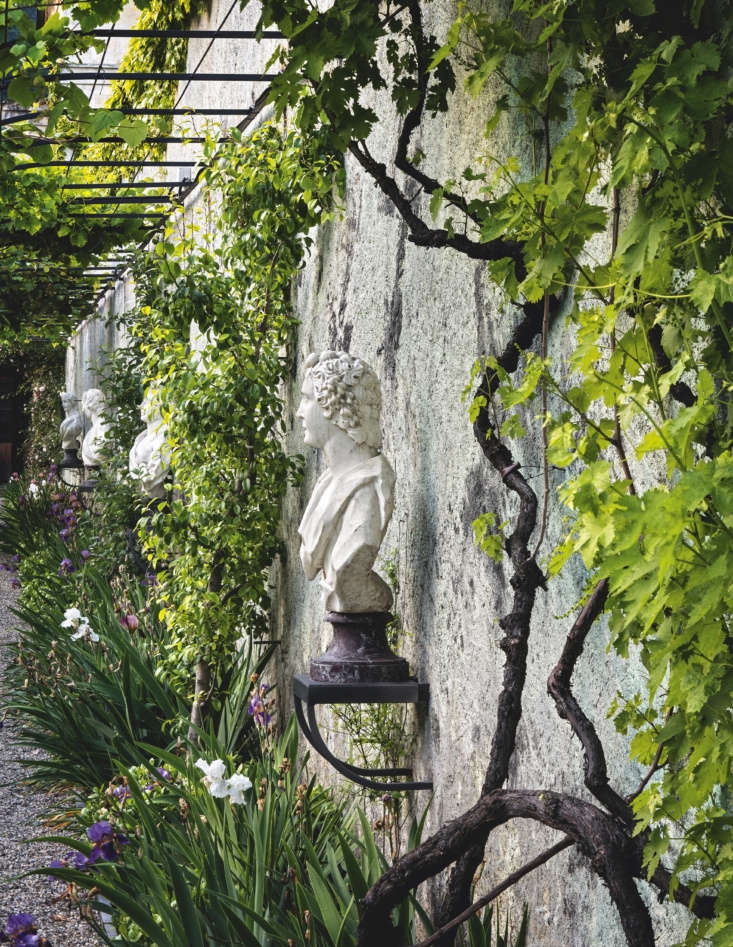 Flowering shrubs and perennials draw on the British influence in Italian gardens (this is Grand Tour central after all) with roses, iris, sedums and hydrangeas providing color against the verdant backdrop of palms, cypress, and clipped topiary.
The dock's spiral painted timber posts guide visitors to the house, while the boathouse is almost entirely concealed in rampant foliage and a partially concealed wrought iron gate.
The house has spectacular views across Lake Como to the distant mountains, and the area of the garden that looks directly out to it is purposefully understated with an immaculate open lawn and simple topiary shapes that frame the stunning views.
Last year this meticulous renovation earned Colson Stone the British Society of Garden Designers' first prize for the best restoration of a historic garden.
Are you designing a garden from scratch? Whether you're embracing Italian formality or cottage garden chaos, start with our Garden Design 101 guides for ideas and layouts. For more inspiration from Italian gardens, see:
(Visited 186 times, 2 visits today)