Who could have guessed that the most hypnotizing hardscape material of the past decade would turn out to be humble gravel? Available in an almost infinite range of colors, textures, and sizes, gravel is in increasing demand for landscape projects because it looks good (and feels good underfoot), benefits the environment, and saves money.
Use our design guide, Gravel 101, to learn everything you need to know about the best gravel to choose for your hardscape project.  The choices are dizzying. From pea gravel to its cousin decomposed granite (an even finer grade of crushed stone known as DG), gravel is a budget-friendly alternative to larger slaves of stone and a smart solution to drainage problems. Different types of gravel—including marble chips, river rock, and granite—are available in a range of colors from black to gray to blue to buff that complement greenery and create a soothing backdrop in a garden.
Gravel usage is increasing for all kinds of construction projects; the American Geological Institute also estimates that construction of a typical new house in the U.S. requires a hundred tons of natural aggregate (including gravel, sand, and crushed stone) for its foundation, driveway, and other features.
Gravel 101 is part of our new Hardscape 101 section, offering design tips and practical advice on such topics as Decks & Patios, Exterior Hardware, Outdoor Lighting, Outdoor Showers, Retaining Walls, and Pavers.
Here's a glimpse of what you'll find in our Gravel 101 guide:
Pea Gravel
Above: Domino magazine editor and Lonny co-founder Michelle Adams recently moved home to Michigan; her new garden has two gravel courtyards. See more in Before & After: A Garden Makeover in Michigan for Editor Michelle Adams. Photograph by Marta Xochilt Perez.
In a garden, gravel is one of the most forgiving materials you can use to pave a patio or paths. Its permeable qualities help to filter rainwater and prevent erosion. (This also makes gravel an excellent choice to fill gaps between pavers or to carpet a courtyard.) See more in Hardscaping 101: Pea Gravel.
Decomposed Granite
Decomposed granite formed from the natural weathering and erosion of solid granite is a tough, hard, igneous rock," writes our contributor Ellen Jenkins.  "The DG sold as landscaping material is typically composed of fine 3/8-inch (or smaller) particles; some may be no bigger than a grain of sand."
Learn more at Hardscaping 101: Decomposed Granite.
Permeable Patios
Gravel is one of a "host of paving products that let water percolate through to the ground underneath, limiting water runoff, preventing erosion, filtering out pollutants, and improving the health of soil and vegetation," writes Erin. See more in Hardscaping 101: Eco-Friendly Paving Solutions.
And see more ways to use gravel in patio design in our guide to Decks & Patios 101.
French Drains
The simple idea behind a French drain is this: dig a trench to channel water downhill and fill the trench with gravel so the water can filter down to the bottom of the trench. At the bottom install a pipe to capture water and encourage it to flow in a direction away from a house. See more at Hardscaping 101: French Drains.
Gravel Gardens
"While many of us strive to perfect our lawns, for others turf can be a serious turn off," writes our UK-based contributor Clare Coulson.
See more in Hardscaping 101: Gravel Gardens.
Gravel Backyards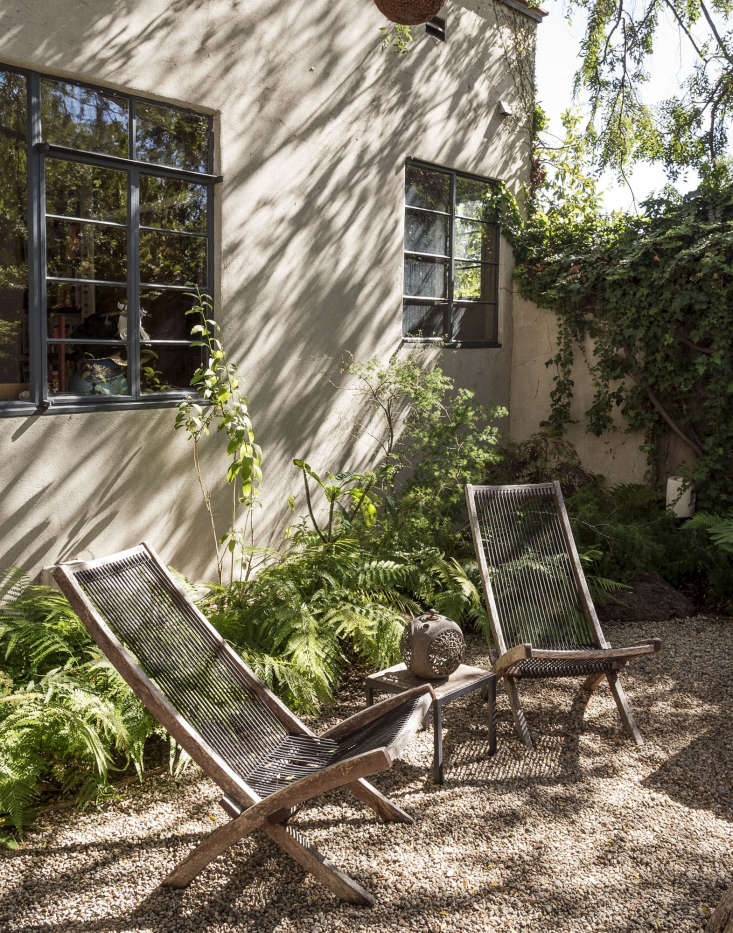 After pondering over her "neglected backyard" for three years, our contributor Izabella Simmons decided "our garden deserves more than a weed-filled lawn and a few patches of dirt." The solution: a gravel garden. To see some of the "inspiration" photos she collected to show to her landscape architect, go to The New Gravel Backyard: 10 Inspiring Landscape Designs.
Gravel Driveways
For more, see Hardscaping 101: Ribbon Driveways.
Classic Garden Layouts
See more in Landscaping: 10 Classic Layouts for Townhouse Gardens.
N.B.: Our curated Gravel 101 guide also covers Low-Cost Luxe: 9 Pea Gravel Patio Ideas to Steal and Expert Advice: 11 Tips for Gravel Garden Design.
Finally, learn how to successfully use gravel in a hardscape project with our Hardscaping 101: Gravel guide.
(Visited 2,104 times, 1 visits today)