Vote for the finalists in each of 17 Considered Design Awards categories, now through August 8, on both Gardenista and Remodelista.
In the Best Edible Garden category, our five finalists are: Britton Shepard; Deirdre Heekin; Kriste Michelini and Esther Arnold; Frances Palmer; and Green Grow.
Project 1
Britton Shepard | Fall City, WA, USA | Permaculture inspired children's edible garden
Design Statement: Our mini-homestead is situated on an exact 1/2 acre in Fall City, Washington, a small town near Seattle. Here we have a collection of ancestorial fruit trees, a flock of chickens, and four gardeners (two of the large and two of the small varieties). Our edible garden is inspired by permaculture principles and designed to welcome children as foragers and helpers. It is composed of two main areas. First, the annual vegetable garden is composed of a flexible system of semi-raised beds that rotate crops throughout the season. The annual garden is approximately 200 square feet and is enclosed by a reclaimed wood fence. The paths are lined with straw for ease of weeding and to keep small feet clean. It is ringed by cutting flowers for the kids to sell out on the road. The second section of the edible garden has been deemed "berry boulevard" as you can snack your way down the 120-foot bed. The bed is a long and narrow edible perennial border beautiful across seasons and home to birds during the winter. Plantings include berries (raspberries and blueberries above, strawberries below), fruit trees for structure and alliums, rhubarb, elderberry, angelica and herbs of all kinds. Both planting areas are edged with a hand-formed concrete curb to keep the lawn from creeping into the beds. This delineation and structure allows for the garden to feel organized, even as the garden matures into the late summer frenzy of sunflowers and tomatoes.
Chosen By: Guest judge and garden writer Margaret Roach, who liked this project for "Pairing a permaculture ethic with strong aesthetics (love the fence!), while also packing in the produce. Who wouldn't want to walk down that Berry Boulevard and meet all those happy beneficials?"
Above: Along "berry boulevard" towards the old orchard. Raspberries on the left, edible perennials on the right.
Above: The front gate.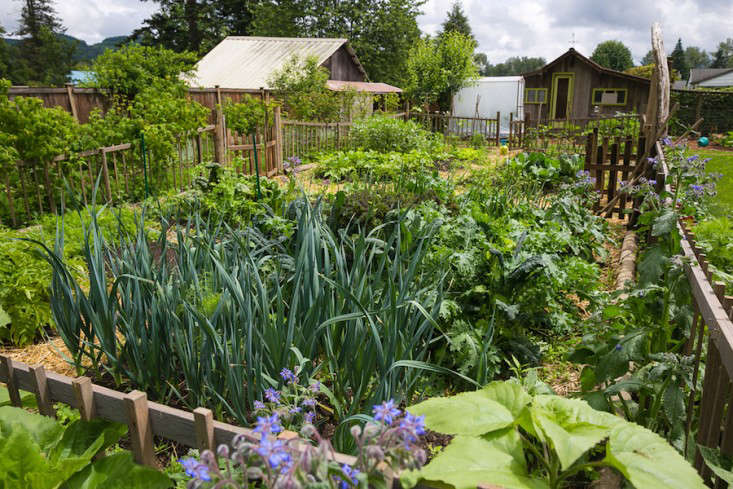 Above: View over the garden towards the tomato house, chicken coop and compost bins in mid-summer.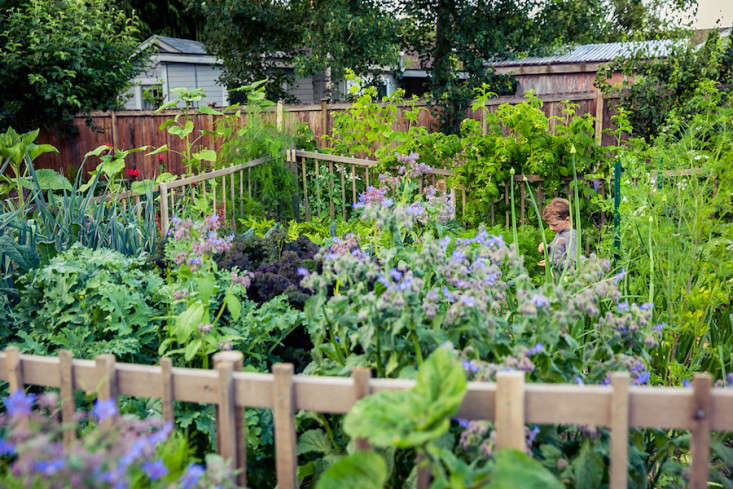 Above: Inside the garden during mid-summer. The fencing was sourced from a local mill's trash heap. Volunteer plants (like borage in the foreground) are encouraged for beneficial insect attraction.
Above: Along the edible perennial border. Strawberries are mixed with alliums, cat mint and blueberry bushes.
Above: The edible annual garden in early summer. Straw keeps down weeds and promotes wandering.
---
Project 2
Frances Palmer | Weston, CT, USA | Tennis Court Kitchen Garden
Design Statement: We have transformed an old tennis court on our property into a kitchen garden, taking advantage of the perfect deer fence. We have constructed 26 raised beds and filled them with vegetables, herbs and flowers. We are provided with produce the entire season. I can as well, preserving for the winter.
Chosen By: Margaret Roach: "Talk about adaptive reuse or upcycling! A wasted space now provides food, and an unused fence guards that bounty. Bravo–and bravo for the no-pesticides commitment, too."
Above: The tennis court sits next to my pottery studio. It was originally built in the 1930's. We put new fencing up 20 years ago, but never really used it to play tennis. Three years ago we transformed it into a vegetable, herb and flower garden.
Above: This is a view looking down the center of the garden. As the court has aged, cracks have appeared all over. These have filled with sunflowers, zinnia, amaranth, verbena bonariensis, cosmos, poppies, calendula, nasturtiums and hollyhocks.
Above: We grew butternut squash, kabocha squash and heirloom pumpkins. By late fall the vines draped over the court and the pumpkins loved the heat of the court surface. We made glorious soups and roasted squash for months.
Above: We have had a gorgeous crop of poppies that have seeded in the raspberry and blueberry boxes. I mix many kinds flowers in with the vegetables to have a steady supply of flowers for my vases. The dahlias are just starting to bloom.
Above: Last fall we had a bumper crop of potatoes. Nothing is more delicious than digging your own potatoes and cooking them. We had enough to last through the winter and seed potatoes for this spring.
Above: There are about seven boxes devoted to heirloom tomatoes. Many we start from seed but the rest are from farmers nearby. The garden is organic. I have bees as well, so we are careful and do not use pesticides of any description.
---
Project 3
Deirdre Heekin | Barnard, VT, USA | La garagista farm + winery
Design Statement: My husband and I have a small poly-culture hillside farm in Vermont where we grow fruits, vegetables, and some livestock for our restaurant, and cider and wine for both the restaurant and farther afield. Our philosophy concerns the integration and the aesthetic form and function of all aspects of our farm: the vineyard, the orchard, the walled garden, the apiary, the rose garden, wilderness, the kitchen and cantina and how they all relate and feed each other, with the goal of creating beautiful, healthy and delicious food and fermentations that focus on purity of taste in a landscape that inspires us every day.
Chosen By: Gardenista editor-in-chief Michelle Slatalla, who said, "If we had our way, every garden would grow wine. La Garagista is that rare mix: a hard-working garden that is so beautifully designed that you forget you're there for anything but your pleasure."
Above: Midsummer daydream.
Above: Lavender in the afternoon garden.
Above: Late summer in the tomato house.
Above: In the lower walled garden in spring.
Above: Belladonna blooming on Independence Day.
Above: Dusk falls in the rose and onion garden.
---
Project 4
Green Grow | Mora, NM, USA | Green Grow Gardens
Design Statement: We belong to a corner of paradise in the mountains of Northern New Mexico on a 320-acre property teaming with wildlife and medicinal herbs. We are cultivating approximately 3,000 square feet of raised beds and garden space. Our intention is to live in a balanced and sustainable way to restore balance and harmony with the planet.
Chosen By: Margaret Roach, who said: "Kudos for acknowledging and adapting to the realities of a harsh climate with ingenious but earth-friendly (and attractive!) solutions. Loved the polyculture planting approach, too."
Above: This is a view including our raised beds, solar panels, year-round greenhouse, garden shed and utility building, and our home.
Above: This is our tomato hoop house and "hugle" raised beds. We are practicing and learning about permaculture and biodynamic techniques.
Above: Raised beds and protection is necessary at 7,500 feet in the mountains. We experience extreme shifts in temperature at any time in the year.  Hailstorms are also not uncommon.
Above: This is polyculture planting, which includes companions such as chard, cabbage, onions,  celery, beets and carrots.
Above: If you want to find us, we're at the end of the rainbow.
---
Project 5
Kriste Michelini and Esther Arnold | Alamo, CA, USA | Alamo Garden
Design Statement: This is my personal vegetable garden which was inspired by Andrea Cochran's gardens and the Getty museum in Los Angeles. Esther Suzuki Arnold and I collaborated on the design of this vegetable garden. I wanted to create a simple vegetable garden with raised vegetable boxes that would act as sculpture and look just as good in the winter months as well as during the summer months with everything in full bloom. The boxes are in varying heights and lengths creating energy between them by being staggered. The trellis creates height as well as functionality for growing vines. The decomposed granite with metal edges outline additional planting spaces to fill with succulents and grasses creating interesting vignettes throughout the space. The outline of this garden is edged with boxwood to create structure and it's own garden room.
Chosen By: Michelle Slatalla: "By playing with simple design elements–color, height, and scale–Michelini and Arnold have created an utterly original edible garden that is as much a joy to see as to harvest (and we hope to learn where they got the charming love seat)."
Above: A simple garden.
Above: Succulents for ground planting.
Above: Stainless strip detail.
Above: Varying heights of raised beds.
Above: Apple espalier with irish moss.
Finally, learn how to successfully design and create an edible garden with our Hardscaping 101: Edible Gardens guide.
(Visited 626 times, 1 visits today)