The best cottage gardens look like they planted themselves. They didn't, of course. But the design principles they follow are simple.
The English invented the cottage garden, probably in the 1400s when even the humblest plots of land were pressed into service to produce food for families. Every inch of earth counted—with herbs, fruit trees, and flowers (which attracted bees to pollinate crops) jammed close together. Aside from being practical, the effect was charming.
Today's modern cottage gardens look just as lovely—a spill of color as edible and ornamental plants mingle and flop over the edge of a walkway. Roses engulf a trellis. Hollyhocks lean casually against a brick wall. Here are 10 ideas to steal from English cottage gardens.
Crash Course: Gertrude Jekyll 101
English gardener Gertrude Jekyll (1843–1932) is the patron saint of modern cottage gardens, having popularized the informal, blowsy herbaceous borders we associate with country houses (in England) and picket fences (in the US).
In reaction to the fussy, formal plantings the Victorians championed, she advocated a more natural look, with plants arranged by color, height, and flowering season. For more of Jekyll's ideas and advice, see Gertrude Jekyll and the Country House Garden ($88.79 from Amazon; prices vary based on availability).
Breach Boundaries
To create the quintessential cottage garden, plant flowers at the edge of garden beds and allow them to spill over onto paths. Bonus points for fragrant flowers that brush against visitors' ankles as they pass by.
Add Arbors
Install sturdy arbors and trellises so you can train vines and climbers (particularly fragrant roses) to grow into billowy shapes against walls, next to gates, and above doorways.
Bench Logic
Place benches, chairs, and chaises strategically in the garden to lure visitors to spend time sitting among the bees and the blossoms. Consider adding seats to a hidden corner, a knoll with a view, or smack in the middle of an especially pretty flower bed (provide stepping stones to guide the way).
Consider Climate
In the earliest English cottage gardens, there was no room for error. Tried-and-tested plants known to thrive locally were favored because they produced the best crops. In England—or a similar climate—common cottage garden flowers include hollyhock (shown), nicotiana, poppy, foxglove, nasturtium, and cosmos. If you live in a different sort of climate, you can plant native wildflowers to get a similar effect.
Punctuation Marks
Plant shrubs and small trees among the flowers to add height, structure, and visual interest to garden beds.
Lure Pollinators
Plant a Little of a Lot
Cottage gardens often are a dense mix-and-match jumble for a practical reason: If you have small clumps of many kinds of plants, you will limit loss to pests and diseases.
Informal Design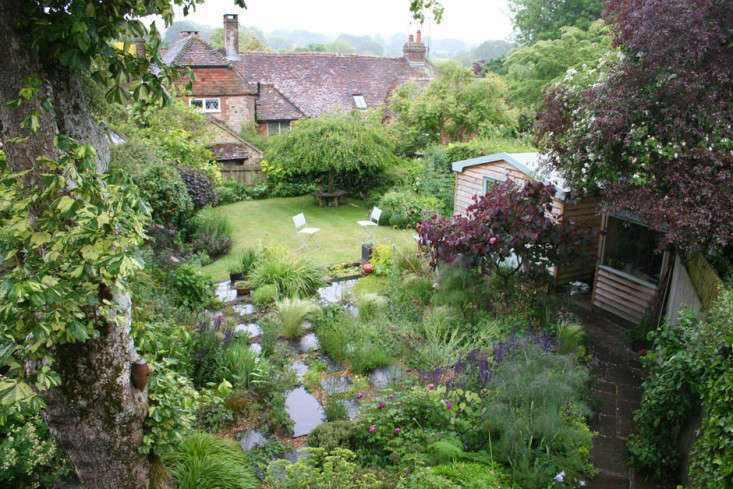 Lay out irregularly shaped garden beds and allow paths to define perimeters and spaces in the garden. A meandering walkway is better than a straight one because it will force passersby to slow down and see more of the cottage garden.
Experiment
Don't be afraid to mix old-fashioned flowers with other varieties—depending on your climate, your cottage garden could have succulents, jasmine, or perennial grasses growing in it. For more, see
Leaves of Grass: 9 Ways to Create Curb Appeal with Perennial Grasses
.
Are you designing a cottage garden? See some of our favorite flowers for cottage gardens in our curated guides to Perennials 101, including Hollyhocks, Coral Bells, Spurge, Foxgloves, and Lamb's Ear. For more English gardens, see:
(Visited 6,108 times, 11 visits today)