Good garden design can change your life–and remove boundaries between indoors and out to increase living space. We've rounded up 13 new ideas to steal from designers to improve your landscape this year, whether you're planning a major hardscaping project or need a few accessories to add curb appeal:
Black Palette
Monochromatic and minimalist, a black palette is a dramatic foil for green plants, the silvery wood of weathered furniture, and gray gravel. Start by painting a wall or fence to establish a tone. Add black pots and planters; see our favorites at 10 Easy Pieces: Little Black Planters.
Above: Looking for the perfect shade of black paint? See Paints & Palettes: Architects' Top 8 Black Paint Picks.
Above: Photograph courtesy of Chris Moss.
Add black accessories: paint handles black to make tools display worthy. Simple black tables and benches will complement other furniture made of wood or natural materials such as bamboo or rattan. Recycled rubber trugs made from tires are durable and inexpensive. For more of our favorites, see Saving the Earth, One Trug at a Time.
For more ideas, see Designer Visit: The Black and Green London Garden of Chris Moss.
Indoor/Outdoor Flow
Think like an architect and incorporate the garden into living space to increase your home's livable square footage. Maximize indoor-outdoor flow by increasing the width of door openings or with French doors.
Brooklyn-based architect Elizabeth Roberts replaced a back wall of a townhouse in Fort Greene, Brooklyn, with a window wall (Above) to erase the boundaries between indoors and out. See more of the project at Indoor/Outdoor Living, Brooklyn Edition.
Wall Fountains
Above: A wall fountain at the Hotel Nord-Pinus in Tanger.
Good for small spaces, wall fountains don't take up valuable planting space in the garden. A narrow trough at the base of a wall fountain can catch water and recirculate it.
Are you considering a fountain or water feature? We rounded up 10 of our favorites (wall fountains included) in Ultimate Luxury: 10 Favorite Fountains and Garden Water Features.
Columnar Trees
Above: Fastigiate hornbeam trees are pruned to create garden walls in a London garden by Luciano Giubbilei.
Plant fastigiate trees (which grow from a single trunk in a narrow, upright direction) in small gardens or to solve a landscape design problem. Columnar trees grow up instead of out. Their footprint is minor but their impact is major. Popular choices include cypress trees, Japanese holly 'Sky Pencil', European green beech, or fastigiate hornbeam trees. Easily shaped by pruning, columnar trees can be trained to grow flat against a wall or as topiaries or as dense hedges.
For special trees, see Shopper's Diary: Specimen Trees and Special Shrubs from Solitair Nursery in Belgium.
Garden Bells
Above: Ceramic Nautley Jingle Bells (available in three colors) are $178 apiece at Anthropologie.
Garden bells are the new wind chimes. But better because, as all know from watching It's a Wonderful Life, "every time a bell rings, an angel gets his wings."
New York-based artist Michele Quan created her version of jingle bells(Above)  after a visit to a Shinto shrine, where visitors ring clusters of bells to announce their presence to the spirits. In a landscape, Quan's bells dangle like earrings from trees, walls, and overhangs. For more, see Ceramic Bells Inspired by Japanese Shrines.
Fire Features
Above: The fire pit at The Capri Lounge in Marfa, Texas designed by Christine Ten Eyck. Photograph by Terrence Moore.
 A fire feature turns a garden into a gathering place. A fire pit or fireplace is a lure because it creates warmth and light. And because of the hypnotic quality of flame and crackling wood.
Cook on it, warm your hands over it, or just pull up chairs on a chilly night.
Portable Garden Beds
A portable garden is a perfect solution for renters who don't want to invest a lot of money into hardscaping. And for the rest of us. Put raised beds or planters on casters and you can wheel them around to chase the sun or to instantly re-arrange an outdoor space. In winter, potted plants on rolling plant stands can come indoors easily no matter how heavy the pot.
For more ideas, see Small Space Gardening: A Tiny Greenhouse on Wheels.
And read about a portable Berlin community garden that moves indoors every winter at A Movable Feast: Berlin's Community Garden.
House Numbers as Art
No longer an afterthought plucked from a hardware store aisle, house numbers set a tone. Hand-crafted, bespoke, or painted: custom house numbers are becoming common and create instant curb appeal. Heath Ceramics has designed its own beautiful line of Clay House Numbers. Gilded House Numbers made of thin layers of precious metals (silver, copper, or gold) add glamor to a traditional brownstone or Victorian townhouse. And hand-chiseled stone house numbers (Above) made of marble, granite, limestone, or onyx lend a formal air of permanence to a facade.
For more of our favorite house numbers, see Gilded Numbers by See.Painting and 10 Easy Pieces: Tile House Numbers.
Outdoor Showers
Above: A simple and stylish outdoor shower at A Floating Farmhouse in Upstate New York. Photograph courtesy of Tom Givone.
They're so common, they're the new hose. All you need for an outdoor shower is plumbing and a shower head; let it drain into the grass or a shallow bed of gravel.
Wondering how easy it would be install an outdoor shower? Janet looks at the pros and cons in Hardscaping 101: Outdoor Showers.
Horizontal Slat Fences
Above: Photograph by Mimi Giboin for Gardenista.
For more of our favorites, see Fence Fashion: 11 Ways to Add Curb Appeal with Horizontal Stripes.
As we noted recently, "Horizontal stripes make things look wider, which is why you don't wear them. But your garden should. A horizontal slat fence will create the same optical illusion outdoors–and make your garden look bigger, too."
Designer Doormats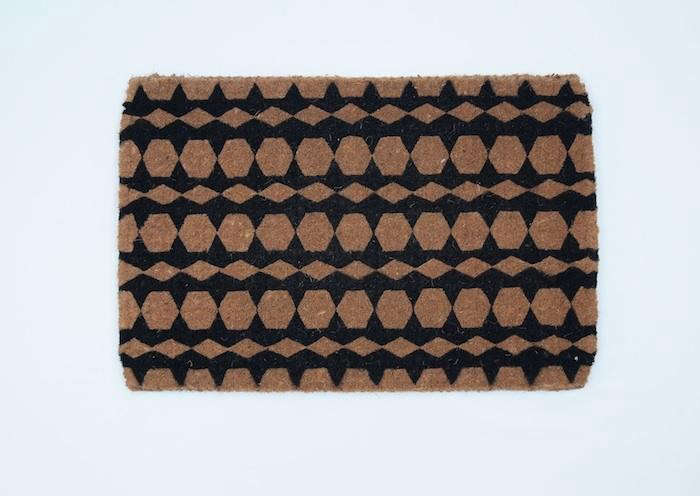 Above: The Hex Doormat from Commune Design is $60 from Lulu and Georgia.
Good design can elevate even the most utilitarian item to art. After she read about it on Remodelista, actress Julianne Moore bought a Hex Doormat (Above) designed by LA studio Commune. Learn why at The Humble Doormat, Made Modern.
See more doormats that add instant curb appeal in 10 Easy Pieces: Stylish Doormats.
French Drains
Above: From Australia-based Stormtech, a threshold drain works with the natural pitch of a landscape..
Embrace the beauty in the everyday details. There's no need to try to hide drainage, irrigation, or sump pumps. Instead consider them an element to add to the landscape design. For more ideas, see Garden Envy: 10 Dramatic Drainage Ideas to Steal.
Artificial Turf
Above: Mill Valley, CA-based architect Barbara Chambers installed artificial turf in her own garden a few months ago. Photograph by Liesa Johannssen.
Fake grass has gotten good at fooling us. And in drought country–or anywhere where water usage is of concern in the garden–it has artificial turf has undeniable benefits.  It requires no water, weeding, fertilizing, or mowing. And as a design element, it's as reliable as indoor carpet.  It will stay the same color and in the same condition as the day you lay it if you care for it properly.
For more about the pros and cons of artificial turf, see Hardscaping 101: Artificial Grass.
(Visited 658 times, 1 visits today)