Everyone has a front door. No matter where you live, the elements you see when you approach your entryway should make you feel happy you're home. Here are 10 of our favorite tile house numbers:
Above: From Heath Ceramics, Neutra Tile House Numbers (left) in architect Richard Neutra's elegant mid-century font measure 6 inches high by 3 inches wide; they're $38 apiece. A Teak Tile Track (Right) has a stainless steel back and comes in different sizes to mount from two to four tiles; $42–$48 from Heath Ceramics.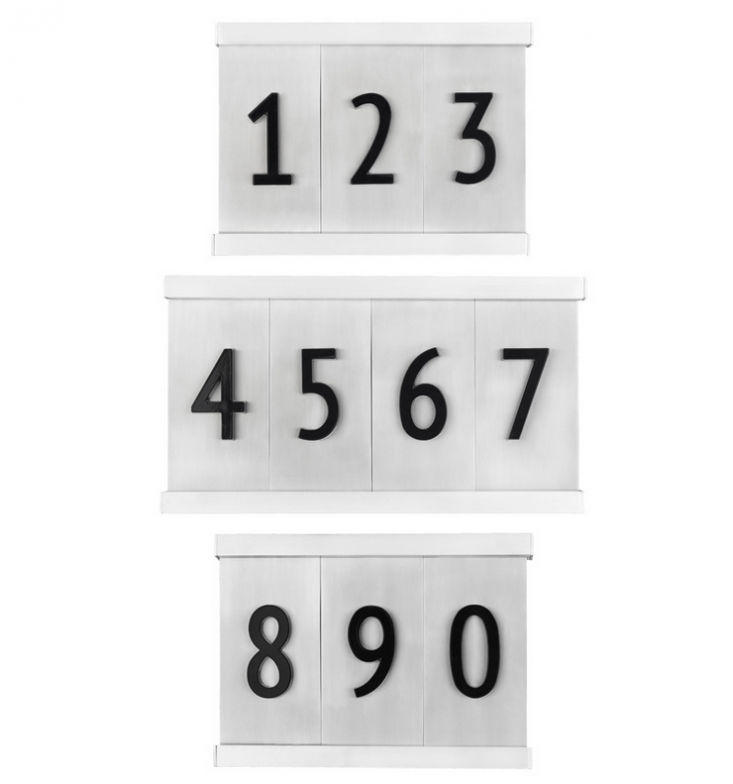 Above: Aluminum Tile House Numbers come in black or white type and are available in configurations of three to five numbers; prices range from $57 to $79 on Rejuvenation.
Above: Extra Large House Number Tiles made of white ceramic tile measure 6 by 6 inches; £12.95 apiece from Zazzle.
Above: Handmade tile Traditional House Numbers withstand freeze-thaw conditions and measure 5.25 inches by 4.25 inches. They're available in nine color combinations, including white with hunter green lettering (shown), and with or without mounting holes; $24.95 apiece from Rocheford.
Above: Asbury Ceramic House Numbers replicate the ones created in the 1920s in Portland, OR, when the city embarked on a plan to standardize street addresses; they're $11 apiece from Schoolhouse Electric. 
Above: With black type on a cream background, a Porcelain Tile House Number Set (with three to five numbers) comes with a galvanized steel mounting bracket; from $30 to $75 from Rejuvenation Hardware.
Above: Four one-of-a-kind vintage ceramic Number Tiles (you're in luck if your street number is 67, or 89, or 6789) are available from River House Designs via Etsy; $8 each.
Above: Black Art Deco House Number Tiles measure 6 inches high and 3 inches wide; $22 per number from Historic Houseparts.
Above: Porcelain enamel Englehardt House Number tiles, designed in 1927 by architect Knud V. Engelhardt, Denmark's first industrial designer, measure 4.3 inches high by 5.5 inches wide; prices start at $49 for a single-digit sign from Ramsign.
Above: Since the 1880s, blue and white address numbers have been a common sight in New Orleans. In the 19th century, the city embedded letter tiles at sidewalk intersections. Derby Pottery's reproduction Street Tile Numbers are sold individually or can be custom built as a single plaque; for more information, see Derby Pottery.
For more, see House Numbers from Heath and on Remodelista, 10 Easy Pieces: House Numbers.