I confess: as I saved photos for this story over the last several weeks, I stored them in a folder called "Not-Ugly Water Features." Because, well, many garden water features are overly ornate. Or are fake-y replicas of nature scenes. Or involve water peeing from a faux-stone boy.
But who doesn't love the sound of babbling water in the garden, and who isn't transfixed by a pool or fountain? A water feature is an indicator of a garden that's "made it"–and when done right, feels like the ultimate outdoor luxury. Here are ten we like, many from members of the Remodelista + Gardenista Architect/Designer Directory: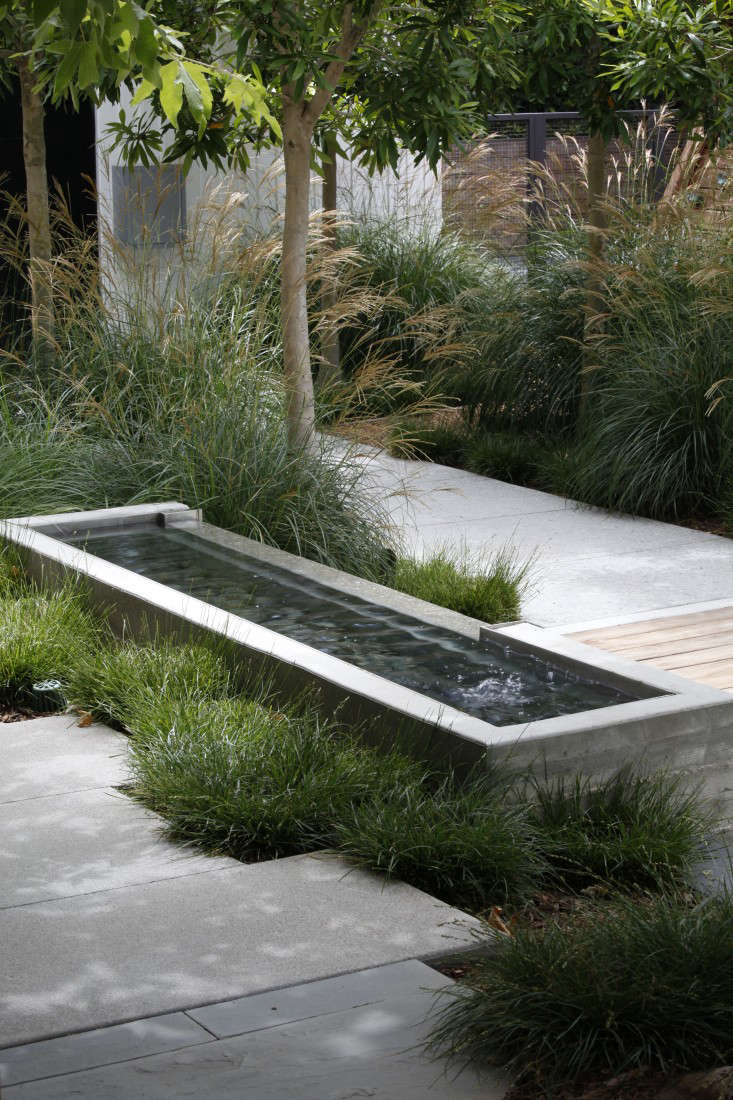 Above: A trough fountain made of poured concrete greets visitors in a Pacific Palisades garden by Mark Tessier Landscape Architects. Photograph by Art Gray.
Above:  A slim slot fountain surrounded by western black granite is built into the wall that backs up to Lombard Street in San Francisco in a garden by landscape architect Brennan Cox. Photograph courtesy of Brennan Cox. For more of this garden, see Steal This Look: An Outdoor Kitchen Hidden from the Tourists on Lombard Street.
Above: In an Los Angeles garden, a fountain is a ready made piece from Inner Gardens that designer Naomi Sanders helped the client select. The infrastructure and pump are hidden below. "It appears in the space as if the bowl is floating within the gravel," says Sanders. "There's a slight bubble to it, on the surface, but it's more for the sound." For more of this garden, see LA Confidential: A Private Courtyard Goes Luxe on a Budget.
Above: Famed French garden designers Arnaud Maurieres and Eric Ossart now live in Morocco, and they've applied their newfound Eastern aesthetic to their recent redesign of the gardens at La Noria in the south of France. Here, they've updated an ancient irrigation system that runs throughout the grounds. For more of the project, see Landscape Architect Visit: La Noria in the South of France. Photograph by Clive Nichols.
Above: For more of this garden, see Landscape Architect Visit: At Home in Austin, Texas with Tait Moring. Photograph by Dennis Burnett courtesy of Tait Moring & Associates.
Above: An ornate backyard fountain in Los Angeles is integrated into a modern surrounding landscape with new concrete pavers that connect it to a patio. Photograph by Jennifer Roper. For more of this garden, see Before & After: A Grande Dame in LA's Hancock Park.
Above: This Cor-ten steel water feature sits in a rooftop garden in Manhattan's East Village. Designed by Pulltab Design and fabricated by Stephen Iino, the fountain is intended to develop a patina over time. See the whole project and more of the water feature in A Manhattan Roof Garden with a Panoramic View. Photograph by Bilyana Dimitrova.
Above: A poured concrete trough fountain spills over into a recirculation grate hidden beneath a layer of pea gravel in landscape architect Christine Ten Eyck's Austin, Texas garden. Photograph by Matthew Williams for Gardenista.
Above: In San Francisco's Noe Valley, designer Alma Hecht created a backyard living room with a freestanding fountain tall enough to act as a wall. For more, see Garden Visit: Subdividing a Small City Backyard to Make it Bigger. Photograph by Marla Aufmuth for Gardenista.
Above: SF-based Hart Wright Architects designed a custom water feature in the backyard of this midcentury remodel outside of San Francisco. For the "before," see Architect Visit: Lafayette Remodel by Hart Wright Architects.
For more of our favorite water features, see:
(Visited 1,019 times, 1 visits today)