Artificial grass has come a long way since the first AstroTurf carpeted the Houston Astrodome in 1966. With a drought underway in California, it's no wonder I'm noticing more homes with fake turf in my neighborhood. Or not noticing: I just learned that one neighbor (whose yard I've always admired) actually replaced her lawn with artificial turf several years ago. How did fake grass get so good at fooling us?
These days, there's a lot to like about fake grass. In addition to its environmentally friendly stance of requiring no water, its texture and appearance have improved. My own soccer-playing daughter recently told me she likes playing on artificial turf more than on natural grass. Not only does the ball bounce correctly, there's also no mud, no ruts, and no itchy skin allergies (the only downside was what she called "turf-burn").
Is fake grass for you? 
Here's a crash course in artificial turf:
Above:Photograph by Sophia Moreno-Bunge for Gardenista.
For her own rooftop garden in Brooklyn, designer Julie Farris "chose artificial turf for a number of reasons: It doesn't require watering or mowing, and there's no need to replace grass damaged by heat or sun," says Sophia, who visited her in high summer.  For more, see Garden Designer Visit: A Rooftop Meadow, Brooklyn Edition.
What is artificial grass?
Artificial turf is made from a mixture of polymers (plastics), which make up the grass, combined with infill of sand and/or ground-up rubber to make it soft and shock absorbent.  Invented in 1964, it was first developed as a solution for dome-covered athletic fields which did not have enough sunlight to support natural grass. While it continues to be largely used for athletic fields, with recent advancements its use has moved quickly into commercial and residential landscaping.
Above: Artificial turf stands up to pet use. Photograph by Liesa Johannssen for Gardenista.
As with fabrics, there are varying types of artificial turfs available at different price points. Quality is based on the number of yarns or blades of grass per square inch, whether or not there are different blade heights, and how seams are treated. Some types use different colored poly or nylon yarns to create a base of "thatch."
How is artificial grass installed?
Above: Installation is like laying carpet; you want to stretch it tightly atop a secure base and hide the seams. Installers use a variety of products. A perimeter of (Top L) Bender Board can create a solid edge. A platform of plastic (Bottom L) PDS Drainage Tiles can lift turf above wet surfaces. (Top R) Staples close seams and (Bottom R) Spikes along the perimeter keep edges flat. For more, see Easy Turf.
Many companies specialize in the installation of artificial turf, but it is also possible to do it yourself. The material is usually laid above a base of decomposed granite from 3 to 4 inches deep, with a weed barrier. Different manufacturers use different seam treatments (the goal is to make the seams invisible). As with carpet, artificial turf is cut to fit during installation (the fewer seams the better), then nailed into place. Sand (or crumbed rubber, if it's an athletic field) is then applied as an infill.
Above: Photograph by Jonathan Gooch for Gardenista. For more of this London balcony garden, see Ask the Expert: 10 Tips to Transform a Tiny Balcony into an Instant Garden with Isabelle Palmer.
How much does artificial grass cost?
The price varies according to area, but it is not inexpensive. Depending on the size, conditions, and type of turf, the cost can run  from $10 to $20 per square foot, installed. Compared to natural grass, it will take from seven to eight years of no water and low maintenance to recoup the initial cost of artificial turf.
The Home Depot carries (L) RealGrass Deluxe Artificial Grass in 15-foot sections for $51.15 each. Crumb Rubber (R) is available for 17 cents per pound from Tire Recycling.
If you have it professionally installed, most installers will have a particular brand they prefer to use (or use exclusively). Some manufacturers include: Synlawn, based in Georgia with distributors throughout the United States; Forever Lawn, a Dupont company based in New Mexico; Turf Direct, with distributors in California and Arizona; ProGreen, Conservation Grass, based in North Texas, and Royal Grass, a company based in the UK with a Florida distributor.
What are the best places to install artificial grass?
Above: With four active children and a dog, my Mill Valley neighbor enthusiastically endorses her low-maintenance lawn. During rainy months, she doesn't have to worry about little feet tracking mud into the house. Photograph by Ellen Jenkins.
Artificial turf is a good solution if you have an area where grass simply won't grow because conditions are shady, wet, acidic, or overused. Adam Balckwelder, a landscaper in Marin County, CA, has used it successfully under redwoods, for a bocci court, and for dog runs ( certain types of turf are made specifically for dogs). He says to keep in mind it does heat up under full sun, though some types have been developed to mitigate that problem.
How do you take care of artificial grass and how long will it last?
A synthetic lawn has the advantage over natural grass of never needing water (not to mention weeding, mowing, or fertilizing), but it still needs to be sprayed clean and occasionally disinfected (it does not have the self-sanitizing properties of natural grass). If you have dogs, it needs to be cleaned more often.
Synthetic turf comes with a warranty of from eight to 15 years, which is usually how long it lasts, as well. If you are having it installed professionally, it would be a good idea to ask if there are recycling facilities that handle artificial turf. Some turf manufacturers have developed ways to separate the infill (sand or rubber) from the turf, allowing the material to be recycled.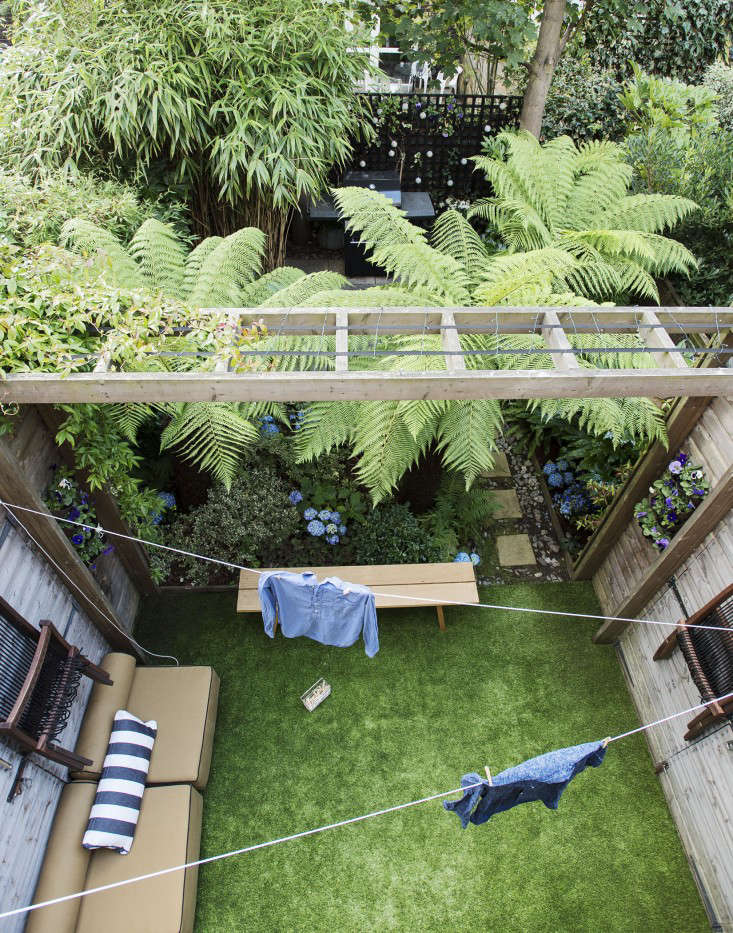 Above: Artificial turf in Christine's London backyard. Photograph by Matthew Williams for Gardenista. For more, see Urban Space: Getting My Garden to Love Me Back.
Recap
Pros:
Saves water.
Similar to natural grass: soft, even, and green.
Unlike natural grass: requires no weeding, mowing, or fertilizing.
Does not get muddy or rutted (and keeps your house cleaner).
Cons:
Expensive.
Not easily recycled.
Heats up in direct sun.
Can cause "turf-burn" (abrasions).
Not self-sanitizing like natural grass, needs to be cleaned off with water and sanitizing agents.
See what happened when Sarah's Napa Neighbors Installed a Fake Lawn. Are you choosing materials for a remodeling project? Browse our other Hardscaping 101 posts.
Finally, get more ideas on how to plant, grow and care for various grasses with our Grasses: A Field Guide.
(Visited 395 times, 6 visits today)