Let's say that you are the potentate of a small European nation. You are a benevolent ruler but somewhat impatient. You gaze out a palace window and notice the royal grounds are barren and extremely uninteresting. You wish instead to see beautiful big trees and a large number of shrubs pruned into interesting shapes. You do not want to wait around for years while trees grow and gardeners prune.
Fortunately, there is a place that can accommodate your every royal whim.  Since 1986, the Solitair Nursery in Loenhout, Belgium has been providing wholesale customers (i.e. professional garden designers, landscape contractors, and municipalities) with just the things they want for a big property: specimen trees, distinctive standards, and shrubs in many shapes.  On Solitair's more than 200 acres, trees are given plenty of space, time, and expert care to develop. The nursery even has a fleet of vehicles for delivery in Belgium and abroad.  For really large trees, Solitair will provide an escort.
Photography via Solitair Nursery.
Above: Quercus cerris, Turkey oak, surrounded by some of Solitair's inventory of shaped shrubs.
This tree, which is native to southern Europe and western Asia, is seldom offered for sale commercially in the U.S.  Solitair specializes in hard-to-find trees. Although it is a wholesale nursery, Solitair welcomes visits from individual gardeners who come looking for inspiration.
 Above: Buxus sempervirens, boxwood, pruned into flat balls.  Solitair also offers this plant shaped into round balls, mounds, and tall domes.
Above: Taxus baccata, English yew, shaped into balls at Solitair. This plant is also offered in other shapes as are Osmanthus, laurel, and English holly.
Above: These unusual standards are yews, Taxus baccata, shaped into rectangles. Solitair also offers it in standards of other, looser shapes in a variety of heights.
Above: Taxus baccata grown as a hedging plant at Solitair.
Above: The huge Solitair greenhouse was built in 2013 and can hold trees as tall as 45 feet.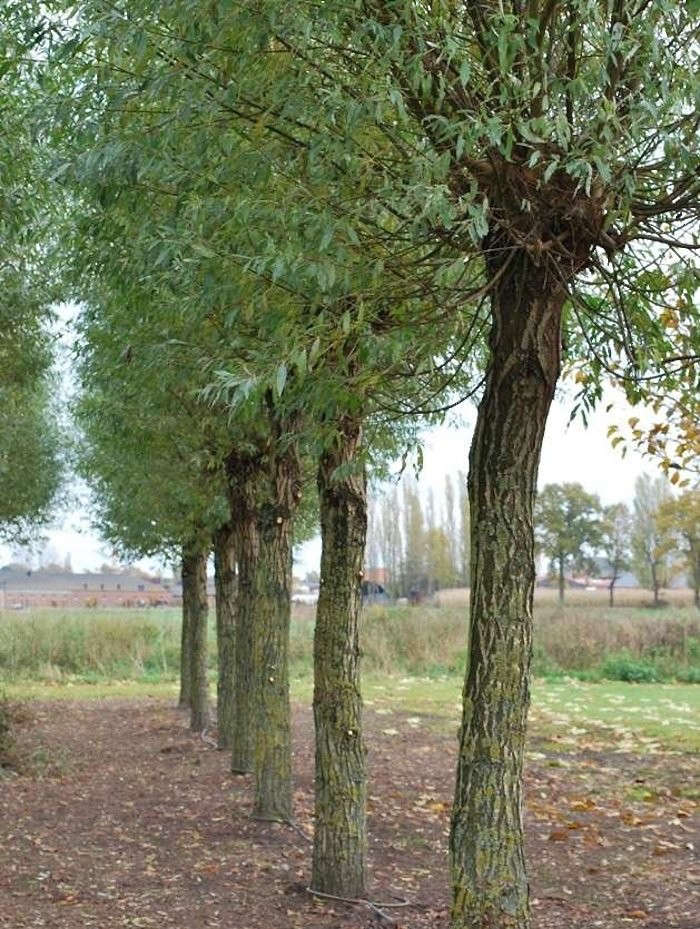 Above: Salix alba, white willow, is native to Europe, central Asia, and northern Africa and is seldom offered for sale. It is available at Solitair, which has the space to accommodate a tree that can quickly grow to from 50 to 80 feet high and 30 feet wide.
Above: Carpinus betulus, hornbeam, trees are commonly used as specimen and street trees.  They also can be hard pruned into hedges. To see hornbeam hedges in a garden, see Hornbeam: A Hedge for All Seasons.
Above: Prunus lusitanica augustifolia, Portuguese laurel, in a tree form. This small leafed-cultivar also can be hard clipped into a hedge.  It is easy to grow in all kinds of soil and growing conditions.
For inspiration on how to design gardens on large properties, see Required Reading: Louis Benech: Twelve French Gardens and Required Reading: Close: Landscape Design and Land Art in Scotland.
Finally, get more ideas on how to plant, grow, and care for various shrubs and hedges with our Shrubs: A Field Guide.
(Visited 147 times, 1 visits today)