The dictionary definition of herb: "any plant with leaves, seeds, or flowers used for flavoring, food, medicine, or perfume." But there's so much more to know, isn't there? Just when you thought you knew everything there is to know, here are 10 things nobody tells you about herbs:
1. Herbs have super powers to repel mosquitos.
Pungent or strongly scented herbs will overwhelm other ambient smells such as carbon dioxide and lactic acid which are attractive to mosquitos. Read more at Mosquito Repellent: 5 Flowers and Herbs to Keep Pests Away.
Make your own magic mosquito repellent with our step-by-step instructions to add herbs to a DIY: Bug Repellent Balm.
2. Supermarket garlic will grow if you plant the cloves.
"I have planted everything from Brooklyn bodega garlic, to organic farmers' market bulbs, to heirloom cultivars purchased online from a good grower," writes our contributor Marie Viljoen. She separates individual cloves (leaving on the skin) and plants them in early fall so the roots have time to get established before the first big freeze. Read more in Gardening 101: Garlic.
3. You should plant mint in a pot, even in the garden.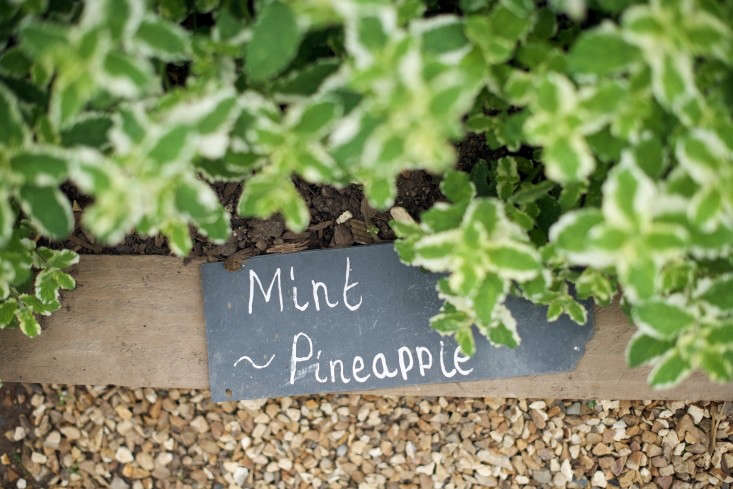 Mint will turn invasive if left to its own devices (in a raised bed it may crowd out other plants). Prevent problems by consigning mint to a container garden. A patio pot or is a perfect solution. Or plant it in a pot directly in the soil in a garden bed to corral mint's runaway roots.
4. Some herbs actually prefer shade.
The universal advice we hear is to plant herbs in a sunny spot to maximize the harvest. But the conventional wisdom isn't always correct. "Parsley prefers to have some shade, and cilantro and chervil will be slower to bolt," writes our contributor Marie Viljoen. Read more in 23 and Me: My Favorite Edible Plants to Grow in Shade.
5. Mugwort is the most delicious herb you've never tried eating.
Weed, yes, but mugwort also has medicinal properties—and is a delicious culinary herb if used properly. Read more in Plant-Based Diet: Forage, Harvest, Feast Cookbook by Marie Viljoen.
6. You can freeze fresh herbs in ice cubes to make them last longer.
Read more tips for keeping fresh herbs happy at 5 Beautiful Ways to Make Fresh Herbs Last Longer.
7. You can use herbs to clean your house.
You can infuse laundry and cleaning products with the scent of herbs to add freshness. Add herbs such as basil, rosemary, or lavender to white vinegar and allow the mixture to distill before making glass cleaner or a laundry rinse. For a recipe to use essential oils, see DIY Essential Oils in the Home: Make an All-Purpose Cleaner on Remodelista.
8. You can use the same herbs as practitioners of traditional Chinese medicine to treat ailments.
No one should use Chinese herbs for medicinal purposes before consulting a doctor; many people are allergic to herbs, for one thing. For another, some herbs contain concentrated ingredients that may be harmful to pregnant women, or patients with autoimmune diseases or suppressed immune systems.  For more information about traditional Chinese medicinal herbs, see NIH and Memorial Sloan-Kettering Cancer Center; both institutions offer comprehensive sites summarizing the most up-to-date research on a particular herb.
Two easy remedies to start are honeysuckle and chrysanthemum tea (both considered soothing to sore throats and colds and both widely available at health food stores). If you want to create your own herbal apothecary, assemble your materials and tools (mortar and pestle required) and see Required Reading: The Herbal Apothecary.
9. Herbs hold their own as ornamentals in a perennials garden.
Since medieval times, gardeners have mixed herbs and ornamentals in a single garden bed. Knot gardens and mazes helped keep order (and evergreen herbs such as rosemary and santolina are useful to make the "ribbons" that pass over and across each in knot gardens). For more, see Required Reading: Topiary, Knots and Parterres.
10. The "English herb garden" actually may have been stolen from the French.
Jardin d'herbes: Herb gardens grown in the shape of knots and labyrinths are most successful in a climate with guaranteed heat in summer, like France. In wetter England, herbs grow erratically, instead of in the precision preferred for a potager or parterre. The advantage? English herb gardens are particularly suited to the the winding layout of a labyrinth. See more in Ideas to Steal: 10 Ways English Gardens Borrow from France.
See more growing tips in Herbs: A Field Guide to Planting, Care & Design and read more about our favorite herbs: