Everything you need to know about lavender is a lot. Remember the Encyclopedia Britannica? The final hardcover edition—with 32 alphabetized volumes and 32,640 pages of cold, hard facts—was about the amount of space it would take to cover all aspects of the endlessly fascinating and fragrant flowers that belong to the lavender family.
At Gardenista headquarters, we don't have the 100 full-time editors and 4,000 contributors (including Pulitzer Prize winners and the odd US President) that Britannica boasted in its heyday. But we do have personal experience to call upon. As I type, five of my favorite lavenders are thriving in my garden in northern California (USDA zone 10a, where average winter temperatures don't dip much below 38 degrees Fahrenheit).
Not all members of the Lavandula clan are equal (some have refused to grow in my garden, which we'll address later). So let's start with the general tips. Here's what lavenders like: Sun. Warmth. Well-drained soil (lavenders are drought tolerant and, once established, can go weeks without water).
Here's what lavenders hate: Cold. Fog. Wet roots. Snow. Ice.
With that in mind, here's a closer look at five of my favorite kinds of lavender, currently blooming in my garden.
Photography by Leslie Santarina, except where noted.
In early spring (March), tender, young lavenders have soft stems, velvety leaves, and delicate, tight flower buds. Later in the growing season, at the height of the summer, these same plants will look battle-weary, with browning leaves at the base of long, bare stems—and big, fat flowers.
Here's a cheat sheet about lavenders, for when you're shopping at a plant nursery.
Colors: In addition to the soft, dusty purple shade that lends lavender its name, cultivars can flower in deep purple, blue, pink, or white hues. Purple tones are dominant.
Growing conditions: Lavenders are perennial flowers in USDA growing zones 5 to 10. To review, they like a Mediterranean climate: dry, hot, and sunny.
Companion plants: In the garden, lavender works well if planted in clumps or as a low hedge. It mixes well with roses (they like the same growing conditions, and lavender's bushiness will hide spindly, thorny stems) and with wildflowers such as poppies and Echinacea. In an edible garden, lavender's strong scent can distract aphids and other pests from the vegetables.
Jagged Lavender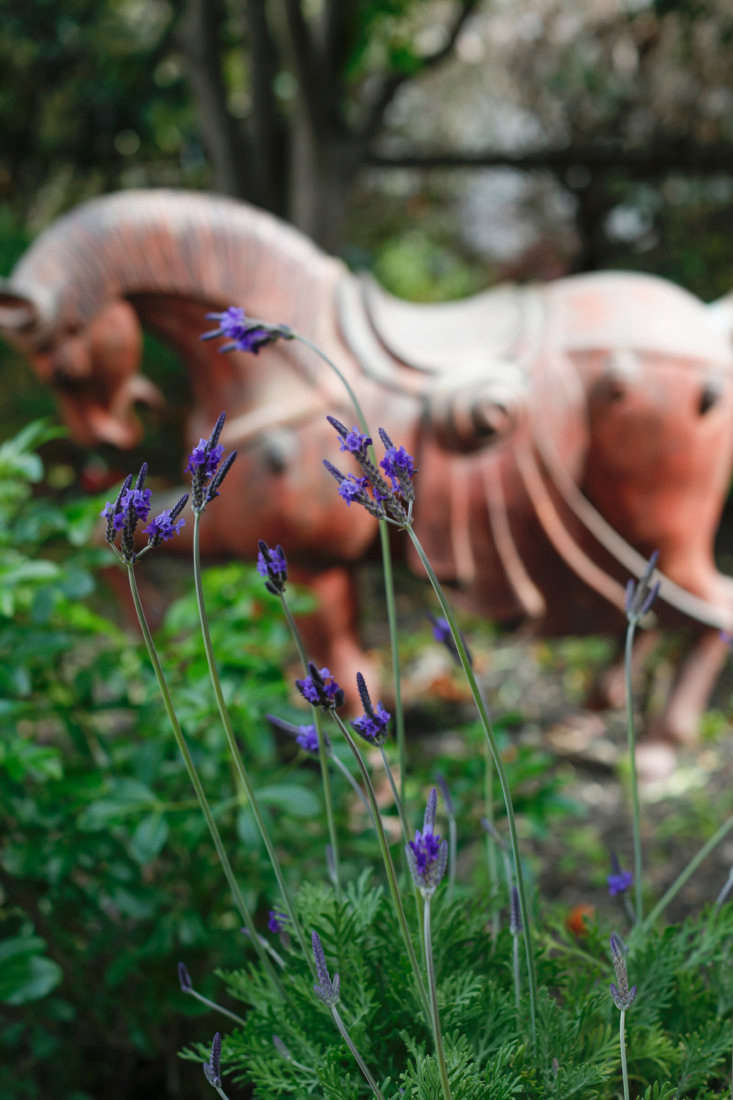 In my experience jagged lavender, with its feathery green leaves, needs more water than some other, stiffer-looking varieties. A couple of years ago, I lost three plants that were in the driest part of my garden; my current crop is happier near some large citrus trees, at the edge of a shady spot where the sun is filtered (for nearly half the day) through the canopy of an orange tree.
Gray French Lavender
With a strong scent, gray French lavender will repel deer and is prized by herbalists. This is an elegant, graceful lavender that looks lovely when you tie a bunch of stems into a bundle.
Silver French Lavender
Tip: When shopping for gray French lavender, it's important to pay attention to the variety; you can find dwarf cultivars of gray French lavenders for the front of the border. Rely on larger, shrubbier types such as L. dentata candicans to fill holes in the summer garden.
White Lavender
Not all white lavenders look the same: The variety in my garden has gray leaves with jagged edges. The popular cultivar Lavandula x intermedia 'Alba' resembles its purple cousin 'Provence', a prolific bloomer that trains well as a low hedge.
Spanish Lavender
With distinctive bunny-ear flowers, Spanish lavender's fragrant foliage frequently finds its way into it essential oils and potpourris.
Now for the bad news: I've never had any luck growing English lavender (such as 'Munstead' and 'Hidcote') and my suspicion is my climate is too hot and sunny for them. If you have any experience with those varieties (or other favorite lavenders), I'd love to hear your feedback in the comments below. (We know it's hard to find the comments section, but it's there!) I am always looking for new varieties to grow—and to assign a team of former US Presidents and Nobel Prize winners to research.
If you live in a Mediterranean or other warm climate, you (always) need more lavender in your garden. For garden companions and planting ideas, see our Garden Design 101 guides, especially Perennials 101: A Field Guide to Planting, Care & Design. And see more ways to add lavender to an herb garden:
Finally, get more ideas on how to successfully plant, grow, and care for lavender with our Lavender: A Field Guide.
(Visited 2,091 times, 6 visits today)