Buttermilk biscuits with chive butter, egg salad with ribbons of tarragon, iced tea with fresh mint. There are many reasons to love fresh herbs. Sadly, as a city dweller living in a Brooklyn apartment without bright sun, I always figured that I wouldn't be able to grow my own.
Turns out, I was just trying to grow the wrong herbs. While it's true that many—such as lavender, thyme, rosemary, and sage—need a lot of sunshine to thrive, a slew of culinary herbs can thrive in a shadier spot.
For more, see Seed Starting: Adventures in a Tiny Apartment.
Photography by Erin Boyle.
If you have a tiny window ledge (or a fire escape), consider potting up a few of these herbs to enjoy throughout spring and summer. If you don't have outdoor space, but you get plenty of sunshine inside, many of these will even do fine in a sunny windowsill or on a bright kitchen countertop.
Where do you Hide Your Potting Soil in Plain Sight in a Tiny Apartment?
A lot of the more sun-loving herbs are particularly sensitive to overly damp roots, but if you stick to herbs that don't require as much sunlight, you won't have to worry as much about keeping the soil sandy. (If you keep the planter inside, consider investing in a small tray to place beneath it to catch water drainage).
Mint is an herb that really thrives in shadier gardens. In fact, it sometimes thrives too well. I didn't want my mint to take over my tiny window box, so I picked up a Ben Wolff pot in white and potted it there instead.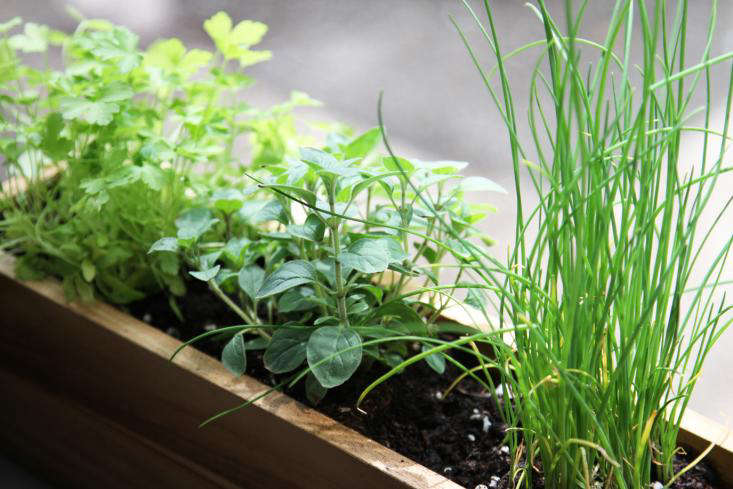 (Full disclosure: I stuck a basil out there a few weeks ago, and to my surprise that's doing A-OK too. If you can't get through summer without a daily caprese salad, I say give it a go—just don't get too sad if it doesn't survive).
If you'd prefer a zinc or galvanized window box, see some of our favorites at 10 Easy Pieces: Metal Window Boxes.
Ready to design and plant a spring herb garden? See:
N.B.: This is an update of a post originally published on May 15, 2013, during our Gold Coast week.
(Visited 321 times, 1 visits today)