Neither the British nor the French would like to admit that their mutual preoccupation is often based on admiration. Although certain elements of style are openly coveted and praised, this is balanced by rivalrous declarations of contempt. The French have never been able to turn their back on the islands across the Channel, while for the English, France is the gateway to the Continent, and therefore the percolator of European ideas.
Join us for a tour of a classic English garden—to see 10 ideas borrowed from the French (please feel free to steal them for your garden too).
Photography by Britt Willoughby Dyer for Gardenista.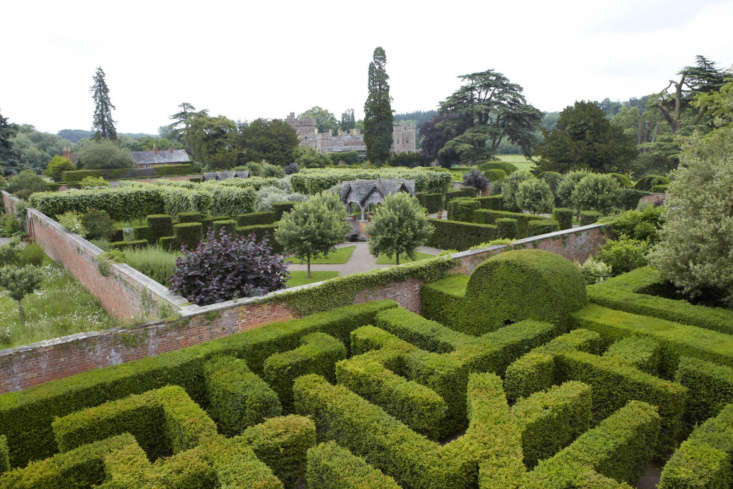 At Hampton Court Castle in Herefordshire (not to be confused with the palace near London) an English garden on the edge of Wales has been through every fashion in garden history, being 700 years old. Restored and currently owned by an American, the castle was built by Sir Rowland Lenthall, knighted for his loyalty in the Battle of Agincourt, when England briefly "owned" France.
Of course, France (or at least Normandy) had previously controlled England. The French influence is everywhere in place names, language, and a solid string of castles built by William the Conqueror. Medieval gardens were to take on a classical overlay as the effects of the Italian Renaissance spread through Europe and hopped across the North Sea from the Netherlands and over the Channel from France.
Hortus conclusus
A walled garden is one of the most desirable elements of an English garden, a vermin-free microclimate of protective brick walls. A classic walled garden might be divided in four, with a fountain in the center; it was a secluded, peaceful place, shaded with arbors and scented with flowers. It was, in fact, a Persian type of garden, exported by the Byzantines and adapted by European monks, for whom a hortus conclusus was easily translatable as an enclosed garden.