Neither the British nor the French would like to admit that their mutual preoccupation is often based on admiration. Although certain elements of style are openly coveted and praised, this is balanced by rivalrous declarations of contempt. The French have never been able to turn their back on the islands across the Channel, while for the English, France is the gateway to the Continent, and therefore the percolator of European ideas.
Join us for a tour of a classic English garden—to see 10 ideas borrowed from the French (please feel free to steal them for your garden too).
Photography by Britt Willoughby Dyer for Gardenista.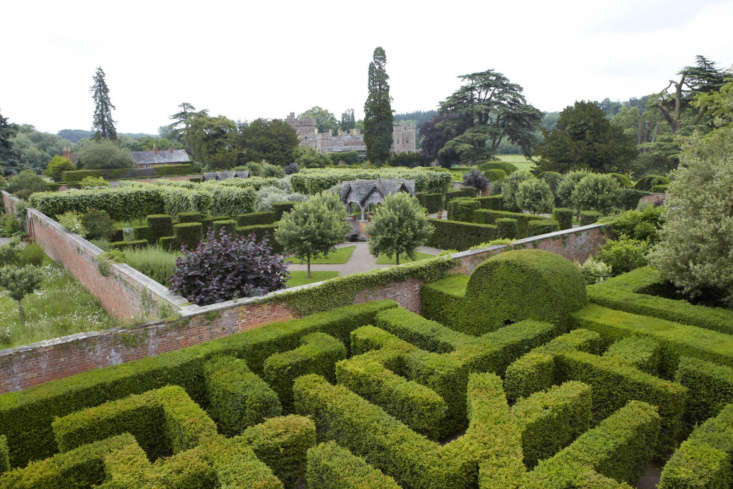 At Hampton Court Castle in Herefordshire (not to be confused with the palace near London) an English garden on the edge of Wales has been through every fashion in garden history, being 700 years old. Restored and currently owned by an American, the castle was built by Sir Rowland Lenthall, knighted for his loyalty in the Battle of Agincourt, when England briefly "owned" France.
Of course, France (or at least Normandy) had previously controlled England. The French influence is everywhere in place names, language, and a solid string of castles built by William the Conqueror. Medieval gardens were to take on a classical overlay as the effects of the Italian Renaissance spread through Europe and hopped across the North Sea from the Netherlands and over the Channel from France.
Hortus conclusus
A walled garden is one of the most desirable elements of an English garden, a vermin-free microclimate of protective brick walls. A classic walled garden might be divided in four, with a fountain in the center; it was a secluded, peaceful place, shaded with arbors and scented with flowers. It was, in fact, a Persian type of garden, exported by the Byzantines and adapted by European monks, for whom a hortus conclusus was easily translatable as an enclosed garden.
La vie en rose
A rose is a symbol of England but old-fashioned French roses, with names like 'Souvenir de la Malmaison', are more sought after than the wild natives. Even David Austin, the internationally renowned rose breeder, has created his own English Rose breeds in the image of old-fashioned (or French) roses. They are better, of course, being disease-free, longer flowering, and blessed with names of English legend, such as 'Lady of Shalott'.
Enfilade
A thread leading straight through a succession of rooms and compartments, opening off in different directions but with the end always visible, is a Renaissance device. An enfilade is effective in gardens and interiors, giving a sense of space even when that is in relatively short supply, adding intrigue as well as grandeur. Style and power have gone both ways over the Channel but Renaissance gardening was eagerly imported by Henry VIII, who wanted to rival the stately layouts of his rivals in Europe.
Allée
An allée in an English garden is a place to walk, whether or not it is covered. The covered allée, along with a rose-strewn arbor, is a medieval device, helpful in the rituals of courtly love. Rustic pergolas, which persist like so many aspects of the Arts and Crafts movement in English gardens, hark back to a smaller-scale pre-Renaissance era. On the other hand, allées can also be the height of formality, radiating out from a central fountain featuring Greek or Roman gods, in any high Renaissance garden of Germany, Holland, Italy, France, or England.
Clairvoyée
A clairvoyée reveals a fabulous view, in a disingenuous attempt at closing it off with a highly decorative gate. There are good examples at Hidcote Manor (whose original American owner also gardened in France) with a transparent gate inviting you, at the end of a formal allée, to look through to the Cotswold Hills beyond. The view from the bench above will have this effect translated into an English-Welsh border setting.
Espalier
Training fruit trees in a more horizontal direction increases productivity (with lateral branches bearing more fruit) while saving space. Espaliered trees and shrubs trained against wires can be used for creating further compartments within a walled garden. On the subject of vertical gardening, treillage is a type of latticework for vines, while formal areas employ pleached avenues, in which the branches of trees are flattened on to a wall-like plane.
Potager
The gardener of Louis XIV, Jean de la Quintinie, was tasked with growing flowers for the vast rooms of Versailles. He wrote about his ideas on mixing flowers and vegetables in a book that was translated in England (as The Compleat Gard'ner) by John Evelyn. Evelyn was a diarist and garden thinker who had already written The French Gardener in 1669. English potagers never rivaled those of Versailles or Villandry but have been tinkered with ever since. This style in miniature was made famous by the late Rosemary Verey at Barnsley House.
For a closer look at Barnsley, see Rooms With a View at Barnsley House.
Jardin d'herbes
Herb gardens grown in the shape of knots and labyrinths are most successful in a climate with guaranteed heat in summer, like France. In Herefordshire, on the wetter side of England, herbs are grown in stony, unimproved soil. Since they grow erratically, instead of in the precision preferred for a potager or parterre, they are particularly suited to the winding trail of a labyrinth. A potager, parterre, or labyrinth has the advantage of being readable from an upstairs window.
Bosquet
Serpentine walks through evergreens and free-form trees and shrubs offered a different kind of pleasure garden. They were the antithesis of a formal parterre, a place where a wild animal might feel less self-conscious. More often known as a bosco since all of this is heavily borrowed from the Italians, a bosquet or wild garden will do for our purposes. It was a suitable site for a hedge labyrinth or maze (as seen at the other Hampton Court); a place in which to have some fun or get lost.
Topiary tableau
Lining an allée, pollarded trees that are fashioned into globes or cubes on stilts are reminiscent of French parks. Their archaic name is palissades a l'italienne. Here, they are part French, part English, and part Italian—but that is another story.
Tuteur
Tuteur means tutor in French, but anyone who favors natural, twiggy plant supports can have an authentic English cottage garden. See more at 10 Easy Pieces: Garden Tuteurs.
If you're designing a new garden or adding new elements to an existing landscape, get ideas and inspiration from our curated guides to Garden Design 101, including Pavers 101, Gravel Guide 101, and Retaining Walls 101. See more of our favorite English and French gardens: