The garden looks as if it is doing fine without any help, thank you. Why do any chores in June? The reason is August—when perennials will flop listlessly, whispering, "Help me, mommy," with their last breath. Late summer may feel distant, but it is just around the corner.
With some prudent planning, we can get ahead of the problem—and defeat the soul-sapping, flower-frying pitiless heat of late summer before it arrives. To ensure that August doesn't look like Armageddon, here are 10 ideas to try in June.
Container Champions
In addition to the usual suspects (succulents and annuals), you can pot up some hardy flowering perennials; come August they'll serve as reminders of what was blooming in the ground in early summer.
Pick healthy-looking specimens at a garden center or nursery and fertilize them to prompt fresh foliage and flowering.
Compost Crop
"Brown waste means twigs, desiccated plants, cardboard—even, for the obsessed, full vacuum cleaner bags and haircut sweepings. Bulky items keep the air circulating, and air, along with moisture, is the key to quality compost. It's a good idea to break down bigger elements before you add them to the pile; an easy way to do that is to spread the garden waste on the lawn and mow over it."
See Hardscaping 101: Composting Systems for more help.
Starter Shrubs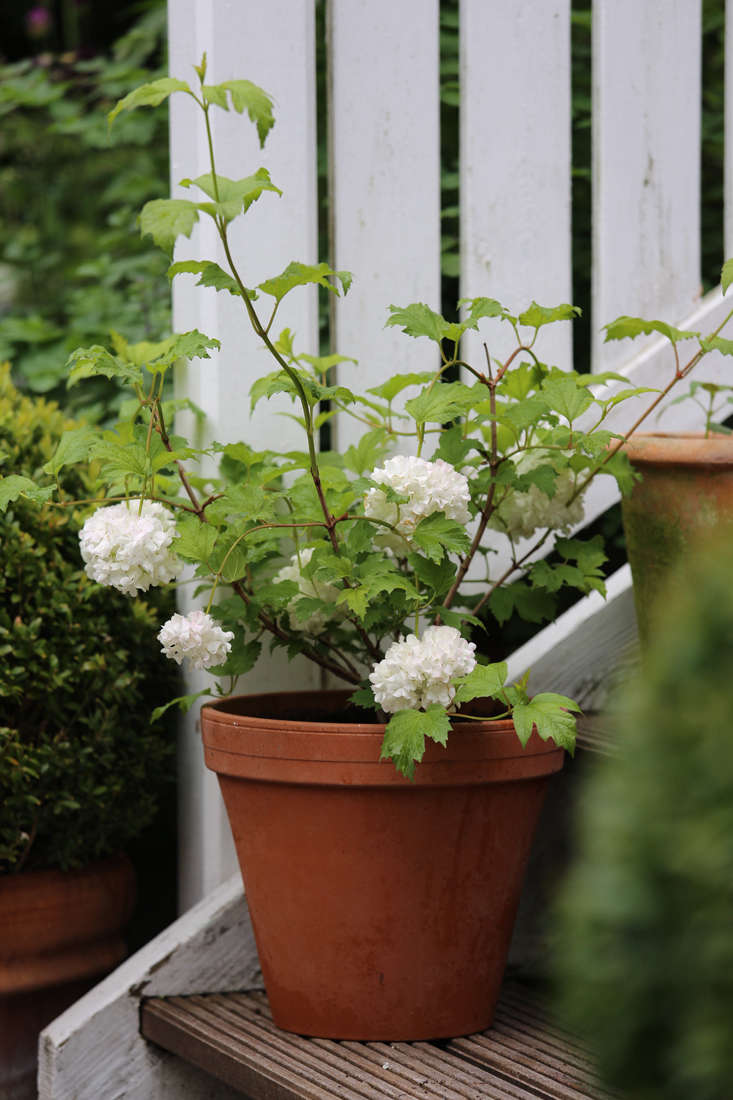 Use shrubs as container plants in summer to create a dense, leafy backdrop on a patio or deck. Come autumn, transplant them to a permanent spot in the garden.
Deadheading
Most gardeners know it's a good idea to deadhead annuals–such as cosmos and other one-season flowers–to encourage reblooming. But perennials also will benefit: My yarrows and salvias send forth more flowers after I deadhead them.
See more in Landscaping 101: How to Deadhead Flowers.
Add Annuals
For continued gratification, add flowers that will keep blooming from now through fall. At the front of a sunny border, alyssum will be a starry white presence. In the middle of the border, consider cosmos and, behind the cosmos, some spiderwort. On the fence, passionflower will perform. See more at Landscape Ideas: 9 Flowers to Add Color to a Garden.
Rose Pruning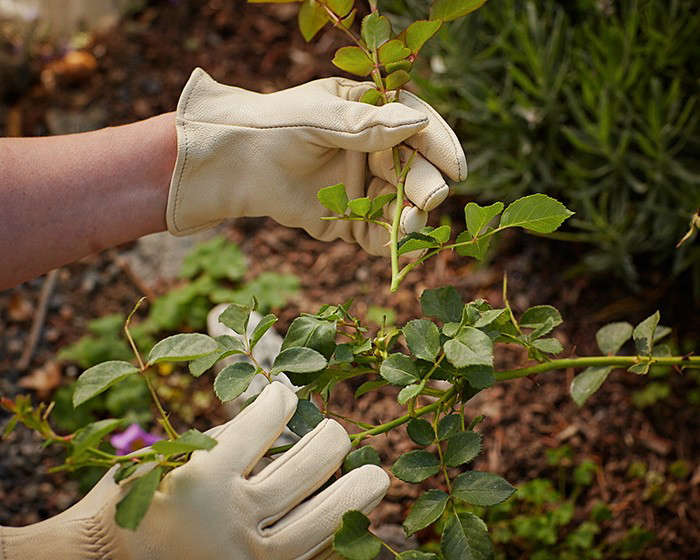 Some roses will bloom only once. But others—such as shrub roses and some climbers—can be persuaded to forth more flowers if you prune them. See more in Gardening 101: How to Prune Roses.
Weed Warnings
Prepare for an onslaught of new weeds. Use a sharp-edged trowel or hand hoe to turn soil and disrupt weed seedlings. For our favorite weeding tools, see Garden Tools: Which Trowel or Weeder Is Best for You?
Staking a Claim
The time to stake plants is before they start flopping. Position tepees, bamboo stakes, and other supports now and train flowers to grow up and through them. See more ideas in 5 Favorites: Garden Tuteurs and Plant Belles: Wire Supports for the Well-Tamed Garden.
Herbs, Redux
As you harvest herbs, plant more. Add a second crop of mint, chamomile, basil, and dill to have at the ready through summer months. See tips to design and plant an herb garden at Herbs: A Field Guide to Planting, Care & Design and Everything You Need to Know About Herb Gardens.
Tomato Time
The last frost date is past; now's the time to transplant tomato seedlings into the ground in a sunny spot. What's the right tomato for you? To choose, see Everything You Need to Know About Tomatoes.
For more inspiration and ideas, see our curated guides to Garden Design 101, including our guide to Edible Gardens 101. More June flowers:
(Visited 326 times, 1 visits today)