Herb gardens are happy places. "Much virtue in herbs, little in men," observed Ben Franklin in Poor Richard's Almanack. Whether or not one shares his acerbic observation about mankind, I think we all can agree that the essential nature of an herb is honorable.
Like Mr. Franklin, I have never met an aromatic or savory culinary plant I did not like. In fact, herbs often inspire in me an urge to create theme gardens: a cook's herb garden, a medicinal herb garden, an ornamental herb garden, a windowsill herb garden, a knot herb garden, a colonial herb garden, and a fragrant herb garden. To name a few.
Designing an herb garden is an exercise in instant gratification; many herbs are fast-growing plants to harvest (or at least snip) within weeks of germination. Keep reading for tips on how to create our favorite types of herb gardens—and read on for a list of our favorite must-grow herbs from our Edibles 101 plant guide.
Medieval Herb Gardens
In medieval times, the hortus conclusus (or closed garden) was home to medicinal and culinary herbs, scented and flowering, such as chamomile, sage, hyssop, dill, and rue.
See more design ideas in Edible Gardens 101: A Design Guide.
Medicinal Herb Gardens
Thyme, rosemary, lavender, and chives have healing properties that make them essential plants in an apothecary's herb garden. Other perennials, such as aloe and echinacea (coneflowers), are used to heal wounds and often grow side by side with herbs. See more in Aloe 101: A Field Guide to Planting, Care, and Design and Gardening 101: Coneflowers.
Colonial Herb Gardens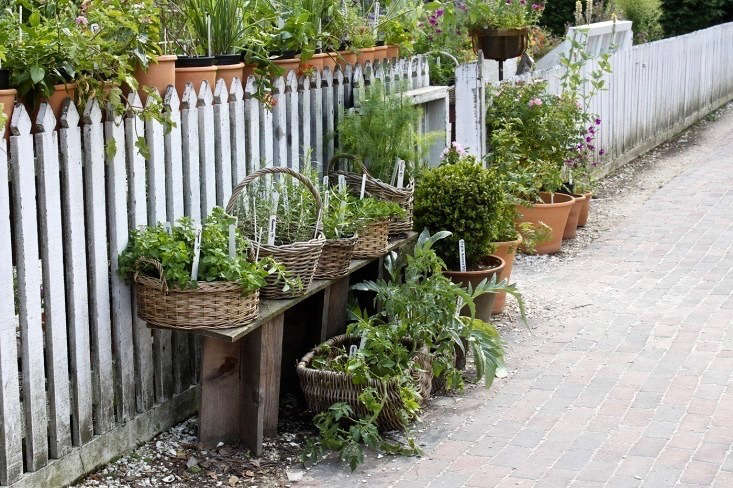 In colonial times, gardens planted with vegetables and herbs produced food, tonics, and aromatic air fresheners. Rosemary, thyme, lavender, and chamomile grew in Colonial Williamsburg alongside leeks, beans, kale, and onions.
See more in Edible Gardens 101: A Design Guide.
Kitchen Herb Gardens
In her cook's garden in upstate New York, Gardenista contributor Laura Silverman grows vegetables, flowers, and herbs in raised beds. "Field garlic, transplanted from the wild, and echinacea both find their way into the kitchen," she writes. "I make an elixir with citrus and the dried flower heads to ward off flu in the winter."
See more in Sweet Basil 101: A Field Guide to Planting, Care & Design.
Indoor Herb Gardens
In a container herb garden, "As a rule of thumb, it's nice to keep similar herbs with similar herb," writes Erin. "For this garden, I chose five with relatively woody stems: rosemary, sage, marjoram, oregano, and parsley. All of these herbs prefer relatively dry soil and lots of sunshine."
Fragrant Herb Gardens
Scented herbs such as lavender, pelargoniums, and lemon verbena often find a home in floral arrangements, pot pourri, and sachets. See our DIY: Modern Mothballs (No Chemicals Included) for herb sachets to keep the moths away from your clothes.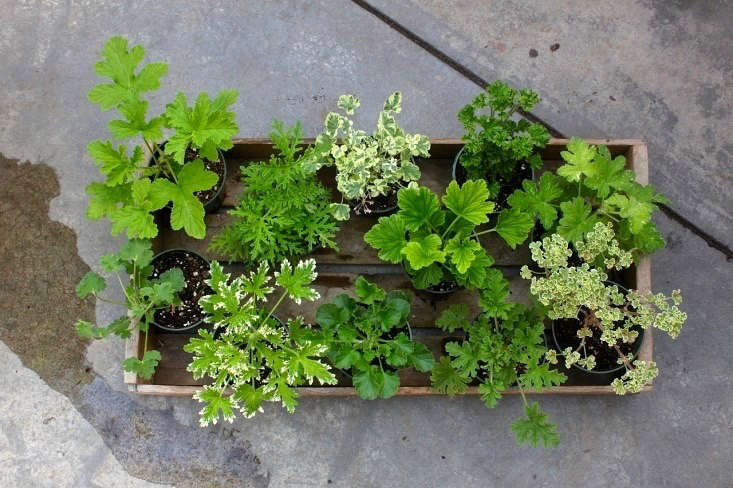 See more at Pelargoniums 101: A Field Guide to Planting, Care & Design.
Raised Bed Herb Gardens
Hardscaping 101: Raised Garden Beds
Must-Have Herbs
We're adding more Herbs to our Edible Plants 101 guides every week. (In case you missed it: design a summer cocktail garden around Mints: 9 Favorites for a Cook's Herb Garden?) Keep up to date by subscribing to our weekly Plant Guide Newsletter.
Here are a few must-have herbs from our Edible Plants 101 guide:
Basil
Although sweet basil can be finicky in a garden (it demands well-drained soil, full sun, and hot weather), if it's happy in your garden it will provide you with a long season of pesto. See our tips for success in Basil 101: A Field Guide to Planting, Care & Design.
Lavender
No ornamental herb garden is complete without a clump (or three) of lavender. With nearly 40 species in the lavender family, this aromatic herb's cultivars include varieties with blue leaves, gray leaves, and green leaves. Flowers can be purple, blue, white, or pink. For more design tips, see Lavender 101: A Field Guide to Planting, Care & Design.
Lemon Verbena
What can't lemon verbena do for you? A towering, flowering bush when it's happy, lemon verbena deserves a spot in any herb garden. Rub its scented leaves in your fingers every time you pass by. Distill it to make syrupy cocktails and desserts. Use an armload as greenery in a floral arrangement.  Learn growing tips at
Lemon Verbena 101: A Field Guide to Planting, Care & Design.
Parsley
Go ahead, eat that garnish. Parsley—curly or flat-leafed—is an easy-growing, nutrient-packed herb, planted as both annual and biennial depending on climate, rich in vitamins A, C, and K, and folate (and they also contain phytonutrients). It's easy to grow, and even easier with our tips: Parsley 101: A Field Guide to Planting, Care & Design.
Rosemary
If you have a hot, dry garden rosemary is the herb for you. With so many varieties—from creeper to shrubs—there is a rosemary to fit the design of any herb garden. This drought-tolerant aromatic herb is also happy growing in a pot in a sunny spot by your kitchen door. See more growing tips in Rosemary 101: A Field Guide to Growing, Care & Design.
Sage
Salvia officinalis is the culinary sage (for ornamental varieties, see our guide to Salvias 101). Plant it in a sunny dry spot. Tip: Look for colorful cultivars like 'Purpurascens' and 'Icterina'.  For more, see Sage 101: A Field Guide to Planting, Care & Design.
Tarragon
With thin, swordlike leaves, tarragon is prized for its culinary properties. (French tarragon is the superior culinary choice over Russian tarragon, which has coarser leaves and less flavor.
Russian tarragon spreads more readily for ornamental or ground cover purposes.)
Thyme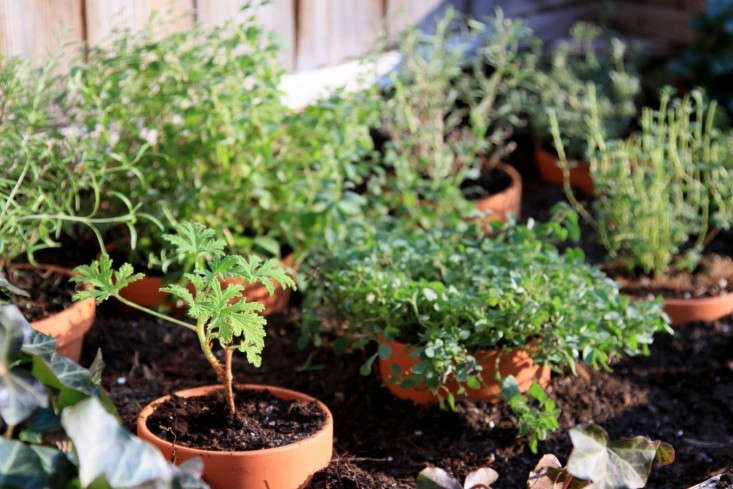 Not all thymes are created equal. Thymus vulgaris—French or common thyme—is the most popular of the culinary cultivars. But the popular woolly thyme belongs underfoot, not in the kitchen. See more tips in Thyme 101: A Field Guide to Planting, Care & Design.
N.B.: Ready to design and plant a spring herb garden? See: