Moonlight gardens–planted with white and silvery flowers that glow after dark–became an early 20th century fad in both the US and Europe. After having a dream about a garden that shimmered in twilight, in the 1950s Vita Sackville-West created a white garden at Sissinghurst Castle that today remains England's most visited garden.
And when archeologists stumbled recently upon the ruins of a lost garden at the Taj Mahal where night-blooming white flowers filled the air with perfume in the 17th century, the evidence helped solve a mystery dating to ancient Persia: What makes a moonlight garden?
Among the clues found at the Taj Mahal were charred bits of ancient flowering fruit trees, shards of pale sandstone decorated with a delicate lotus design, and the faint outline of an octagonal pool where more than two dozen fountains once sprayed water into the night air. The idea then, as now, was to create a luminous glow of white, silver, and gray to reflect moonlight.
Here are 10 garden ideas to steal for a modern moonlight garden:
Billowy Bowers
At Sissinghurst Castle, Sackville-West and husband Harold Nicolson reworked the design of their former rose garden (after moving the roses elsewhere) to create a  series of small beds bordered by circuitous boxwood hedges and pathways that would encourage passersby to wander among the plants. The maze and the high hedges lend a secret-garden air to an after-hours stroll.
For more of Sissinghurst's gardens, see Garden Visit: Vita's Sunset Garden.
Mirror Images
Above: Photograph via Crocus, which you can shop for plants and pots.
In garden designer Tom Stuart-Smith's white garden at the 2010 Chelsea Flower Show, the surface of the water in large zinc water troughs reflects and emphasizes the white flowers blooming nearby.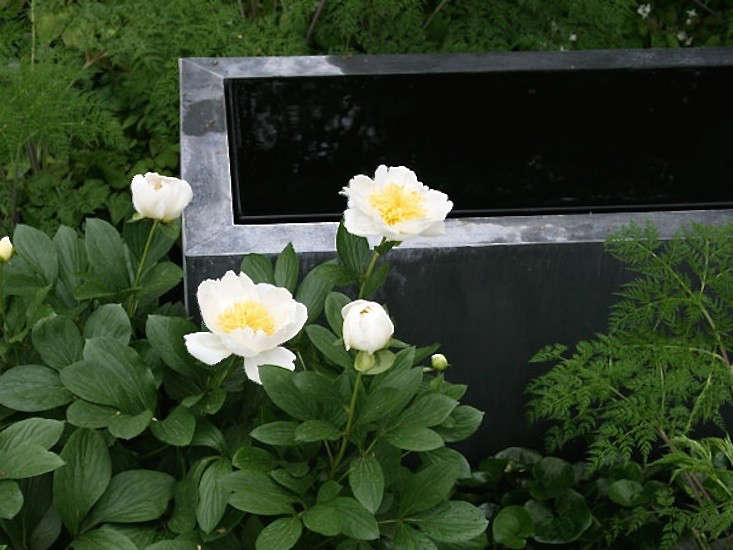 Above: White peonies at the Chelsea Flower Show. Photograph via Crocus.
Stuart-Smith's planting list for his 2010 Chelsea garden included: Epimedium, Hosta 'Devon Green', Asarum, and Rodgersia. Different shapes, textures, and leaf colors added interest and layers to a monochromatic garden.
Pale Planters
Above: Photograph by Matthew Williams.
White clay pots and planters look luminous by moonlight and will convey a feeling of "whiteness" in the garden even when flowers are not in bloom.
Silver Slivers
Above: Eringium edges a brick path. Photograph by Kendra Wilson for Gardenista.
At Sissinghurst, one of the white garden's secrets is a preponderance of gray and silver, colors that make nearby whites look whiter. For more, see tomorrow's Expert Advice post, in which Petersham Nursersies head gardener Thomas Broom helps Kendra compile a plant list of favorite white flowers for a moonlight garden.
Whitescapes
Above: Photograph by Matthew Williams.
Paint hardscape elements and materials white to add an extra dimension of white to a moonlight garden.
Tapestry Of Texture
Above: Plants with variegated foliage, evergreen leaves, a silvery cast, or interesting textures–ranging from feathery to glossy–will create layers of interest that needs nothing more than a white flower to two to convey the calmness of a serene moonlit night.
For more of this garden, see Landscape Architect Visit: "Sex in the City" Meets Edith Wharton in Manhattan.
A Pleasing Perfume
Above: Landscape architect Quincy Hammond designed a white garden with perennial beds of lilies, catmint, irises, and phlox in Watermill, New York. Photograph courtesy of Quincy Hammond Landscape Architect.
For more of this garden, see Grandeur in the Hamptons: A Sprawling Estate Garden.
Add Annuals
Above: In a white garden in Manhattan's West Village, architects Sawyer-Berson added pots of white impatiens, which will bloom all summer long. For more of this garden, see Landscape Architect Visit: "Sex in the City" Meets Edith Wharton in Manhattan.
Fill in the gaps when roses and other perennials aren't blooming with potted annuals such as white impatiens, begonias, and nicotiana.
Shadowy Giants
Above: Close-clipped boxwood hedges provide a strong structural backdrop for white roses in a sunken garden designed by landscape architect Quincy Hammond. Photograph courtesy of Quincy Hammond Landscape Architect.
For more of this garden, see Grandeur in the Hamptons: A Sprawling Estate Garden.
Tall shrubs and hedges serve the same purpose as sculpture in a moonlight garden–strong, geometric shapes are visible even in the dark.
Vines And Climbers
Above: From clematis to potato vine to scented jasmine (shown), blooming vines and climbers can create a large swath of white color to attract the eye at dusk. Photograph by Michelle Slatalla.
Successive Bloomers
Above: The white garden at Sissinghurst, as it appears today. Photograph via Sissinghurst Castle. Tickets to visit Sissinghurst range from £9 to £12.50 per adult depending on the season. For more information, see Visit Sissinghurst. Photograph by Jonathan Buckley.
Plant flowers that bloom successively over the course of a season. When Sackville-West designed the white garden at Sissinghurst, the plant list included spring flowers, such as irises; June roses; lilies "seen by twilight or moonlight gleaming under the shadow of a thick wood," and summer stalwarts such as gladiolas and late-season pompom dahlias.
For more ways to add white to a garden, see: