A few years ago I worked for a tiny regional historical society in North Carolina. One day I found myself in a meeting room,  discussing Derby Day. I nodded cheerfully and said something along the lines of,  "Yes, of course, I'll write a piece for the newsletter."
After the meeting ended, I scrambled back up the stairs to my office in a converted sleeping porch and googled the subject of my latest assignment. After growing up in a small town on the New England shoreline,  I was familiar with festive gatherings where women wore their best Lilly Pulitzer and drank cocktails in broad daylight, but Derby Day was something I had never encountered. Horses! Hats! Boozy drinks in sterling silver cups! It was all new.
Since then I've become somewhat better acquainted with the traditions surrounding the Kentucky Derby, and if you ask me, the mint julep is the best of them. Whether or not you enjoy a julep as you watch the race this Saturday, here's an easy recipe to include on your summer's cocktail menu.
Photography by Erin Boyle.
Above: Some might say that the key to a good mint julep is the bourbon, but as a plant lover, I'm going to go out on a limb and say that it's all about the mint. It doesn't really matter what variety you use—and I think a pineapple mint would be amazing—but make sure that you're dealing with freshly cut mint, and not the bunch that's been mouldering in the bottom of the crisper.
Above: Kentucky Bourbon might seem like the natural choice for this solidly southern cocktail, but since I live in Brooklyn, I opted for the Kings County Distillery version instead. Made just a few miles down the road at the Brooklyn Navy Yard, Kings County Bourbon is one of my favorites.
Above: If you have simple syrup on hand you can use that to mix your drink, but superfine sugar makes the job even easier. Mix 1/2 ounce of superfine sugar (you might have some left over from your flower sugaring escapades) with 1 ounce of warm water. The superfine sugar melts in warm water; no need to heat it on the stove.
Above: After you've made the sugar water, choose eight or so mint leaves from the bunch and add them to the mixture. I mixed my drink in an old glass measuring cup, but you can mix your drink directly in your drinking cup.
Above: I used a round wooden muddler to crush the mint. The trick here is to gently release some of the oils from the mint leaves, but not to macerate them.  An Orb Wood Muddler is $9.95 from Crate & Barrel. If you don't have a muddler, the back of a spoon will do just fine.
Above: To the muddled mint, add two ounces of bourbon. N.B.: This recipe makes just one cocktail. You might be tempted to mix a large batch for Derby Day, but these are so simple to prepare that I think you're better off mixing them individually.)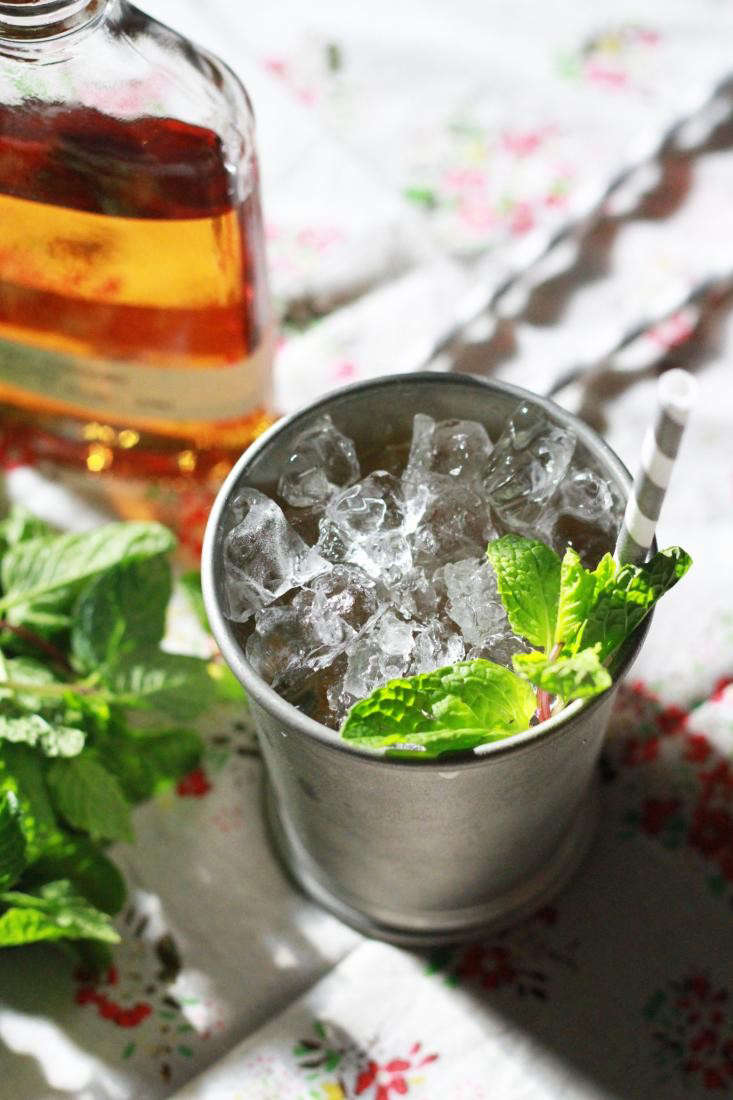 Above: There's some debate about the proper way to serve a julep, but the classics are served in a silver julep cup with a pile of crushed ice on top and a mint sprig as garnish. For an affordable option, a stainless-steel Mint Julep Cup is $19.95 from Crate & Barrel.
I cut a striped paper straw down to cocktail size for festive sips.
(Visited 48 times, 1 visits today)