Waiting for spring can make you as antsy as waiting for Christmas when you were a kid. Will it ever get here? And then it arrives suddenly…and there's no more luxurious time to scheme or dream.
We think of winter as a gift—precious time to prepare for spring. Barb Pierson, nursery manager at White Flower Farm in Connecticut, has 10 essential tips to prepare a garden for spring. We're on it.
Photography by Sara Barrett for Gardenista, except where noted.
1. See what's not there.
When trees are bare and plants are dormant is the best time to study a garden's underpinnings. "In the winter, you can see what's missing. Are there areas where you need screening because you suddenly you notice the air conditioning unit that looks horrible?" asks Pierson.
2. Add trellises, tuteurs, and supports.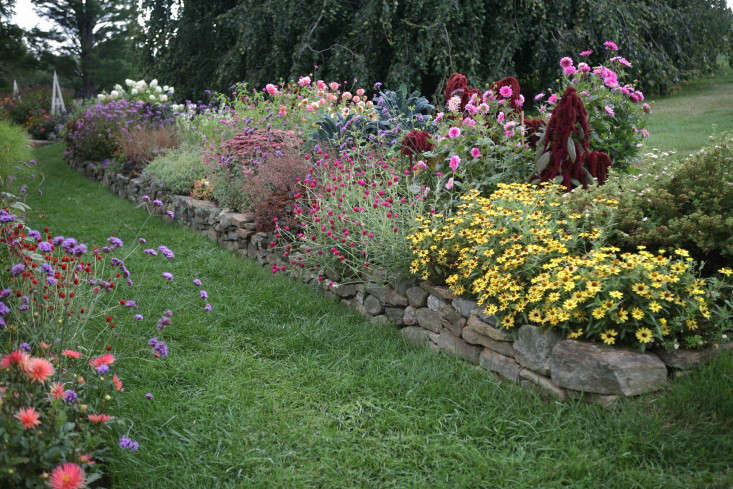 Pierson's favorite is a white pyramid tuteur (visible in background above). See more ideas in 10 Easy Pieces: Garden Tuteurs, A Glamorous Trellis to Reflect Sunlight, and DIY Bean Trellis.
3. Help your hardscape.
4. Plant trees and shrubs.
Some ideas to consider: spring-flowering dogwoods, trees with Colorful Fall Foliage, and replacing a fence with a Hedge.
5. Place your order.
After you decide how to fill the holes, place an early order to get the best selection and prices on both specimen trees and hardscape elements.
"Last year I waited too long and for my own garden I couldn't get the white tuteur before we sold out," says Pierson. "I like it because it looks clean and actually becomes part of the garden design."
6. Buy seeds.
"I like to direct-sow in spring, but it's very important to order now or you won't get what you want," Pierson says. "One of my favorite vendors is Renee's Garden. I'm ordering all my cosmos, zinnias, and sunflowers now."
The secret to sowing seeds directly into the ground? "Raised beds are the answer because you'll be sowing into nice, light, fluffy potting soil. If you don't have air in soil, you'll have problems."
For more of our favorite sources for seeds, see Ask the Expert: 7 Tips to Grow Cut Flowers and 10 Easy Pieces: Heirloom Seeds for Spring.
7. Rehab your tools.
Now is the season when you have time to clean, oil, and repair tools. Do it. "I was just down in my basement last night to take stock, to look at my scissors and pruners and what needs to be sharpened," says Pierson. "My gloves are a disaster; the middle finger always goes out. Anything I need to replace for the coming season, I'll do now because I'll get better price and availability."
8. Prune judiciously.
9. Weed with enthusiasm.
10. Mulch for moisture.
See more pre-spring cleanup ideas tips for growing Perennials, Annuals, and Edibles in our curated Garden Design 101 guides. And if you're taking advantage of one of the last weekends of winter to do some armchair gardening, see: