Eggs already come in what is surely one of nature's most inspired versions of packaging. But how to create a container that improves upon the familiar pulp or plastic carton?
Catherine (Caity) Delphia is a Johns Hopkins–trained medical illustrator and graphic designer who also is a passionate chicken farmer. She and her partner, Aaron Dunn, a landscape designer, together own and run The Fancy F, a year-old, 15-acre enterprise in Hillsdale, in New York's Hudson Valley, where they raise heritage and rare-breed chickens that produce colorful eggs. And to showcase their product, Delphia took it upon herself to create an egg carton that gets noticed.
Photography by Caity Delphia of The Fancy F.
The Eggs
To learn her sideline, Delphia began by volunteering at a range of farms—CSA vegetable and meat farms, a tree and topiary farm, and the kitchen garden on a private estate. Along the way, she and Dunn fell in love and began raising chickens at their one-acre suburban home in the Berkshires. After a several-year search, they found their current place, a former thoroughbred farm that had been derelict for a decade. The cleanup is still in progress, but they've been able to significantly increase production (they raise six varieties of chickens, plus a small herd of Nigerian spotted goats, mini donkeys, and Randall cows) while still holding down their day jobs.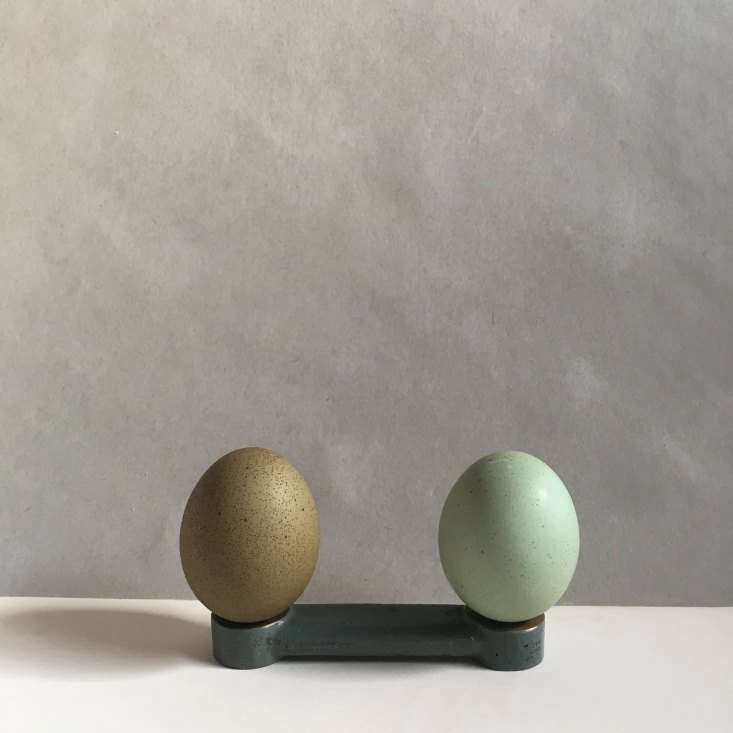 Taking inspiration from the paper cartons in use from the early 1900s through the 1950s, she contacted an old-school box manufacturer in Ware, Massachusetts, and "brought back a piece of history—with some modifications and a modern print."
These chocolate speckled eggs are from Marans chickens.
Fancy F eggs are available at the Copake General Store in Copake, New York, and in NYC at Foragers, which has locations in Chelsea and Dumbo. You can also get them direct from the farm: 87 Underhill Rd.; Hillsdale, New York.
The Chickens
A bantam breed (half the size of regular chickens), silkies, Delphia says, "make the ideal pet chickens: soft and fuzzy with unique plumage, they're docile and broody, meaning they like to sit on eggs—they'll even sit on eggs that aren't theirs."
The couple get their chickens from a range of sources: hatcheries, chicken shows ("the Poultry Congress every January in Springfield, Massachusetts, is very fun"), Rare Breed Auctions ("like an eBay for chickens but pricey"), and chicken swaps ("enthusiasts organize these: You meet in a parking lot and buy and exchange chickens"). She recommends Backyard Chickens as a great general online resource.
At the Fancy F, there are 10 to 12 roosters at all times. Delphia says that they—and their neighbors—don't mind the crowing, but warns: "Every rooster has a different crow: They range from beautifully melodic to awful, high-pitched cackling."
Cochins are one of the Fancy F's specialties: "They're super poofy and comedic—they have a really nice presence," Delphia says. "Their eggs sadly, aren't all that exciting: They're small and light brown."
The Coop
The couple report that their chickens tend to live three to five years. Along the way, however, there are a lot of casualties, mainly due to hawks. Once, while they were tending their chickens before dawn, a fox swooped in. Now they wait until daybreak to do their rounds.
The feed they use—a mix of cracked seeds, corns, oats, soy, oyster shells, and minerals from a local granary—affects the yolk color but not the shell.
Stay tuned: Delphia and Dunn are planning to open a vegetable, perennial, and tree nursery this spring. Follow their doings on Instagram at @thefancyf.
Come along on three more farm visits:
(Visited 205 times, 1 visits today)