Until recently, my relationship to plants has been mostly one-sided. I enjoyed plants, I benefitted from them, I admired and ogled them, but I didn't grow them. Instead of a healthy balance of give and take, I only took.
The trend began in childhood. Growing up, my sisters and I had a small business selling flower bouquets from the end of our driveway. We'd pick daffodils in early spring, irises next, and phlox and tiger lilies and blue bachelor's buttons as the summer went on. A wooden cart procured for the purpose held rows of glass Veryfine Juice bottles which we filled with bouquets. Passersby tucked dollar bills into an old coffee can in exchange for our handiwork. Our mom toiled in the garden, we reaped the benefits.
Last summer I decided to change the dynamic. I wanted to try my hand on the growing side of things. So I dug in as much as is possible from a tiny apartment with no outdoor space to speak of. I bought a window box and filled it up with plants and soil. By some kind of miracle, there was something green outside my window all summer long.
This year, I went one step further. With my farmer-sister's assurance that it was possible, I started a tray full of plants from seed.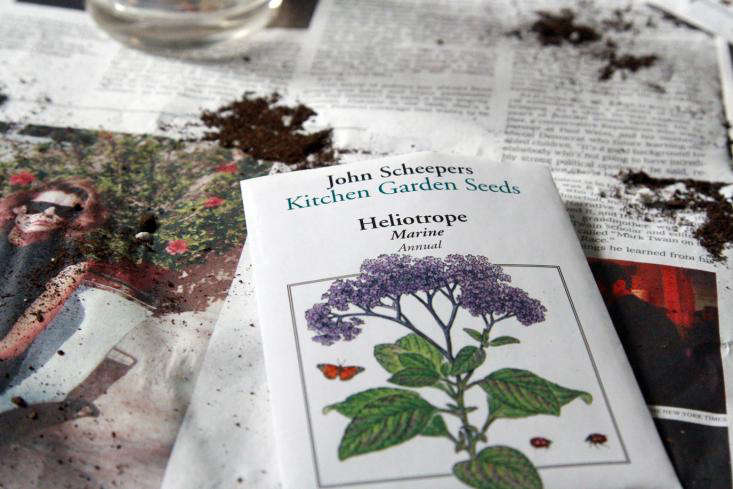 I pored over John Scheeper's seed catalog and chose three varieties of plants known for their sweet scents: heliotrope, salvia, and bright blue lobelia.
By late February I was already entertaining dreams of a butterfly-filled Brooklyn summer.
I made tiny newspaper pots and filled them with soil and seeds, and then I waited. (For step-by-step instructions, see DIY Seed Starting: Newspaper Pots.)
Except more than waiting, I fretted. I moved the plants from sunny spot to sunny spot, I covered my radiator in a wet towel and put the seedlings on top to make them extra warm. I made sure to move them away before they could get too warm. I bought a clip light. I destroyed the paint on my wooden table by moving the clip light up and down its leg. I didn't care, so long as I knew there would be sprouts.
And before too long, there were. Tiny little things with two leaves and itty bitty necks.
Until a gloomy Sunday in April, when the sunniest spot in our apartment was our 4-foot-by-5-foot bathroom. Glad for the spot of sun, I perched my tray of precious charges on the edge of the bathroom sink to do their chlorophyl slurping. I should have backed away slowly, but instead I turned to leave and my right hip knocked the tray with precisely enough force to send the entire operation flying. After six weeks of waiting and warming and sunning, a half-second was all that was needed to dash my tiny seedlings to the bottom of the tub. A half-second more to register the shock and burst into tears.
After cleaning up the mess, it took me a few days to decide what to do next. I considered starting fresh with new pots and seeds, but there was a part of me that was relieved to see the experiment end. If I'm being truthful, six weeks with a miniature nursery in my apartment had started to wear on me. I didn't think I had it in me to start over again.
Still, I had butterfly-filled dreams to realize, and an empty window box to fill. A few weeks later, when the weather warmed, I did the rounds of Brooklyn nurseries and plant sales until I found the plants I was after. I swapped the bright blue lobelia for a coral nymph salvia. I added a trailing helichrysum petiolare in hopes that the silvery, licorice-scented leaves might cascade down the apartment wall.  
I reminded myself–yet again–that maybe I don't need to do everything myself.
 And now, there's a window box, filled with plants nurtured from seed by hands more capable than mine. I'm just waiting on the butterflies.
For more stories about Erin's adventures in city gardening, see DIY: A Window Box Grows in Brooklyn.
(Visited 127 times, 1 visits today)