Perhaps it's unconventional to embark on gardening projects in a tiny space, but since I potted my first farmers' market geranium last spring, I've been searching for a tidy place to store my leftover potting soil. I didn't want to settle for something ugly and I didn't want to purchase a new bag each time I had the need for a little dirt, so I decided to bide my time until I stumbled upon the perfect solution. A few weeks ago, it finally happened:
Photographs by Erin Boyle.
Above: Can you spot my potting soil?
I'm a woman who's firmly committed to only purchasing things which I find to be both beautiful and useful. William Morris taught me well. Generally, this means opting for vintage or decorative storage solutions rather than plastic or rubber options. There aren't many hiding spaces in a tiny apartment, and I'm not willing to stare at a plastic tub while I eat my dinner. Staring at a vintage pretzel tin with a beautiful patina? That I can handle.
Above: I found this vintage bakery box at a local home shop, but I have a hunch that scouring flea markets and yard sales could get you a similar treasure. On Etsy, for instance, you can purchase a Vintage Metal Bin for $35.
The key here is really the lid and the size; the fact that the lid is hinged is just an added benefit. At roughly 12 inches square, this cube is large enough to fit a significant volume of soil, without being so large that its storage in a small apartment is comical.
Above: My local hardware store sells organic potting soil in 4-quart bags. That's a small bag as far as potting soil goes, but when you're only wanting to add a scoop or two to a pot, you'll still have a lot left over. I'm normally not a proponent of plastic bags, but when I spotted these Ziploc Big Bags at the hardware store, they seemed like the perfect solution for keeping my leftover soil neat and tidy and most important, moist.
I opted for a box of Ziplocs in the 3-gallon size. To fill mine, I placed the empty bag in my tin first, and then added soil. A 4-quart bag of soil fills a 3-gallon bag about a third of the way. If you'd rather not transfer your soil from one plastic bag to another, be on the lookout for potting soil that comes in a re-sealable bag. If you find one, you can just plop the whole bag directly into your tin.
Since I had extra room–and an extra bag–I filled the remaining half of the box with a bag of bird seed. (Yes, we're still at it with those house finches).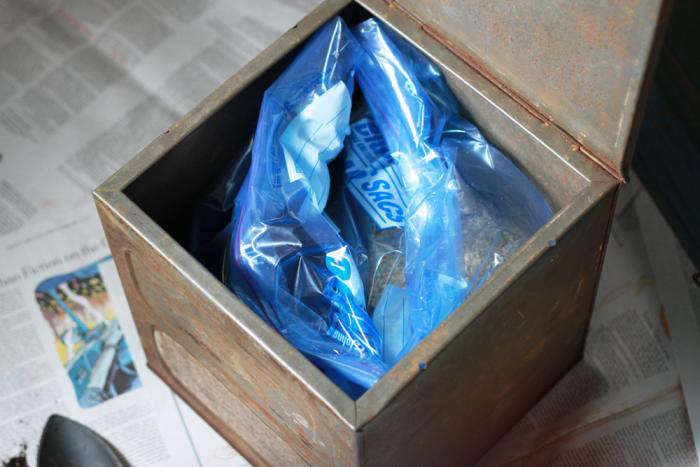 After filling both bags, I sealed them and folded down the tops to fit neatly into the tin.
See more of Erin's DIY Adventures.
Now I have easy access to my potting soil, a pleasant perch for my rabbit-foot fern, and a little extra floor space in the back of my closet. (For a similar house plant, consider a Live 6-Inch Rabbit's Foot Fern for $24.50 from Pottery Barn.)
City dwellers, I'm curious: what storage solutions have you found for your potting soil?
N.B.: This is an update of a post published March 14, 2013 during our Do-It-Yourself week.
(Visited 872 times, 3 visits today)