For rainwater collection, an amphora in the garden goes with everything. The clay jar's graceful, classical curves have been a go-to shape for stylish storage vessels since the Bronze Age. Here are 10 high-and-low finds, both new and antique:
Above: A lightweight Rainwater Tank Amphora made of plastic is 47 inches tall and has the capacity to hold 79 gallons of water. It can connect to a hose via its spigot (which has a 3/4-inch thread). It is €215 via Hornbach.
Above: A Greek Revival-style Large 19th century Terracotta Urn is 36 inches high and has a diameter of 28 inches at its widest point. It has chips on the rim, stains from salt water, and some scratches; $3,800 from Ralph Lauren via 1stdibs.
Above: Made in Tuscany, a clay Amphora made of terra cotta from Impruneta is available in six sizes at prices ranging from €124 to €204 from Marrangoni Pottery.
Above: A Cretan Oil Jar in a terra cotta finish measures 40 inches high and is $1,174 from Burke Decor.
Above: A Rainwater Amphora Water Butt measures 51 inches high and with a 27-inch diameter comes with a choice of a brass or chrome tap and has a capacity to hold 66 gallons of water; £279.95 from Water Butts Direct.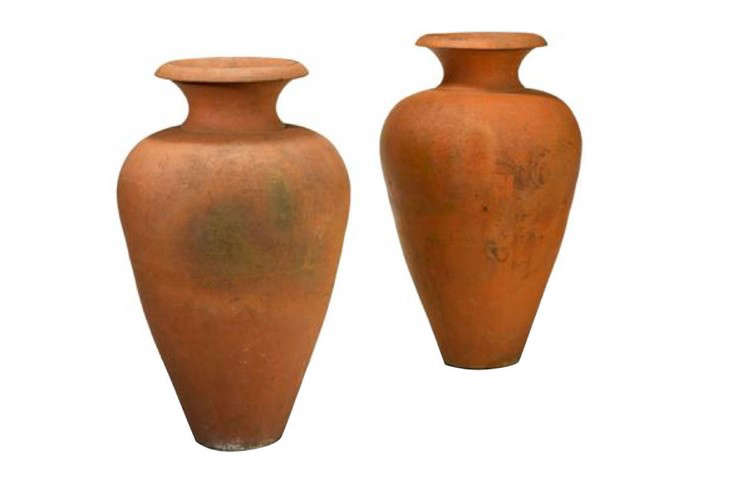 Above: A set of two Monumental Enfield Pottery Terracotta Urns are 47 inches tall. Made by the Enfield Pottery and Tile Co. of Pennsylvania for Louis Comfort Tiffany, they have a classic Greek form, with narrow necks and flared rims. For more information and pricing, see dealer Todd Merrill at 1stdibs.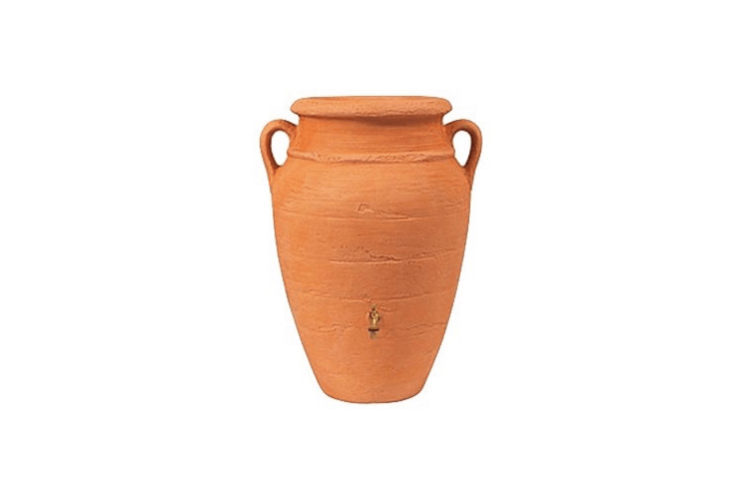 Above: An Amphora Rainwater Tank has a 160-gallon capacity; $629.95 from Rain Harvest Systems.
Above: A Large Spanish Rustic Terracotta Oil Jar is $549 from Omero.
Above: A Terracotta Effect Water Butt has a removable planter and a hole in its lid to connect directly to a drainpipe. It is £144.99 from Primrose.
For more of our favorite ways to manage rainwater, see:
(Visited 449 times, 1 visits today)