Landscape architect Brennan Cox's client is used to crowds. From dawn to dusk, tourists stream past her house on San Francisco's steep Lombard Street (where eight hairpin turns have earned it the nickname Crookedest Road). "Her mother bought the house probably in the Fifties and lived there for a number of years, there's a strong attachment to the house," says Cox, co-founder of Berkeley-based Groundworks.
To transform the garden into a refuge, Cox introduced elements from classic Japanese gardens. "She very much likes to grill and to sit outside on nice days," he says. "But in front of the house are tourists. She needed a private oasis from those public spaces."
Behind the fence, gray gravel and warm, natural materials create serenity in a modern outdoor kitchen, reinforced by the sound of running water from a minimalist wall fountain:
Kitchen Components
Above: Photograph courtesy of Brennan Cox.
The fence, backsplash, under-counter cabinets, and storage closet (which houses irrigation meters, lighting controls, and trash bins) all are yellow cedar for a unified look. "We used warm materials that would transform the space," says Cox.
Grill
Above: "The grill is a Weber that we modified to fit into the space," says Cox. "We took the sides off it and fit it into the space." A similar stainless-steel gas Weber Genesis Grill has three burners and storage for a propane tank. The grill measures 64.5 inches high by 60 inches wide and is 30 inches deep; $849 from Amazon.
Cabinetry and Fencing
Above: For a similarly warm look, Clear Grade Alaskan Yellow Cedar paneling boards are machined to fit together tightly. For more information and pricing, see Bear Creek Lumber.
Drawer Pulls
Above: Made of corrosion-resistant stainless steel, simple Orrnäs Handles measure 6 11/16 inches long and are $9.99 for a two-pack at Ikea.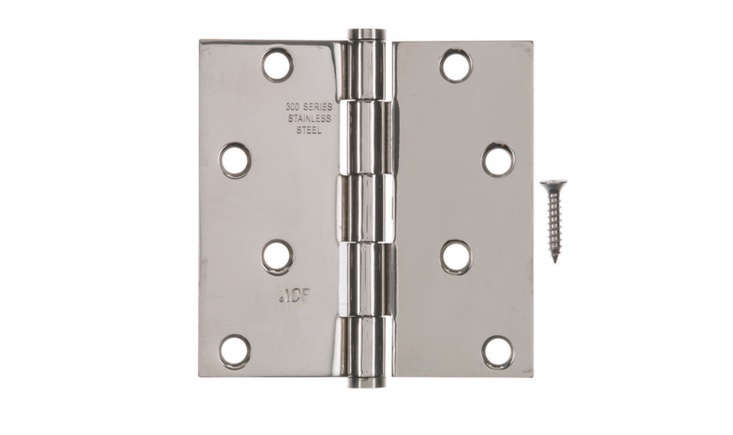 Above: "We couldn't get away from showing hinges" because of the budget, says Cox, who chose a simple, sturdy profile. For similar hinges, consider a 4-In. Stainless Steel Residential Hinge; $13.99 from Ace Hardware.
Lighting
Above: LED wall lights cast a low, warm glow on the cedar fence. For lights with a similar simple profile, a Rubix 2510 Indoor/Outdoor LED Wall Sconce can be mounted to cast light either up or down and is $269.50 from Y Lighting.
Hardscaping
Above: Photograph courtesy of Brennan Cox.
Granite pavers match the color of the outdoor kitchen's granite countertop. Garden beds are mulched with beach pebbles from Mexico.
Above: Black Beach Pebbles sold by the cubic yard and in bags are available in three sizes (including Small Black Mexican Beach Rocks as shown). For more information and prices, see Bedrock.
Above: Photograph courtesy of Brennan Cox.
Both the granite and wood elements have chamfered edges. "Nothing in Japanese gardens is ever perpendicular," says Cox, "so we used an angled approach."
Above: Photograph courtesy of Brennan Cox.
A slim slot fountain surrounded by western black granite is built into the wall that backs up to the street. "That whole wall is only about 12 to 14 inches wide and behind the wood is an existing concrete wall that was really ugly," says Cox. "We had to figure out a way to fit in a fountain in basically four inches.
"Underneath the fountain is a giant bathtub that is a basin and there's a pump you can't see, and three supply lines behind the granite face," says Cox.
Above: Available in standard lengths up to 36 inches, a Slot Scupper comes in five finishes including stainless steel as shown or copper finish; for information and prices, see Bobé.
Above: The gravel size changes near the fountain. "A smaller pebble reduces splashing," says Cox.
Above: Smooth, round La Paz Beach Pebbles with a 3/8-inch diameter are sold by the cubic yard and in bags. For more information and prices, see Bedrock.
"The succulents will form a tapestry and as they all grow together, you probably won't even see the gravel mulch anymore," says Cox.
For more of our favorite gardens with San Francisco views, see A City Garden with a Spectacular View and A Chef's Secret Roof Garden at the Fairmont Hotel.
Are you planning an outdoor kitchen project? Learn everything you need to know on to get started with our Hardscaping 101: Outdoor Kitchens 101 guide.
(Visited 107 times, 1 visits today)