When we recently toured this Virginia farmhouse (see Architect Visit: A New Farmhouse for a 100-Year-Old Barn), we were entranced by its gracious proportions and views, and came upon the happy discovery that the mudroom was our favorite room in the five-bedroom, 13,300-square-foot home.
Most mudrooms are utilitarian to a fault. But this one, designed by architect Donald Lococo, plays up its charm. How, we wondered? Modern conveniences mingle with distressed, excavated pieces. After one afternoon spent antiquing, we're glad to report you can get the look, even if you don't have French doors that open to barn and pool views.
Above: Exterior elements (rugged slate tiles, side porch window, and entryway containers) announce the mudroom as the go-between that links the house to the garden. French doors are not compulsory to getting this look, when there are so many other elegant fixtures to create this space. Photograph courtesy of Donald Lococo Architects.
Above: The commercial-grade restaurant faucet, with its coiled sprayer, when paired with a rustic workbench, looks like a garden hose from the future. Lococo sourced it from Mirabelle. The Presidio Pull-Out Spray Kitchen Faucet is $543.92 in polished chrome.
Above: Lococo found the sink from Whitehaus. The 36-Inch Quatro Alcove Fireclay Sink with Integral Drain Board is $719 on Amazon.
Above: The ultra-modern sink and faucet are put into relief by an industrial workbench. The hand-cranked vice, in the original, brings home the point. A similar Carpenters Workbench from the 1800s is $1,800 on 1stdibs. On a budget? Seek out affordable versions at your local flea market.
Above: Clean cuts make floral arrangements last longer, making these hand-forged Japanese Pruners, $109 from Kaufmann Mercantile, a worthwhile investment. For more tools, see Alexa's 10 Easy Pieces: Garden Pruners.
Above: The plank-turned-bookshelf was excavated from the property, says Lococo. We suggest looking on Etsy, where a 34-Inch Reclaimed Wall Shelf is $50 from Barnwood4u.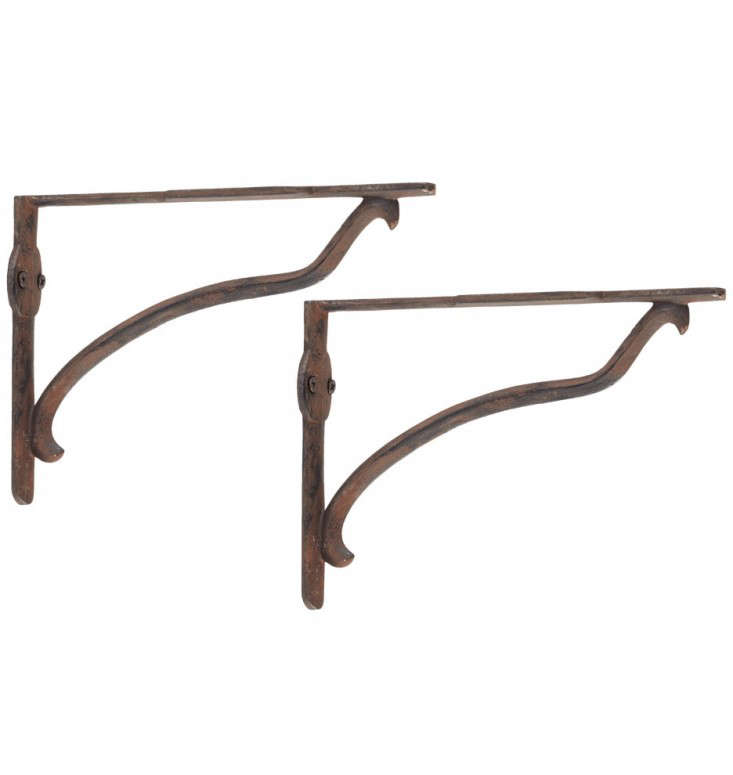 Above: Colonial forged brackets are often on eBay for the picking. For something less embellished, there is Rejuvenation's Simple Shelf Bracket, $49 for the pair.
Above: The slate is 16-by-16-inch tile in Black Rust, sourced from Jud Tile, a local Virginia tile shop, cut in half and laid in a brick pattern. If you're outside Virginia, consider similar similar California Gold Natural Slate Tile; $5.99 per square foot from Home Depot.
Above: A Fibreclay Chelsea Cylinder is £25 at Roundwood Trading.
Above: A Non-Skid Stainless Steel Dog Bowl for Fido is $9.99 at Petco.
Inspired to install French doors? See Remodeling 101: The Ins and Outs of French Doors.
And, for more farmhouse style, see:
(Visited 211 times, 1 visits today)