We love the simple formula for a farmhouse landscape: wide open pasture surrounded by towering, mature trees. Most of these ten gardens from members of the Remodelista + Gardenista Architect/Designer Directory were once working farms–though a few are actually brand new. Either way, we still find the bucolic country landscapes inspiring.
Above: NYC-based Robin Key Landscape Architecture designed the landscape surrounding this year-round hillside retreat in the Connecticut countryside. Stone retaining walls and bluestone pathways wind through the sprawling fields. Photograph by Francine Fleischer. For more from Robin Key, see Let Twilight Linger: 10 Early Evening Gardens from the Gardenista Gallery.
Above: Boston-area landscape architects Stephen Stimson Associates designed the garden surrounding this farmhouse in North Salem, New York, in the Hudson Valley. As a nod to regional farms, Stimson left long plantings of grasses alongside more manicured lawns. He also preserved existing stands of woodlands around the fifty-acre property to provide shade in summer and protection from winds in winter. Photograph by Charles Mayer. For more from Stimson, see Architects' Roundup: 10 Emerald Green Gardens.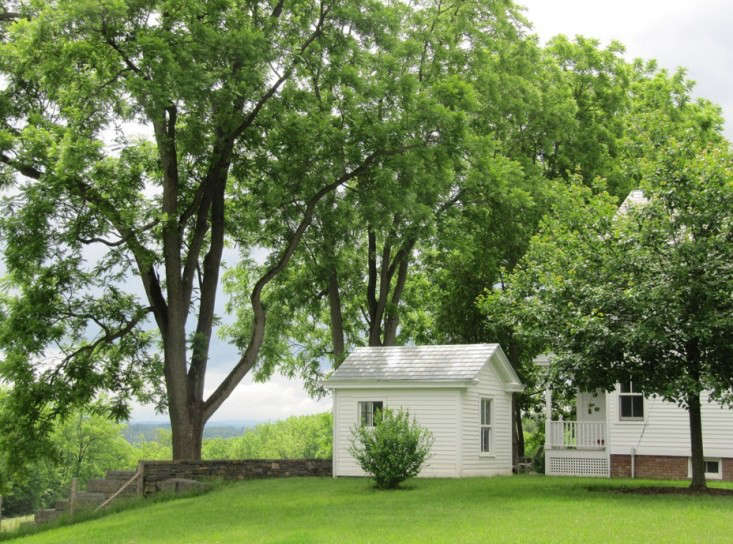 Above: Beacon, NY-based Susan Wisniewski Landscape added a stone wall and terrace to define the outdoor living space on this old farm property in the Hudson Valley. For more from the designer, see The Grandes Dames: 10 Stately Gardens from the Gardenista Gallery.
Above: Stephen Stimson Associates designed the landscape on this former dairy farm, now retirement community, in North Andover, Massachusetts. From the historic structures, residents admire onetime pastures and old stone walls, surrounded by a garden planted with native grasses and shrubs. Photograph by Charles Mayer. For more of Stimson's work, see Required Reading: Ten Landscapes by Stephen Stimson Associates.
Above: Though traditional-looking at first glance, this farmhouse is both modern and new. The owners commissioned Kansas City-based design-build firm Hufft Projects to build the 6,000 square foot farmhouse in the countryside near Springfield, Missouri. Photograph by Mike Sinclair. See the rest of the house on Remodelista in Home for the Holidays: A Modern Farmhouse in Missouri.
Above: Minneapolis-based Albertsson-Hansen Architecture condensed a compound of old storage barns located on 250 acres in rural Minnesota; the simple landscape is covered in grasses and surrounded by a grove of trees. Photograph by Peter Bastianelli-Kerze. Read more about the project in The Architect Is In: A Utility Barn as Architectural Moment.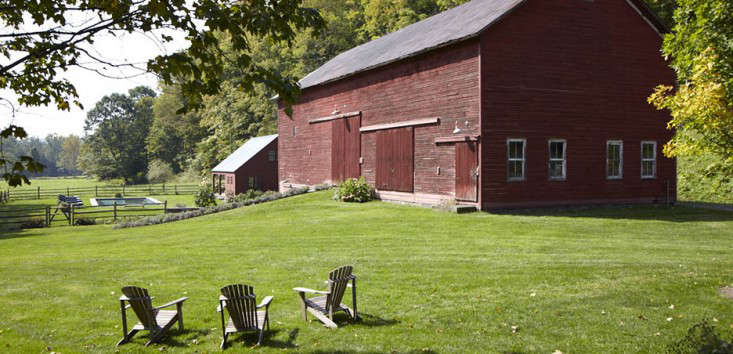 Above: An old barn remodeled by Chatham, New York-based architect James Dixon, perched on a rolling lawn. See more from the architect in Remodeling 101: Standing Seam Metal Roofs.
Above: The landscape surrounding this old Dutch colonial farmhouse (also remodeled by James Dixon) will shift dramatically through the year as the deciduous trees behind the house change with the seasons. For more from James Dixon, see Shades of Gray: Architects' Top 10 Paint Picks.
Above: San Francisco-based Walker Warner Architects added onto this 1886 stone winery building in Napa; the new buildings take their inspiration from the agricultural architecture of Napa Valley. See more from Walker Warner in Architect Visit: Recreating Old Hawaii on Kakapa Bay.
Above: Stephen Stimson designed the landscape on this contemporary farmhouse-style waterfront property on Prince Edward Island in Canada. The fifty-acre estate mimics nearby farmland that grows potatoes, blueberries, and cranberries. Photograph by Warren Jagger.
Looking for more inspiration? Browse images of Farm Gardens in the Gardenista Gallery.
And, for inspiration from working farms, please see:
(Visited 138 times, 1 visits today)