Walking into Jamie Song's plant-packed London home, I felt like a kid in a candy store: instantly surrounded by all my favorite and familiar treats, beautifully and elegantly displayed with an eye for detail and design, as well as a knack for making things grow.
It felt familiar not because I've been here before, but because I am one of the nearly 350,000 people who drool over Song's plants on Instagram, where he's @jamies_jungle.
Photography by Rachel Warne for Gardenista.
Song puts aside several hours on the weekend to perch up a tall ladder tending to each of his specimens. And despite ongoing battles with mealy bugs (what a relief to hear that even he has this issue) and the increasing amounts of time required to maintain his collection, Song is in no doubt of its benefits. "On a long day of watering, at the end of it I'm exhausted, and I have thought 'I want to get rid of these plants'! But in general, every day when I come upstairs (our bedrooms are downstairs) I feel much happier."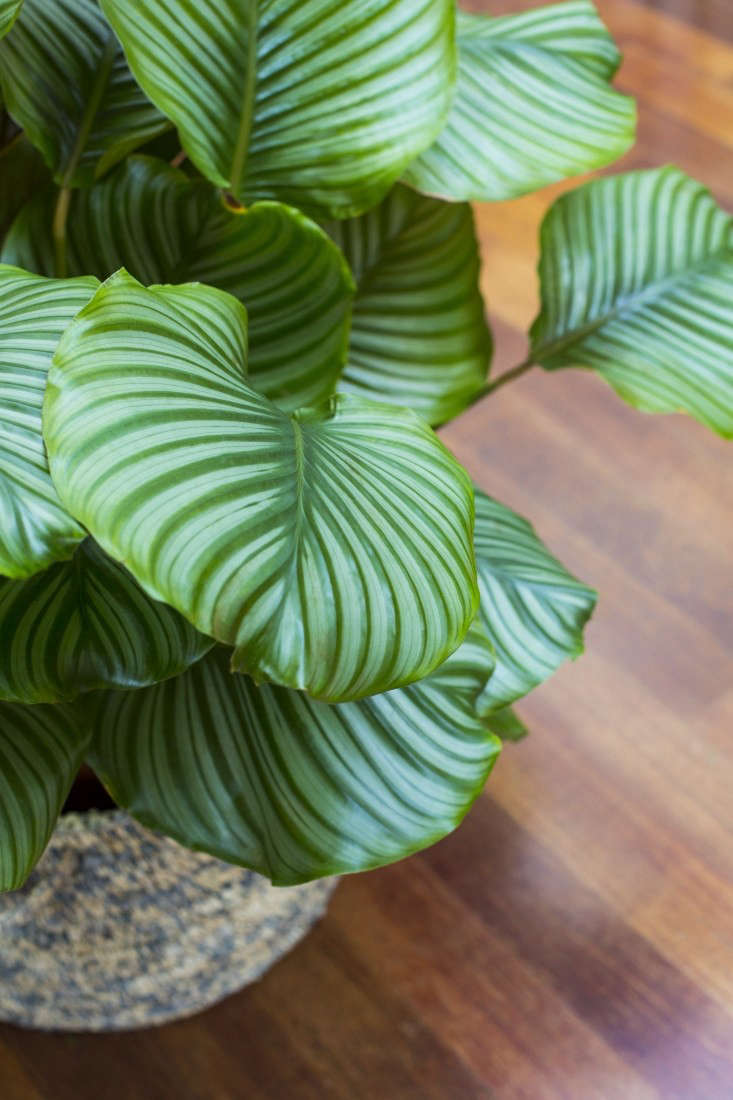 This is no lifelong addiction, however. A childhood living in apartments in the highly urbanized environment of Taipei, Taiwan meant Song didn't grow up surrounded by plants. It was a trip to Bali in his mid-20s that ignited a love for all things green, and since then he's been gradually adding to his collection. And now he has the perfect greenhouse-like home in which to indulge his passion.
Song makes the most of the high ceilings by growing many plants in large hanging pots: these were nabbed from a Tom Dixon sample sale. "I acted like a madman!" he recalls, laughing. "They are perfect for this space, just the right size, so I just grabbed them."
His day job as founder of online vintage retailer Bureau of Interior Affairs London means Song spends much of his time sourcing, buying, and selling mid century art and ceramics, some of which ends up sharing space with his plants. "I see the plants as individual works of art, too," he explains. "What I do is allow them to thrive here, I try to match them with a nice pot, to bring out the best in them. I feel like I am surrounded by these artworks."
The plant grows in a long, narrow self-watering pot to cut down on the amount of time he has to spend tucked behind the sofa with a watering can.
"If I try a plant that I really love and it dies, I will try growing it again, but if it dies again it just doesn't like it here, so I won't try it a third time."
It is also a labour of love engaging with the many people who now see Jamie's Jungle as their go-to guide to houseplants: but there are no secrets here. Song is incredibly generous in sharing with his fans the hard-fought tips and tricks he has discovered along the way, but is also modest about his skills. "Some people see me as an all-knowing guru, but I live in a different place than you do, a different house, a different climate." This is a key point: Song is successful because he recognizes and embraces the old gardening mantra: right plant, right place.
He insists that the vast majority of his houseplants do fine on London tap water, (he only buys distilled water for the tillandsias), and generic fertilizers. "We can only provide the conditions for the plants we have got, so I find these plants thrive here," Song says. "There are a whole groups of other plants that don't like it here—most succulents like Echeverias are okay in summer, but in winter they get too etiolated and end up not looking so good."
The calathea is prone to browning edges to the leaves, and everyone wants to know how to fix it: increasing humidity is key, Song says (it helps to have a room packed with plants, of course).
Certain other plants in his collection are particularly highly prized, including the baby Chinese evergreen with variegation that looks a little like camouflage fabric in white, bright lime, and darkest green—Aglaenomena pictum 'Tricolor'. He couldn't get hold of a plant anywhere in the west, and he got so desperate for this plant persuaded his mother to bring him a baby plant to the UK from Taiwan, which necessitated an arduous process of obtaining a phytosanitary certificate. (Such love hath a mother for her plant-addicted son.)
Despite his many fans, Song says not everyone who visits his home understands why he feels the need to be surrounded by greenery. "Lots of people want plants as part of the interior decoration, but they don't care at all what the plants need. It's finding the balance between using plants as a prop, and the other extreme where you keep everything in a greenhouse and they don't blend in with your interiors." He pauses and looks around, smiling at his collection. "It's a struggle to find a balance. I tend to buy more and more and this place becomes like a greenhouse." Song may be a hoarder, but who can blame him when he has such a beautiful backdrop to fill—and oh, what a hoard.
If you're inspired to turn your own home into an indoor jungle, see:
Finally, get more ideas on how to plant, grow, and care for various houseplants with our Houseplants: A Field Guide.
N.B.: This post is an update; it was first published January 2018.
(Visited 753 times, 5 visits today)