Even if you don't lie awake at night worrying about global warming, the subject probably falls into that category of things that you care about a lot. We all want to leave the world a better place than we found it. And if you have a roof, you can.
Roof gardens are superheroes. Some of the amazing things they accomplish include: insulating your home to cut energy use (and your utilities bills), filtering the air, reducing outside noise, decreasing the amount of carbon dioxide in the air, creating habitats for beneficial insects and birds, and slowing the spread of fires.
Roof gardens also improve your daily life. They create extra outdoor space to lounge, to grow food, and to enjoy a view of the world more typically reserved for birds. Roof gardens are more expensive to install than, say, traditional asphalt shingles (see Hardscaping 101: Green Roofs for a breakdown on costs), but they pay you back in the years to come. Here's a roundup of 10 of our favorite design ideas for a roof garden:
Portable Room Dividers
Above:  Photograph by Nicole Franzen for Gardenista.
In lower Manhattan, designer Julie Weiss made her roof garden feel more spacious by dividing it with strategically placed planters and pots into four distinct rooms, to encourage outdoor dining and the ability to lounge in both sun and shade.
For more, see Garden Visit: At Home with Vanity Fair Art Director Julie Weiss in Manhattan.
Grasses Gone Wild
Above: Photograph by Marni Majorelle.
In Brooklyn's Fort Greene neighborhood, a top-floor apartment has a "backyard" roof garden, installed by designer Marni Majorelle. Designed to act as insulation (eliminating the need for air conditioning), the garden has a wild, natural look thanks to a mix of perennial grasses and hardy, drought-tolerant perennials.
See more of this garden in Brooklyn Oasis: A City Roof Garden, Before & After.
Above: Photograph by Marni Majorelle. The plant palette for a Fort Greene roof garden includes "creeping phlox, succulents, low-growing grasses such as Seslaria autumnalis and thyme varieties 'Minimus Russetings' and 'Purple Carpet'," writes Jeanne (read more about it in Brooklyn Oasis: A City Roof Garden, Before & After).  The mix also includes taller plants such as as Mexican Feather Grass (Nassella tenuissima) lavender, dianthus, and Amsonia hubrichtii.
Low-Profile Greenery
Above: Photograph courtesy of Feldman Architecture.
Low growing succulents are framed by a perimeter of drainage rocks on a San Francisco rooftop garden by Feldman Architecture, a member of the Remodelista Architects & Designers Directory.
Artificial Grass
Above: Photograph by Sophia Moreno-Bunge for Gardenista.
In Brooklyn's Cobble Hill neighborhood, garden designer Julie Farris of XS Space (a member of the Remodelista Architects & Designers Directory) subdivided the roof garden into separate zones for different activities: outdoor dining, outdoor living, a play area (with low-maintenance artificial grass), and a mini meadow.
For more of this garden, see Garden Designer Visit: A Rooftop Meadow, Brooklyn Edition.
Garage Upgrade
Above: Photograph by Gentl & Hyers.
Above: Garden designer Geoffrey Nimmer planted a  hydroponic roof garden above the garage at design duo Andrew Corrie and Harriet Maxwell Macdonald's Shelter Island home. "So far it was been wonderful to look at and the space below is nice and cool," says Corrie. "It has also been fairly low maintenance."
For more, see Garden Visit: A Design Couple's Shelter Island Retreat.
The Glass Ceiling
Above: Photograph courtesy of Astrid Hölzer.
In Rotterdam, landscape architect Astrid Hölzer created a four-season garden on top of her apartment with an enclosed 39-by-39-foot sunroom, created by extending the house's interior staircase up an additional flight. With a roof  of reinforced glass panels, the sunroom also offers a view of the night sky.
For more, see A Rooftop Garden for All Seasons in Rotterdam.
Clever Camouflage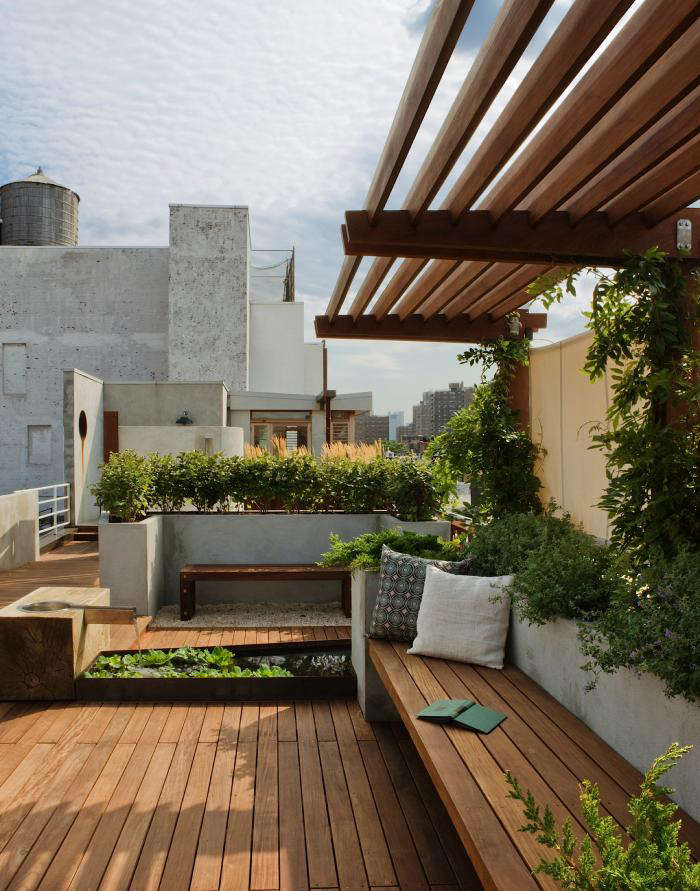 Above: Photograph by Bilyana Dimitrova courtesy of Pulltab Design.
A pergola focuses the eye without distracting from the views. "To create an elegantly simple roof garden in Manhattan's East Village, Melissa Baker and Jon Handley of Pulltab Design (members of the Remodelista Architect/Designer Directory) maximized the impact of panoramic views while maintaining a sense of privacy, which they achieved with strategically placed walls, canvas screens, and plantings," says Christine.
For more, see A Manhattan Roof Garden with a Panoramic View.
Home Spa
Above: Photograph by Douglas Lyle Thompson for Gardenista.
In Manhattan, Alison Cayne (the founder of Haven's Kitchen, a cooking school, café, and event space in Chelsea) transformed second-floor terrace outside her master bedroom into a roof spa with an outdoor barrel sauna that came in a DIY kit from Belgium-based Northern Lights.
For more, see Before & After: A 1-Month Makeover for Alison Cayne's NYC Garden.
Hedge Fun
Above: Photograph by Christine Hanway.
Christine visited designer Marianna Kennedy at home in London and discovered miniature boxwood hedges in "a secret garden—up five flights of stairs, including the final steep and narrow step ladder to her roof, which offers an enchanting view of London."
For more, see A Secret Roof Garden in Spitalfields.
Transparent Privacy
Above:  Photograph by Dan Wonderly Imaging courtesy of Kim Hoyt Architect.
"Architect Kim Hoyt's client wanted absolute privacy for his rooftop terrace on Beekman Place in Manhattan, but Hoyt didn't want to lose the natural light," says Meredith. "She created a custom stainless steel frame filled with translucent acrylic sheets (weight was a concern on the rooftop and acrylic is far lighter than glass)."
Read more at Architects' Secrets: 10 Best Ways to Create Privacy in a Garden.
N.B.: For the nuts and bolts on how to install a roof garden, see Hardscaping 101: Green Roofs.
(Visited 426 times, 1 visits today)