You would expect the Shelter Island weekend house of design pros Andrew Corrie and Harriet Maxwell Macdonald to have amazing interiors—after all, the two created and own NYC-based Ochre, a design studio known for its modern glamor, and Canvas Home, a tableware and household essentials emporium which recently moved to a new space near Ochre's SoHo storefront. And the wood-sided bungalow they bought in 2004 does in fact have beautifully furnished rooms, restful and serenely in tune with the surrounding landscape. (See the interiors on Remodelista.)
But just as beautiful is their garden at the edge of wetlands. Here on an island protected by an island, with Shelter Island tucked into the crook of Long Island's North and South forks, are thousands of acres of marshland and protected nature preserve. Major activities include bird watching and kayaking.
Corrie and Macdonald's house and pool house sit lightly on the land, blending into the surrounding landscape instead of trying to compete. "We designed the garden ourselves, asking some garden enthusiasts for ad hoc thoughts here and there," says Corrie.
Photography by Gentl & Hyers.
Above: The main house and pool house (at right) overlook marshy wetlands edged by reeds.
Above: At the edge of the marsh, vegetation includes reeds, honeysuckle vines, bayberry bushes, and perennial grasses.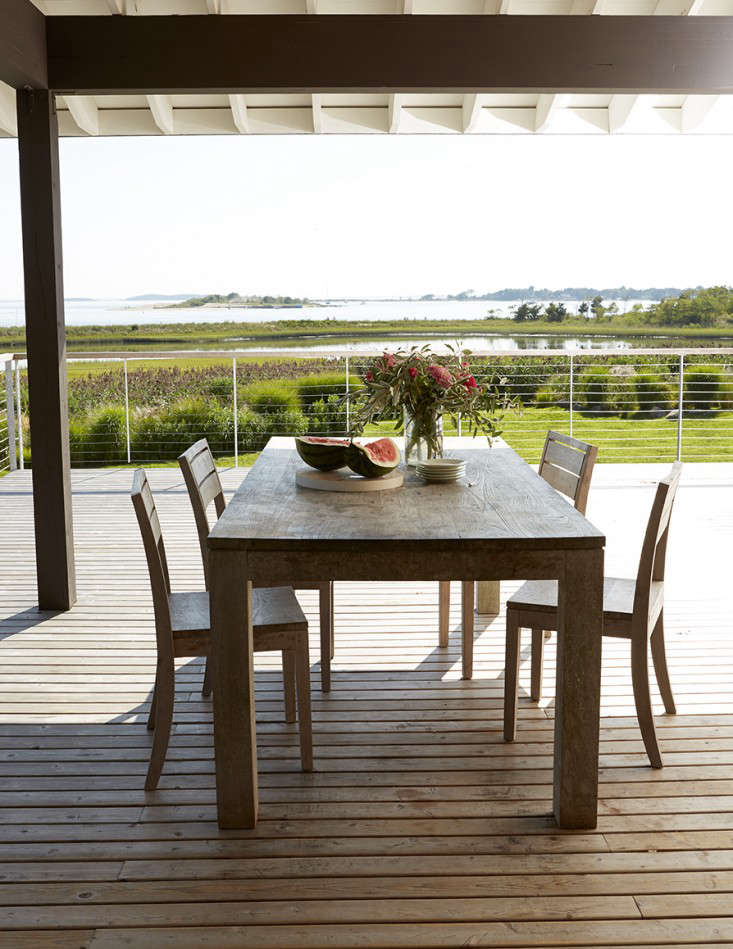 Above: Overlooking the wetlands, a wood dining table seats 12. "I had the dining table made by one of our usual makers who work for Canvas and Ochre, but it was made to match an earlier table we bought from a now-closed Canadian retailer back in 2003," says Corrie. "The idea is that we can put the two tables back-to-back when we have big dinner parties—together they can seat 24 people."
Above: Softening the look of the swimming pool's perimeter, perennial grasses link the deck area visually to the wetlands.
Above: The view from the pool.
Above: A pergola provides shade above built-in seating at the pool's edge.
Above: Both the main house and pool house are sided with white cedar. "Buildings in the northeast are notable for their use of wood and we embraced that vernacular," says Corrie.
Above: A wall of horizontal wooden slats creates a wind break as well as a backdrop for the built-in seating.
Above: Corrie designed the wood pyramid and made it with the help of local craftsmen. "I put the footings in concrete to stop it from being blown away and planted the wisteria, which hopefully also helps its stability," he says. "The idea is to have a hollow internal space the kids can play inside. But of course they enjoy climbing up the outside as much as going inside."
Above: In front of the woodpile is a garden bed of wind- and drought-tolerant perennials.
Above: Sedums and silvery artemisia have a long season, looking good for months.
Above: Garden designer Geoffrey Nimmer planted a  hydroponic roof garden above the garage. "So far it was been wonderful to look at and the space below is nice and cool," says Corrie. "It has also been fairly low maintenance."

See more of Corrie and Macdonald's house at Escape to Shelter Island: A Design Couple's Reinvented Shelter Island Retreat on Remodelista.
(Visited 240 times, 1 visits today)