Greatest Hits 2021: This week, we'll be republishing the most popular posts of the year. Happy reading!
"You have to be a tough to be allowed in." Lindsey Taylor is explaining how she decides which plants to grow in her cinderblock garden, which is located in an old mechanic's lot that she's transformed into a thriving urban garden in Newburgh, NY. "I don't have a lot of time to care for it, so it's a bit of a survival of the bullies," she continues. "Drought-tolerant is important—no heavy drinkers. And I have a thing for tall plants and umbels. If you're an umbel, you get a free pass!"
Ornamental grasses and deep-rooted prairie plants like rattlesnake master make appearances, as do seasonal blooms: bulbs in early spring, poppies and valerian and lots of self-sowers like Ammi majus, Orlaya, Nigella, Scabiosa, Clary sage, Verbascums, and Asters for the fall. They're all contained (barely) in raised cinderblock beds, a nod to the squat cinderblock garage on the property. On the other side of the garden is a a three-story brick factory that's now home to Atlas Studios, a compound for creative professionals co-owned by Lindsey's husband. (See Industrial Revival: Atlas Repurposes a 1920s Abandoned Factory into a Creative Hub.)
"Aesthetically it made sense to use the cinderblocks to create raised beds, and the cost was right. We already had a lot of cinderblocks in the yard," she notes. " And the raised beds are very functional as they help to keep dogs out of the planted areas."
The beds keep the rowdy plantings in check, too. "I like a bit of madcap-ness in my garden. Plants are allowed to mingle but the clean edges of the cinderblocks and the groomed gravel paths (I try to keep them tidy) help hold it all together, like a wonderful huge crazy wild arrangement."
Photography by Dana Gallagher, courtesy of Lindsey Taylor.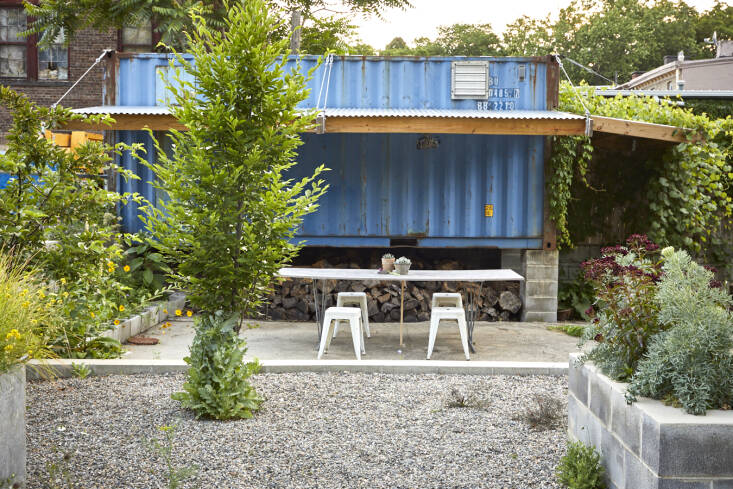 For more gravel gardens, see:
N.B.: This post was first published July 2021.
(Visited 502 times, 3 visits today)