When she was renovating her townhouse apartment in Cobble Hill, garden designer Julie Farris also wanted a roof garden that could play a big role in her family's life. Farris, the founder of XS Space (and a member of the Remodelista Architect/Designer Directory), had big plans: for barbecues, a play area, flowerbeds, and lounge furniture. Oh, and it all had to be low-maintenance.
Farris was impressed by New York City's High Line, the park where landscape designer Piet Oudolf's perennial beds have brought drifts of color and romance to the city. So she took a similar approach for her smaller garden. After consulting with Julia Miller of Four Gardens and Jessie LeBaron of GARDEN, she selected drought- and wind-tolerant perennials that could endure summer heat and freezing winter temperatures.
In the end, Farris got the "beachy feel" she wanted, in Brooklyn. The other day she invited us over to take a look:
Photography by Sophia Moreno-Bunge for Gardenista.
Above: When you walk out onto Julie Farris's roof, you find yourself in a meadow edged by ipe wood ties. The expanse of grasses and flowers is layered directly onto the membrane of the roof. To improve drainage and reduce the weight, Farris added a 2-inch layer of styrofoam to the 14-inch-deep bed of soil. A J-Drain water drainage mat sits between the insulation and the filter fabric. "It all seems to work–the plants are thriving here," says Farris.
Above: Beside the door to the garden is a barbecue and a dining and lounging area.
Above: The plant palette makes the garden feel airy and relaxed. A drift of hardy perennials includes (from L) Nepeta, peach-colored Agastache, and Nasella and Calamagrostis grasses. Farris's goal was for the garden to feel naturalistic and wild. The plants are allowed to do their own thing and are expected to return year after year.
Above: The view from the entrance. The meadow serves as a divider between the lawn and the dining area. Julie chose artificial turf for a number of reasons: It doesn't require watering or mowing, and there's no need to replace grass damaged by heat or sun.
Above: To create ground cover and a nice textural combination, Farris paired fiber-optic grass with strawberries, which her kids were surprised to find "taste better than strawberries."
Above: The dining and lounge area. When planning a roof garden, Farris says, get an engineer to make sure the roof can withstand the weight load. It may seem obvious, but the soil alone is heavy. And of top of that you'll be adding furniture, decking, a grill, people, and snow and ice, depending on your climate. 
Above: A very Brooklyn view. Buildings, breezes–and no mosquitoes up here.
Above: Farris designed storage space for glasses and dishes in the barbecue area to make the garden easy to use. (There's also a refrigerator.)
Above: Planters filled with lavender, grasses, and roses line the perimeter. Farris waters the garden for five minutes every morning and evening.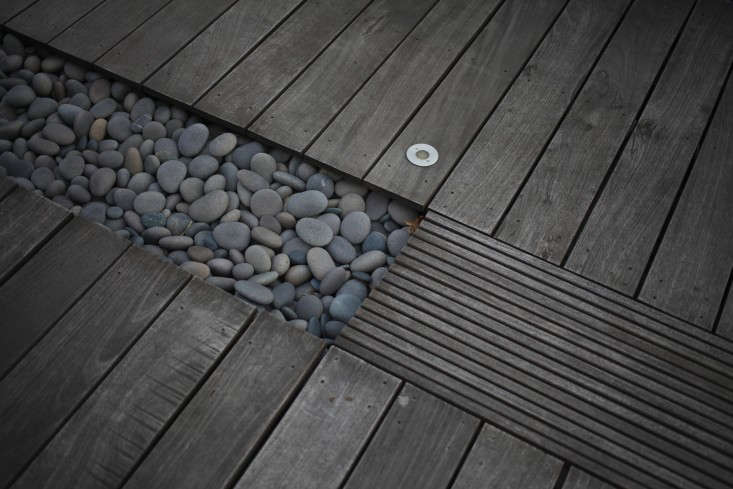 Above: Building a roof garden requires logistics. "We used a cherry picker to hoist the soil bags and wood up the side of the house," says Farris. "That saved a huge amount of time and labor." The general contractor, Showcase Construction, brought all the soil to the roof.
Proper drainage is very important on a roof garden, particularly in Brooklyn, where you need to protect both your own building and that of your neighbors. "In this project the entire roof pitches to a downspout that flows into an underground pipe," says Farris. "You have to install a filter that will keep the pipes clear of debris and let the water flow out and down."
Above: In the middle of the meadow, a skylight brings a little bit of the garden indoors. The hardy perennials include Calamagrostis, Monarda, Knautia, Nepeta, Yarrow, Salvia, Lavender, and Miscanthus.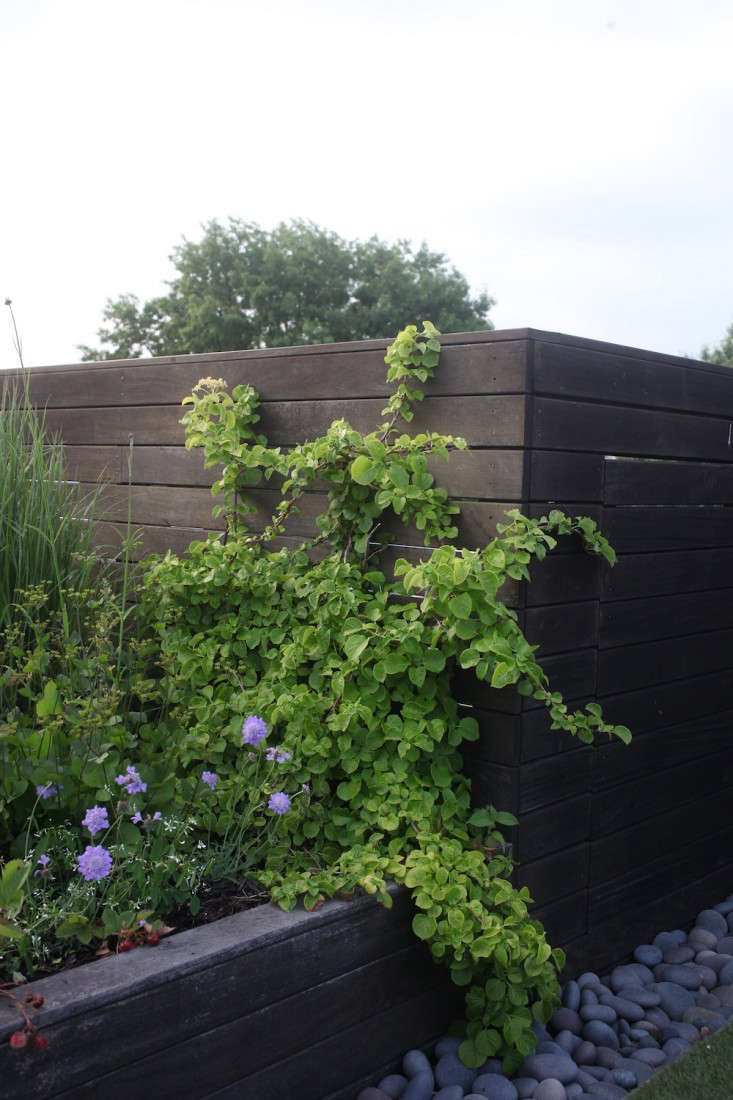 Above: Scabiosa (L) and climbing hydrangea.
To see another of our favorite urban meadows, go to A Rooftop Garden for All Seasons in Rotterdam. For a primer on living roofs, see Hardscaping 101: Green Roofs. 
(Visited 724 times, 4 visits today)