Olive Tree, Olea europaea: "The Beauty of Age"
By planting an olive tree on top of a hill in ancient Greece, the goddess Athena got a city named after her. Or so that story goes. Thousands of years later, there is still a gnarly olive tree growing on the acropolis. And although it is probably not the original model, it stands for everything associated with olive trees: peace, civility, gentle protection from harsh sunlight, and the production of fruit which can, in a pinch, sustain life on its own.
In your garden, Olea europaea can convey the same message. One of dozens of evergreen species of trees and shrubs in the Olea genus, O. europaea has a gnarled, ancient looking trunk (and is probably the only gnarly thing we think of as beautiful) and graceful silvery-leafed boughs. With an exceptionally long life span (1,500 years, says Arthur Lee Jacobson, author of North American Landscape Trees) and a mature height of nearly 100 feet, O. europaea is an amiable and drought-tolerant companion to add shade a hot, dry garden to cool off and protect many generations of your family.
"Introduced to cultivation ca. 3,600 B.C.," says Jacobson tersely. Which is something to marvel at.
Grown for centuries for its delicious fruit, O. europaea also has non-fruiting cultivars which may suit your needs better in a small garden where you don't want to attract rodents (or other olive eaters) or have smashed olives on walkways and the soles of your shoes.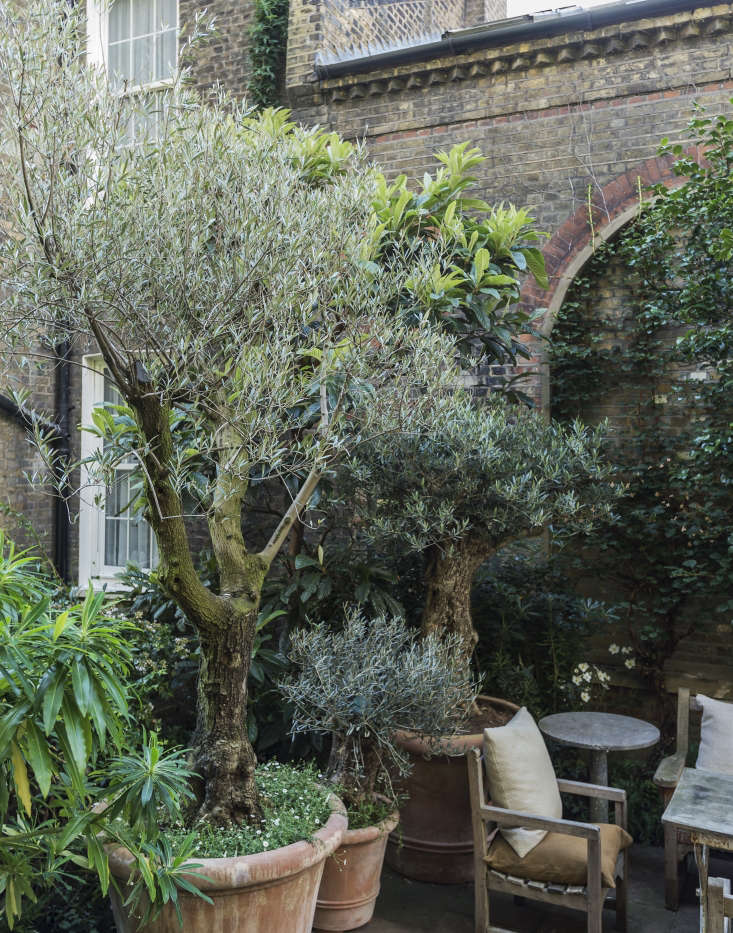 Olive trees come from hot, sunny regions in southwest Asia and are most at home elsewhere in climates that replicate the Mediterranean weather conditions in which they thrive. Two non-fruiting olive trees (O. europaea 'Swan Hill') are very happy in my garden in northern California.
Since we are leafing through Jacobson's guide to North American trees, here are a few cultivars he notes as having acclimated to the New World: 'Majestic Beauty' (fruitless); 'Manzanillo' (small, and with a round canopy that makes it a favorite of landscapers), and shout out to Seattle: 'Mission', "a very old cultivar. It has proved fully hardy in Seattle.'
Cheat Sheet
To sum it up nicely, as author Stephen Harris does in his book What have plants ever done for us?, "Olives are evergreen, medium-sized trees, with often characteristically gnarled, twisted, squat trunks." The photo above will give you an idea of how these traits play out in a garden.
Treat an olive tree like a prized specimen: Give it room to grow and spread its boughs.
A word about olive shrubs: I have the dwarf Olea europaea 'Montra' growing at the foundation of my house (the facade is stucco and a brick path is nearby; the Mediterranean theme is complete). 'Montra' will be compliant if you want to shape, shear, or tease it into a hedge, as I have.
See more of this garden in Rustic Yet Refined, Healdsburg Edition on Remodelista.
Keep It Alive
Optimal growing conditions for an olive tree: Athens, Greece. (See above.) Elsewhere in the world, try to give you olive tree as much heat, sun, and well-drained soil.
Hardy in USDA growing zones 8 to 11, depending on the cultivar.
Although you frequently see photos of potted olive trees indoors, the trees are not happy about the situation. If you keep an olive tree in a container, take it outdoors in warm months to perk it up.
See more growing and care tips at Olive Trees: A Field Guide to Planting, Care & Design in our curated guides to Trees 101. For more inspiration for a Mediterranean garden, see:
(Visited 751 times, 3 visits today)